Jeff Gorton's first full offseason in charge of the New York Rangers was highlighted by the bold swap of top centers Derick Brassard and Mika Zibanejad with the Ottawa Senators. Let's just say that this is turning out to be a steal for the Blueshirts.
J
uly 18 was an offseason defining day for the
New York Rangers
.
Up to this point, the Blueshirt's summer had been rather conservative. Jeff Gorton decided to send puck-moving specialist Keith Yandle to the Florida Panthers for a pair of draft picks, as the Rangers just simply weren't willing to hand out a seven-year deal worth an average annual value of $6.35 million to a 29-year old who is handicapped in his own zone.
The commencement of free agency saw the Blueshirts make some minor changes to their bottom six. Jeff Gorton opted not to re-sign veterans Viktor Stalberg, who inked a one-year pact with the Carolina Hurricanes, and Eric Staal, who signed for three years with the Minnesota Wild, in favor of speedster Michael Grabner and penalty-killing expert Josh Jooris (who actually signed two weeks after he hit the open market).
From the early look of things, it appeared as if it would be another bland offseason in the Big Apple. With limited cap space and a GM in his first full offseason at the helm, any sort of expectation that a monumental move would take place for the Blueshirts seemed far-fetched.
Then, out of the blue, it happened.
In the midst of that hectic July afternoon, the Rangers sent top center Derick Brassard along with a 2018 seventh-round pick to the Ottawa Senators in exchange for Swedish forward Mika Zibanejad and a 2018 second-round pick.
Boom.
Within minutes of the trade, Rangerstown went into a state of utter chaos.
There were rumblings that the Blueshirts could potentially move Rick Nash or Derek Stepan, but no one thought the Rangers would get rid of Brassard. The former Columbus Blue Jackets's first-round pick was not only a fan favorite on Broadway, but he was the Blueshirt's leading goal-scorer and established himself as the Rangers most consistent playoff performer over the past couple years.
Once Blueshirt's fans had time to settle down, however, they realized that Gorton had no choice but to make this trade.
Although Brassard, 29, was coming off a stellar season, his best days are certainly behind him. Many players see their game spiral downwards once they hit the age of 30 and while Brassard could prove to be an exception to that, it would be witless to believe that he would be able to top the level that he played at for the duration of his three and a half year tenure in the Big Apple.
Zibanejad, on the other hand, has yet to reach the peak of the mountain. He has made big strides during his first four years in the NHL and at the age of just 23, it's obvious that we have yet to see the best from the former 2011 sixth overall pick.
This trade was an absolute steal for the Rangers on paper. The only question that faced the Rangers at the time was whether Zibanejad would be able to shine under the bright lights of New York.
And boy has he glistened.
Through eight contests, the former Senator has been everything the Rangers could have wanted and then some. He has had a strong start to the season, posting eight points in nine contests, as the Rangers' top center iceman.
His point total doesn't tell the story of how well this guy has performed early on.
Zibanejad has continually baffled the defenders with his sensational play-making ability and speed up the middle of the ice. He has meshed extremely well with Chris Kreider and Pavel Buchnevich (when they have been healthy) to form a dominant trio. He hasn't displayed his excellent shot yet, but his presence alone at the left circle on the man advantage instills fear into opposing goaltenders.
Zibanejad has also held his own in the defensive zone. His speed grants him the ability to get his stick in the passing lanes and create turnovers. In addition, he's winning face-offs at a 58% clip in his own zone (55.2% overall). He has his work cut out for him in this end of the ice, but overall, he has done a nice job defensively thus far.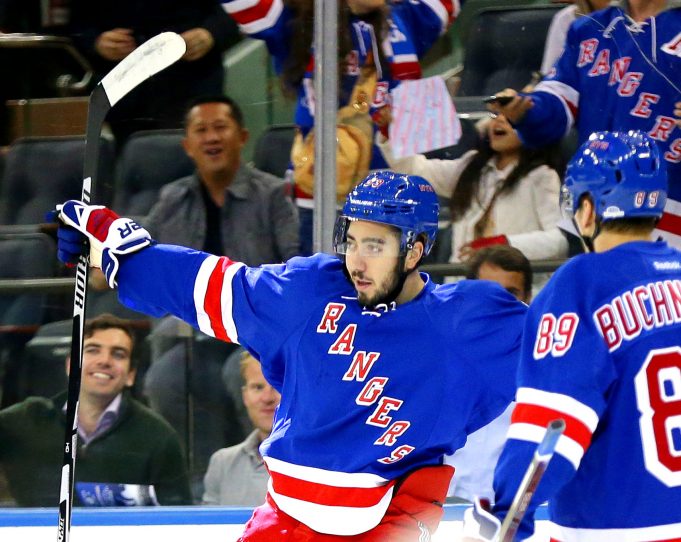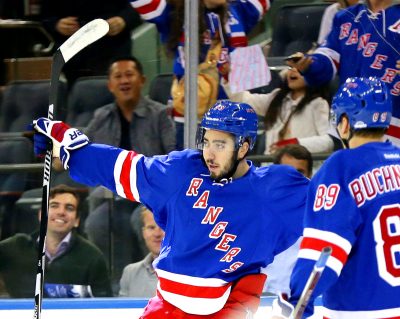 Up north, Brassard hasn't been nearly as impressive. He has registered a goal and five helpers in seven games with his hometown club. While his numbers have been strong in the offensive zone, he remains a liability on defense and has struggled massively on face-offs (46.2%).
Now, Brassard definitely hasn't been bad. In fact, he's actually been pretty good to open up the season. Having said that, we can now officially say that this trade was a win for the New York Rangers, and it wasn't even close.
In this trade, the Blueshirts got younger, faster, and more physical in this deal. The main knock on this deal, which was that the Sens got the better player (at the time of the deal) is already proving to be wrong, as Zibanejad has shown that he is a more well-rounded player than Brassard. Gorton was also able to gain a second-round pick, which will hopefully result in a solid prospect.
Zibanejad also fits the direction that the Rangers are going in. The front office made it clear that they wanted to get younger and faster. Zibanejad possesses both of those attributes.
Losing Brassard was a very tough pill to swallow for Rangers fans everywhere. His unquestioned enthusiasm and great leadership would be tough for anyone to replace. Zibanejad's start to the year has made it easier and easier to forget about what Brassard meant to this team.
So make it official. Jeff Gorton fleeced Pierre Dorion and the Ottawa Senators.