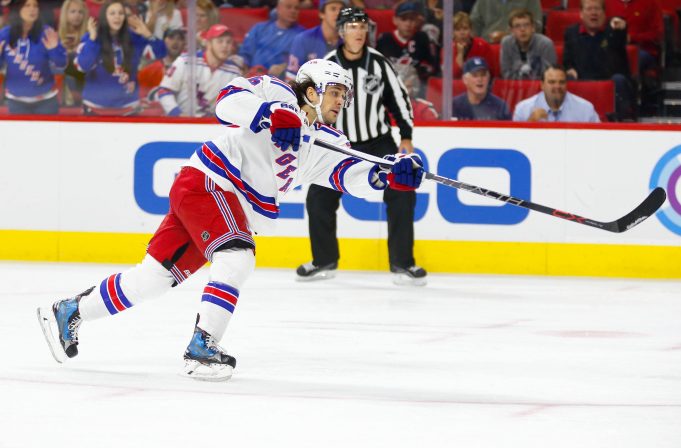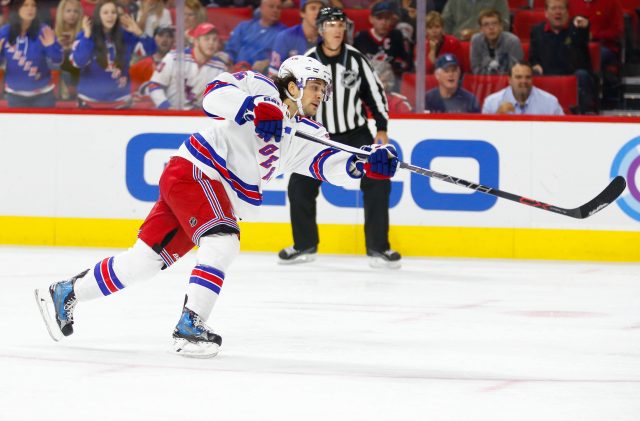 New York Rangers forward Mats Zuccarello has scored two goals in Carolina while his team is battling the Hurricanes.
J
ust as the second period ended in Carolina on Friday night, Hurricanes forward
Jeff Skinner
tallied his third goal of the night, coming with just 0.3 seconds remaining in the frame.
That's right: Skinner has put a hat trick up on the Blueshirts. The Canes lead the game 3-2 during the second intermission.
There's somebody on the New York Rangers who's also enjoying quite the night in Raleigh. His name is Mats Zuccarello.
While Zuc hasn't piled up three goals, he's scored twice.
His first came on the power-play after a crazy scramble resulted in Mika Zibanejad finding him with a wide open net:
CRAZY PP goal for the Rangers. Zuc gets the tally. Wonderful work, again, from Zibajenad. 1-0 #NYR. #NYRangers pic.twitter.com/GBDGOaG9Xy

— Elite Sports NY (@EliteSportsNY) October 29, 2016
His second once again tied the game for the Rangers. It was a breakaway created by captain Ryan McDonagh. One that wouldn't have counted in the 90s (two-line pass):
Mats Zuccarello getting it done in Carolina. 2-2 hockey game in the second. #NYR #NYRangers pic.twitter.com/LNeVolk1c9

— Elite Sports NY (@EliteSportsNY) October 29, 2016
Henrik Lundqvist also picked up a cheapie of an assist on the play.
New York, winners of its last three games, will have to overcome a one-goal deficit in the third period if they have designs on extending that streak to four.