When the New York Rangers agreed to terms with forward Jimmy Vesey, fans rejoiced. However, you must keep this in mind for the season.
Ah, the sweet smell of October hockey is upon us.
This means that the New York Rangers are going to light up Broadway with their fresh new skills, right?
Well, fans hope so.
The addition of Mika Zibanejad gave the Blueshirt faithful reason to actually be faithful this year with a lights-out power play and deadly offensive talent.
Additionally, the club managed to snag Massachusetts native Jimmy Vesey off the market, a deal that left the Boston Bruins on the short end of the stick — to say the least.
Aside from Vesey having a good preseason, there is something that Rangers fans need to remember: all of the hype surrounding him stems from his collegiate career.
What he does in the NHL may be the complete opposite from what he has done in the past.
He shouldn't be given a hard time if he completely underperforms in comparison to expectations. It is understandable; he has very big skates to fill.
Let's make this clear: I am not docking Vesey at all. He played four years of NCAA hockey with the Harvard Crimson.
During that time, Vesey scored 80 goals, assisted 64 times, totaling 144 points in his Harvard career. The 2014-15 season was Vesey's best year by far, when he scored 32 goals and dished out 26 assists for 58 points.
And let's not forget that Vesey won the Hobey Baker award as the best hockey player in all of collegiate hockey.
He has the potential to be a real threat on this Rangers team.
Ryan McDonagh can even see the potential that Vesey has:
"You can see his playmaking ability with the puck and his ability to see the ice and sense where the puck needs to go, where he needs to be."
It is clear that the Rangers wanted to get Vesey from the start, and GM Jeff Gorton made a smart move getting him off the market.
However, it is critical to keep in mind that he may or may not have a quiet rookie season. If he does, that is okay.
One year does not dictate a player's full potential.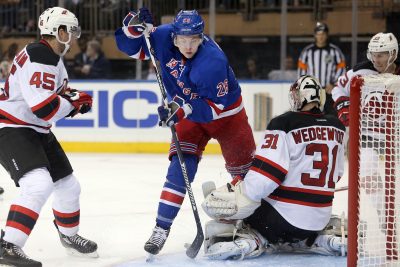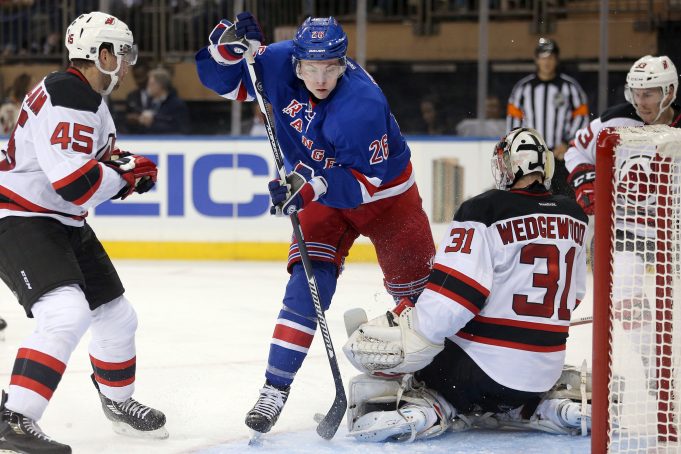 Vesey has to understand that New York fans, perhaps more than any other city, are very involved with their sports and players.
If you underperform, they hate you. If you perform, they love you. If you break their heart, say goodbye.
Opening night is Thursday against the New York Islanders. That will be extremely interesting to watch, as will if Vesey will stay on the roster for the entire season.
One can only wait and see, but boy it's good to be back.