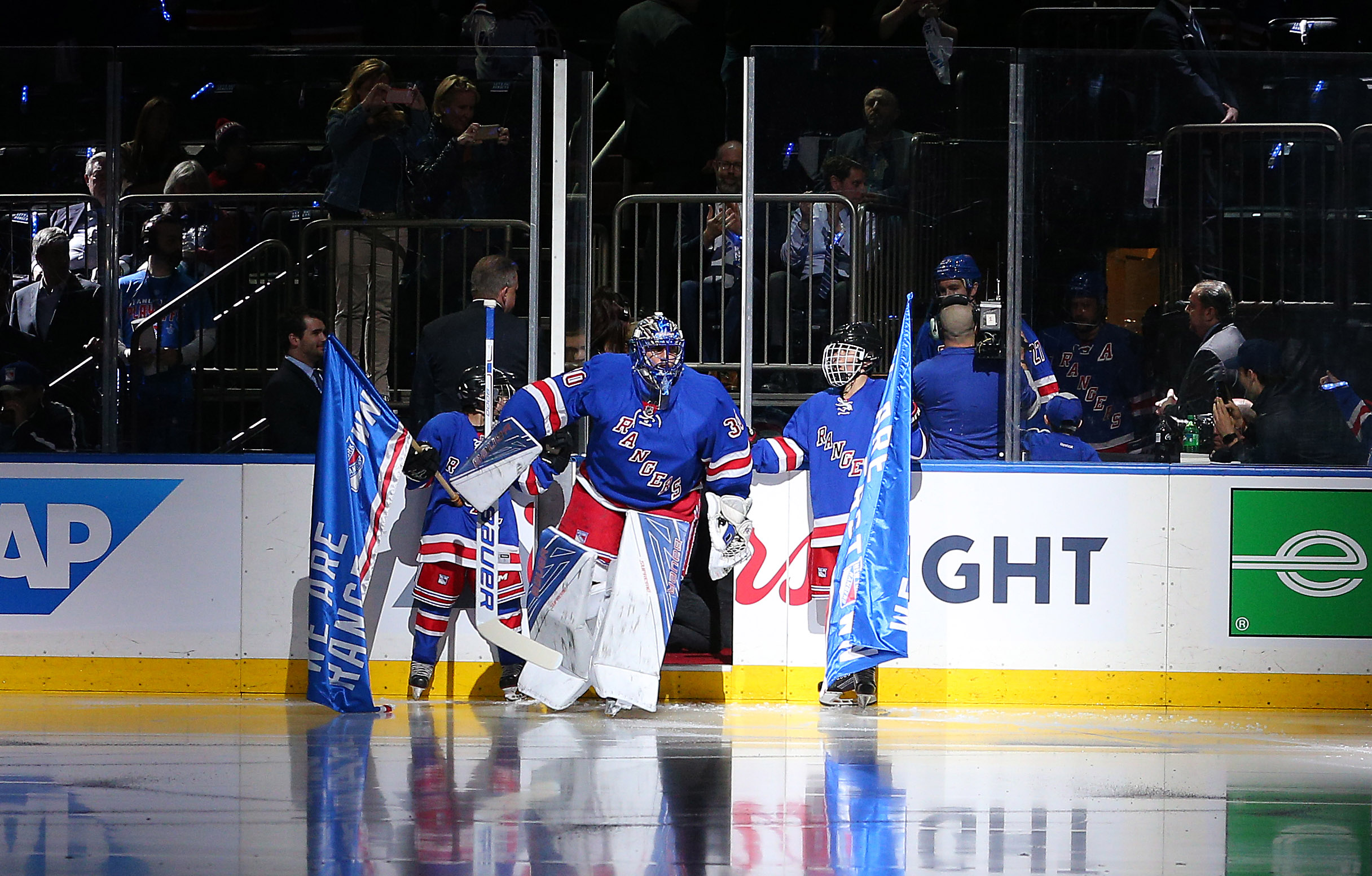 ESNY Staff Predictions
Gregg Cambareri
The New York Rangers may no longer have the lofty Stanley Cup expectations of years past, but there's still plenty of reason to be excited for the upcoming season.
Jeff Gorton managed to bring much-needed youth to the roster under heavy salary cap issues. Young guns like Vesey, Skjei, Buchnevich are all names to watch under the upcoming season.
Alain Vigneault's system has not been prosperous without several shutdown d-men, which he now lacks. While Dan Girardi and Marc Staal are no longer the players they once were, that doesn't mean they still can't contribute to a winning roster.
The bigger questions will circle around Brady Skjei and Dylan McIlrath, whom AV needs to let make mistakes and grow, rather than being shelved in tough times.
The Rangers may not be a dominate Eastern Conference force, but there should still be a raucous Madison Square Garden when comes playoff time.
The Blueshirts will earn 98 points but will falter in the first round of the playoffs to the New York Islanders in 6 games.
Jackson Heil
Over the past couple years, the Rangers have been centered around proven veterans like the aforementioned Lundqvist, Rick Nash, Dan Girardi, Marc Staal, and Derick Brassard.
While that formula definitely had success for a time, the front office recognized that a change was needed if the Blueshirts wanted to get back to the Stanley Cup.
Gorton did exactly that. He swapped leading goal-scorer Derick Brassard in exchange for 23-year old Mika Zibanejad. They added Harvard sensation Jimmy Vesey and 23-year old defenseman Adam Clendening. 2013 third-round pick Pavel Buchnevich was also called over from Russia.
In addition, the Blueshirts opted to not resign veterans Keith Yandle (traded to the Florida Panthers), Dominic Moore, and Dan Boyle.
The Blueshirts now find themselves with a more than formidable pool of youth talent that they will need to come up big this year. Guys like Chris Kreider, Derek Stepan, and Kevin Hayes (in addition to the new faces mentioned before) will need to take the next step in order for this offense to be elite like it was two years ago.
This offense has the chance to be special. If the Blueshirts want to be playing playoff hockey again, it is going to have to.
Pittsburgh Penguins: 108 points
Washington Capitals: 102 points
New York Rangers: 101 points
New York Islanders: 97 points
Jay Travers
The New York Rangers ended the preseason with a difficult loss against the Flyers on Thursday night at the Garden. While it was a gloomy, there is still hope in Rangers Town.
The team has new faces up and down the lineup, each with their own positives and negatives. Having said that, there are a few players who will drag them down into a dark, dark hole (I'm looking at you Dan Girardi).
The Rangers will have a good season, but things will not come easy. While there are undoubtedly a few areas of concern, the Blueshirts have the potential to make a deep run with this young group of players.
The NYR will finish the season third in their division.
Robby Sabo
Despite the notion that last year's preseason hopes were more positive, entering the 2016-17 season brings more overall hope. Sure, the defense presents many problems. It's a real issue. But looking at some of the young faces infused in the current roster has me much more excited for this season.
Overall, I don't believe AV's offensive style and structure will ever play well in the Stanley Cup Playoffs again. The reason his rookie season saw much success was directly tied to a dominant defensive corps doing their thing.
Give me the Rangers to make the playoffs, but stall early in the tournament.
Pittsburgh: 112 pts
Washington: 110 pts
Rangers: 103 pts
Islanders: 95 pts
Philadelphia: 90 pts
New Jersey: 85 pts
Columbus: 84 pts
Carolina: 74 pts
Chris Wengert
This year's team will be an exciting and hard working bunch. Yeah, be ready to hear "hard-working bunch" from Joe Micheletti.
While the way the team plays will look very different, I expect this team to look a lot like the 2011-12 New York Rangers. That team worked hard but had to grind it out to win games.
This year will be very similar, and the results could be similar if some players overachieve.
Having said that, you'll be proud of your Blueshirts come April, but they just will not have the horses.
They'll make it to the second round and lose to Pittsburgh…again.
Pittsburgh: 113 pts
Washington: 108 pts
Rangers: 104 pts
Islanders: 100 pts
Philadelphia: 97 pts
New Jersey: 86 pts