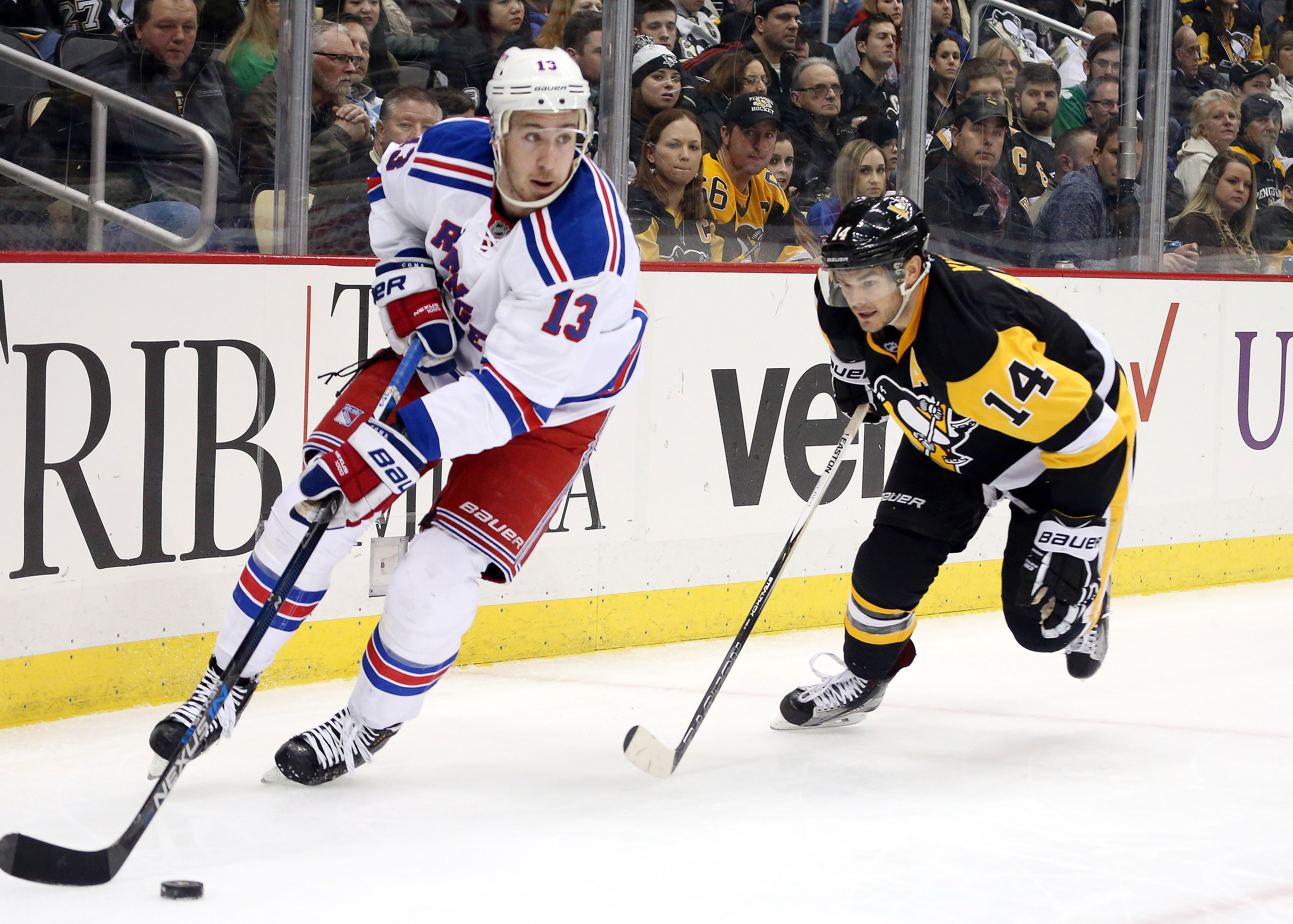 Dark Horses
Kevin Hayes
With so many new faces coming to Broadway, one player who has gotten lost in the fold is Kevin Hayes.
After bursting onto the scene in his rookie year, Hayes took a big step back last year.
He constantly held on to the puck too long in the offensive zone, turned the puck over in the neutral zone, and was a nightmare to watch defensively.
This resulted in him getting benched late in games and being a healthy scratch, including in the playoffs.
Now entering his third season in the NHL, Hayes is ready to return to his rookie year form.
The Boston College native lost over 20 pounds this summer, which will certainly improve his mobility on the ice.
He looked sharp during the preseason and will benefit from playing alongside Jimmy Vesey and Pavel Buchnevich. Hayes is still an incredible passer and he knows how to use his big frame to protect the puck.
Last year was a wake-up call for Hayes. Now it's time for him to respond.
Derek Stepan
Similar to Hayes, the infusion of young talent has allowed Derek Stepan to fly under the radar this offseason.
Stepan was arguably the Rangers' best player in the second half last year. After being virtually silent in the beginning of the year, the 26-year old played at a point per game rate for the last 40 games of the season.
He set career highs in goals, power play goals, and face off win percentage.
The former second-round pick is the Rangers smartest player and their best all-around forward. He is solid on special teams and always seems to score big goals.
While he certainly isn't the flashiest player on the ice, he is such an important piece of this team. He is already a top center in this league, the question is will he be able to to take the next step.
A huge season could await Derek Stepan.
Antti Raanta
Surprised to see Anti Raanta here? I can't blame you. Seeing a backup goalie on a players to watch list is certainly odd.
Raanta deserves to be on here, however. Let's take a look why.
As discussed earlier, the Rangers keys to success this year is going to be through a really good forward play and good goaltending.
While in most years good goaltending on Broadway was a given, there are many concerns regarding how the Rangers will fare in net after a shaky season from Henrik Lundqvist.
Although the King has looked solid so far in the World Cup of Hockey and in the preseason, Alain Vigneault will likely look to limit his workload this year.
If Lundqvist is only able to play 55-60 games, Raanta is going to play a very important role on this team.
Raanta was shaky last year at times, but, overall, did a really nice job for the Blueshirts. He went 11-6 while possessing a mere 2.24 GAA.
He definitely could see an increase in workload this year and believe it or not, he could be the difference in where the Rangers finish in the standings.
Anti Raanta's play is certainly something to look out for going forward.