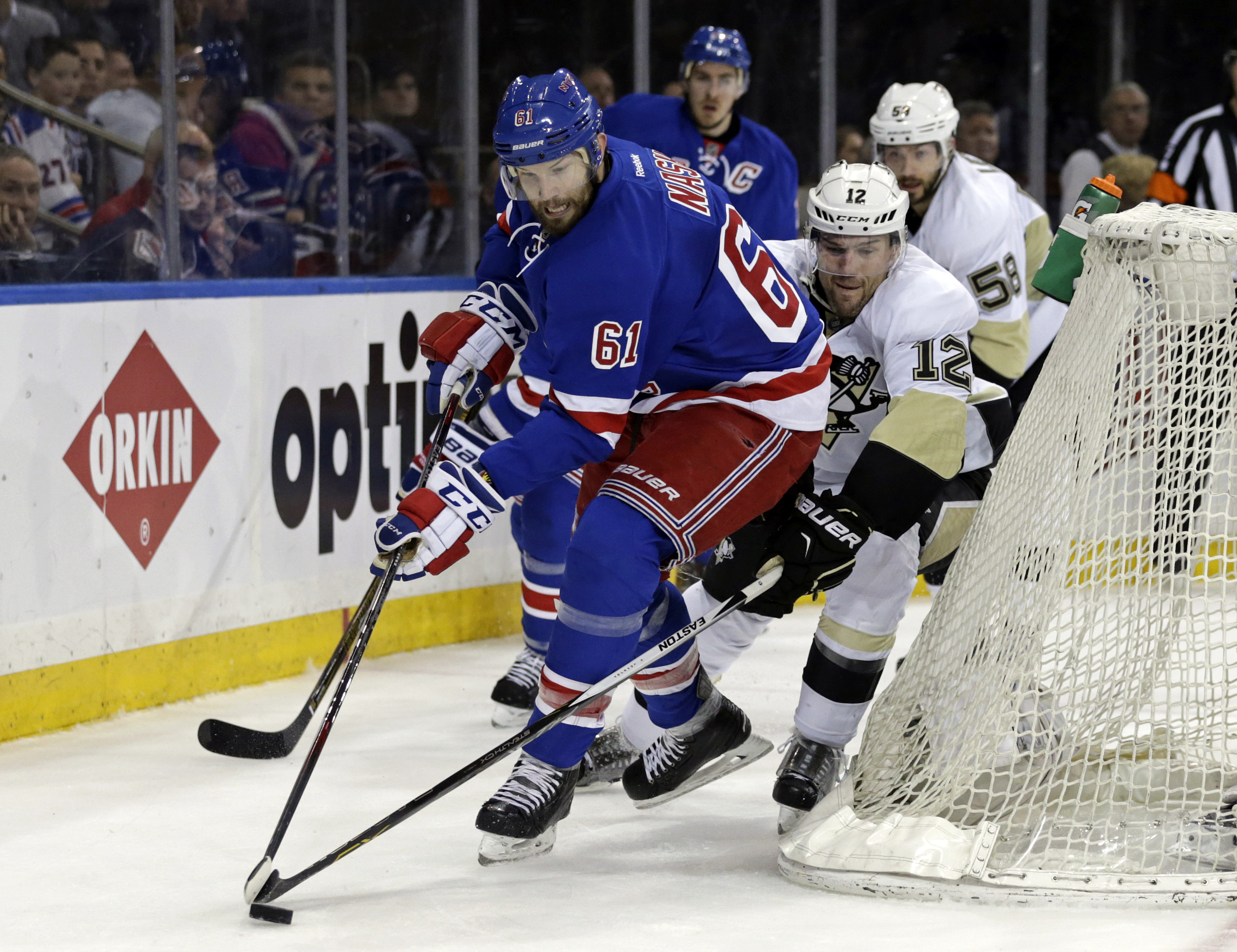 Offensive Outlook
If you are an offensive-minded person then you should be very excited about the Rangers offense.
With new players like Jimmy Vesey, Pavel Buchnevich, and Mika Zibanejad, the New York Rangers will have an offense will unlimited potential.
Now, whether or not they will reach that potential is another question.
Patience will be an important fan virtue for this upcoming season. While the new players is certainly exciting, they will undoubtedly go through growing pains, Vesey and Buchnevich especially,
While both of these young men have great hockey sense and puck-moving skills, they may find the physicality of the NHL a feisty obstacle early on.
It is for this very reason that the veteran players will need to be consistent, no great, but consistent.
Buchnevich will tally 15 goals and 20 assists this season. As for Vesey, he'll finish with around 10 goals with 25 helpers.
Expect Rick Nash to have a bounce back season. He will most likely never hit the 40 goal mark again, but if he can tally 25-30 goals with 25-30 assists, he will have done his job.
Mats Zuccarello led the Rangers with 61 points last season. Can he match this success?
It will be interesting to see how the World Cup competition affects Zucc. Team Europe making it to the finals and he should have all of the rust shaken off at this point.
But will he be able to match 61 points? Close, but no cigar. Everyone's favorite Norwegian will tally 20 goals and 30 assists this year.
We will keep Derek Stepan short and to the point. He'll tally his 20 goals and 30 assists and call it a day.
And then there's Chris Kreider and Kevin Hayes. Look for these players to perform with a chip on their collective shoulders.
This may just be the year in which Kreids breaks out. Let's put him at 25 goals with 30 assists this season.
Hayes will improve his bottom line as well with 20 goals and 25 assists.
Don't forget about J.T. Miller and Jesper Fast either. Miller had a great season last year, tallying 22 goals and 21 assists.
That isn't going to happen this year. The young player didn't look like the same guy in preseason, and while that may shift when the real season starts, we're going to put him at 15 goals and 20 assists this year.
As for Fast, he'll improve his goals and assist totals by five this year. (15 goals/25 assists).
Then there are players like Michael Grabner, Brandon Pirri, and Josh Jooris. It's almost a certainty that these players will be substituted by AHLers throughout the season.
Having said that, I believe that Pirri could score 10-15 goals this year. As for Grabner and Jooris, if they can contribute some grit as toss in 5-10 goals, Jeff Gorton will be a happy man.