When looking at championship teams, and more specifically the 1994 New York Rangers, what pieces need to be in place to win the big prize?
1994 was obviously a great year for New York Rangers fans.
The fact that the team won a Stanley Cup was great, but how they won made the flavor even more savory. That season had a little bit of everything.
Fans experienced a brutal loss to an expansion team which had fans questioning the organization, a tyrannical coach who would often put Bobby Knight to shame, and seemingly crazy moves by General Manager Neil Smith which put the Rangers fan base in an uproar.
There was a subway series, guarantees, and even a couple overtime wins on the team's way to Mount Vancouver.
Hockey is a great sport for many reasons, but perhaps the best reason is that teams who win the Cup truly deserve it.
This is why the NHL Playoffs are the best playoffs in all of sports.
But when you open up the proverbial hood of an NHL championship, what will you see? What goes into winning that big prize?
Talent? Leadership? Smart moves at the trade deadline?
Or maybe even some good ole' lady luck?
Today we'll explore how the anatomy of that 1994 Rangers team put them in the position to win. We'll even compare some of the more recent teams and their efforts to discuss what went wrong.
Talent
Let's put the most obvious first. That 1994 team was ridiculously talented.
How many franchises in hockey history, heck even sports history, had four players playing on the same team who would go on to have their numbers retired?
Mark Messier, Adam Graves, Brian Leetch, and Mike Richter.
Add to that equation the fact that Messier is one of the best players in the history of the game, and you can easily understand why that team was so successful.
The "second tier" players were certainly no slouches, as Alex Kovalev, Esa Tikkanen, Brian Noonen, Craig MacTavish, Glenn Anderson, and Jeff Beukeboom all contributed at various points throughout the season.
And then there was that power play unit.
Leetch, Sergei Zubov, Graves, Messier, Kovalev
Remember those days, you know, when the power play was deadly?
By comparison, the Rangers 2014 team was also very talented, but lacked elite players like a Messier or Graves. Everyone hoped Rick Nash would fill part of that role, but to no avail.
Leadership
Martin St. Louis, Brad Richards, Henrik Lundqvist, and Ryan Callahan were (are in Hank's case) all great leaders.
But do they come close to meeting the level of Brian Leetch, Adam Graves, Steve Larmer and Mark Messier?
Leadership can always be measured by a player's presence in the locker room and on the ice. Simply put, can a player speak up or make a big play when their team needs it most?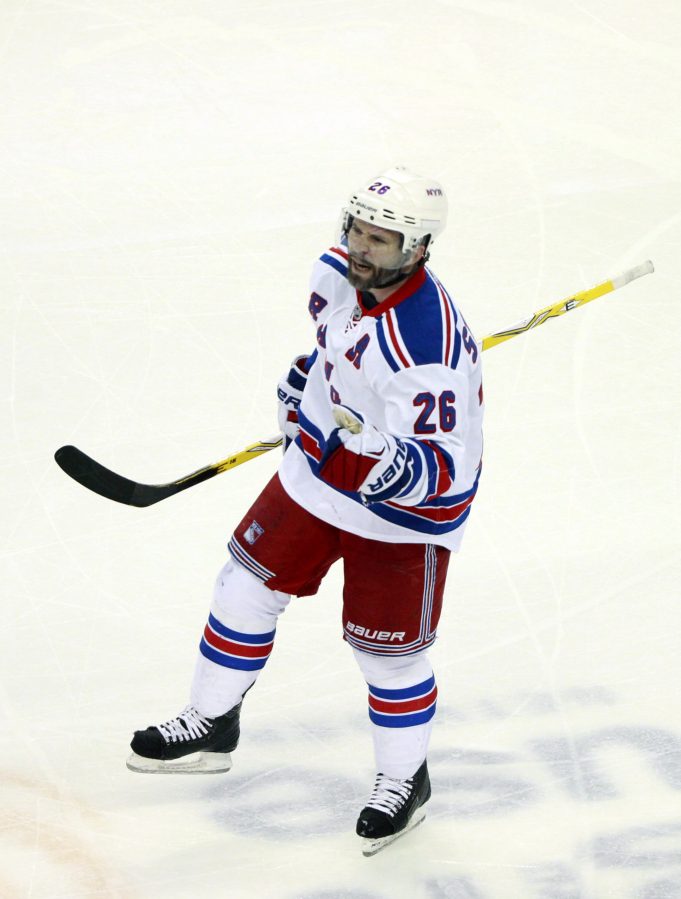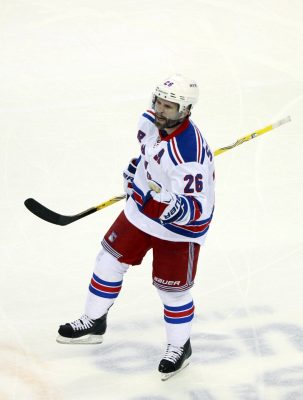 For my money, St. Louis is the only player who has come close to reaching Messier's level of leadership. If that 2014 team won the Cup, his Mother's Day and OT goals would at least be mentioned in the same breath as Messier's Game 6 goal.
As for the current team? This question remains to be answered. One thing is for sure.
Ryan McDonagh will need to step up his game this season.
Smart Moves
If you lived 1994, then you also experienced a trade deadline which had every Rangers fan going nuts.
Todd Marchant for Craig MacTavish.
Mike Gartner for Glenn Anderson.
Or the big one: Tony Amonte for Brian Noonan and Stephane Matteau.
While these players were obviously huge pieces of that '94 team, not too many fans were optimistic about the move when it happened.
Fans felt similar emotions when Glen Sather shipped off Ryan Callahan, the beloved New York captain, to Tampa Bay for St. Louis.
Drama and intrigue anyone?
Or how about top prospect Anthon Duclair for hot-shot defenseman Keith Yandle?
While no one can predict the future, I would fully expect Jeff Gorton to go for it if the Rangers are in a favorable spot come February…again.
Luck
Sometimes you need some luck on your side and I'm sure David Tyree from the 2007 New York Giants would agree.
Heck, so would Chris Kreider and Carey Price because that 2014 Eastern Conference Final series would have been a whole new ballgame if Price were healthy.
Don't let them fool you, because the 1994 Rangers were a lucky bunch as well.
If Martin Brodeur had his paddle just an extra inch to the left, we could still be fighting "The Curse".
Mike Richter had physics on his side on more than a few occasions throughout those playoffs.
Remember this one?

Speaking of luck, let's go back to the 2014 Rangers. The Los Angeles Kings were the better team, that's for sure.
Having said that, if the Rangers had won Game  that whole script could have had a different ending. But the referees decided on that night that they would redefine what goalie interference was.

Does it still infuriate you to watch? Hank had no chance at stopping that puck, but because of a boneheaded call, the whole dynamic of the series changed.
Luck was not on that team's side in 2014.