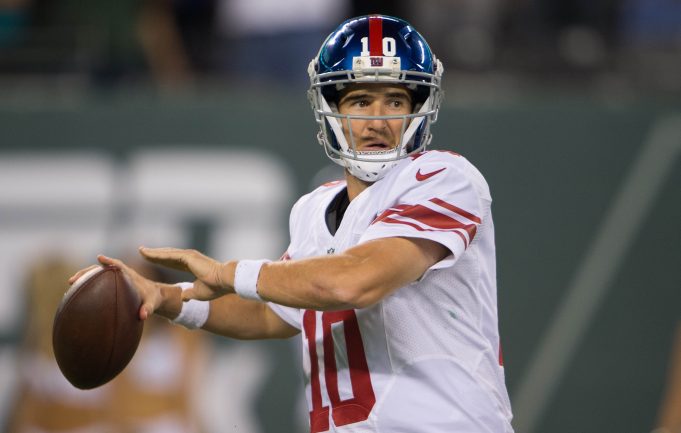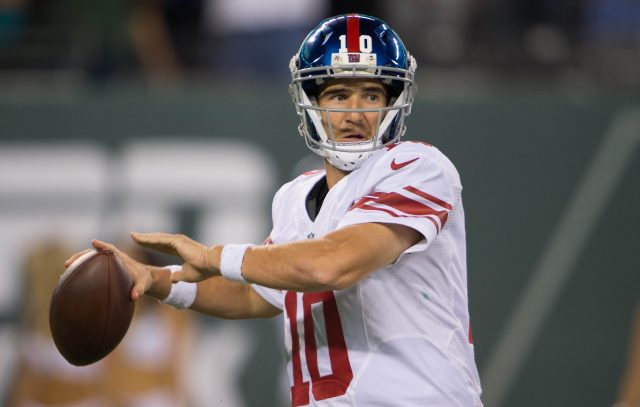 16. New York Giants
On paper it's obvious: these New York Giants will be better in 2016. They have to be better, "Right?" Nothing in 2015 matched the ugliness of the Giants defense a season ago. Forget the idea that they blew leads left and right, this defense finished dead last in the league with an average of 420.3 yards against a game.
Damon Harrison (one of the nastiest and most underrated players in the league), Janoris Jenkins, Olivier Vernon, and rookie safety Darian Thompson will bring much-needed punch to the defense.
The only question in Big Blue land revolves around a suspect offensive line. Eli Manning, Odell Beckham Jr., and explosive rookie Sterling Shepard will only be able to do as much as the o-line allows.
For now, they're a middle-of-the-pack ranking with a high upside for growth.
15. Oakland Raiders
We already listed the one dark-horse AFC team in the Jacksonville Jaguars. Here's the other: the Oakland Raiders.
We remain skeptical, though intrigued. Derek Carr has the right guys around him. Can the o-line hold up? Is there enough around superstar Khalil Mack defensively?
14. Washington Redskins
The surprise of the 2015 season, the Washington Redskins, have many questions coming into 2015. Obviously, the first is Kirk Cousins and if he'll be able to duplicate his solid previous campaign.
One thing's for sure: Josh Norman and OBJ will provide entertainment all season long.
13. Houston Texans
Bill O'Brien knows what he's doing. His offense works in the NFL. That is, if, he has a QB to operate it.
With a loaded defense and solid parts on the offensive side, Brock Osweiler will have all eyes stuck to those broad shoulders. With J.J. Watt in tow on the other side, things will remain solid.