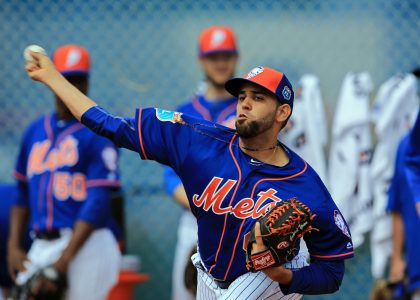 Call up RHP Gabriel Ynoa from AAA Las Vegas.
Similar to Gsellman, Ynoa isn't going to "wow" anyone with his stuff. However, he's quietly and consistently risen through the system over the past few years. He's done so exhibiting good control, and a willingness to throw all his pitches.
MLB.com notes "He's had success in the past with average stuff across the board — though he can touch 94-95 mph with his fastball on occasion — and shows a willingness to throw all of his pitches at any point in the count."
MLB.com ranks Ynoa as the Mets 18th best prospect. Like Gsellman, his AAA numbers in hitter friendly Las Vegas aren't pretty. He's pitched to a 4.42 ERA, averaging just 4.7 K/9. However, his 1.5 BB/9 career minor league walk ratio is encouraging. He doesn't miss the strike zone often, but that also means he has trouble missing bats. If he can learn to pitch out of the strike zone more often, he might be able to find success as a fourth or fifth starter.