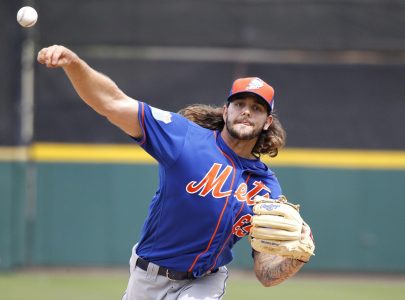 Since Matt Harvey's season ending surgery, the New York Mets have struggled to find a capable replacement. There are options to fill the void.
Replacing a pitcher of Matt Harvey's caliber isn't easy. Although the New York Mets right hander was suffering through his worst season as pro before succumbing to season ending surgery, his replacement, Logan Verrett, has actually pitched worse. He gone 1-5 with a 5.61 ERA since entering the rotation.
Manager Terry Collins will keep Verrett in the rotation for at least one more start against San Diego later this week. If he falters in his next start, the Mets could look at other options.
Zack Wheeler is rehabbing, and could return before month's end. However, the Mets could stick with a six man rotation upon his re-entry to the big leagues. It was an effective formula for success last season; the extra day of rest serves to benefit the young arms over the last month of the season.
The Mets remain in playoff contention but can't afford to have a starter who carries an ERA climbing towards 6.00. Let's look at the potential replacements.