Evan Turner will be sought after by many teams in free agency, including Phil Jackson and the New York Knicks.
Evan Turner of the Boston Celtics is in the final year of his contract, and with the expanding salary cap, Chris Mannix of CSN New England says the market for the combo guard will be "robust."
"Phil Jackson is a big fan of Evan Turner," Mannix continued, "The Knicks will have money to spend. They need a combo guard who can handle the ball. I expect New York to make a run at Evan Turner."
Turner certainly didn't live up the billing up the No. 2 overall pick in the draft.
It didn't help that he was taken over stars such as Derrick Favors, DeMarcus Cousins, and Paul George either. But Celtics' head coach Brad Stevens' player-friendly offense the pressure has been taken off of Turner.
Turner doesn't have the skill set to be a star player but he can be a solid role player for the Knicks. Jackson is likely drawn to his gifts as a passer and his high basketball IQ. The 6-foot-7 Turner is a point forward who can smoothly run an offense. It makes him an asset with his back to the basket. Turner is in the 87th percentile in post up efficiency.
Turner's one of the better wing defenders in the league. He's in the 94th percentile guarding the roll man in a pick-and-roll play, and the 76th percentile in isolation play defense efficiency.
In his sixth season, the Ohio State product is averaging 27.4 minutes, 10.0 points, 4.9 rebounds, 4.5 assists, and 1.0 steals, on a slash line of .448/.183/.822.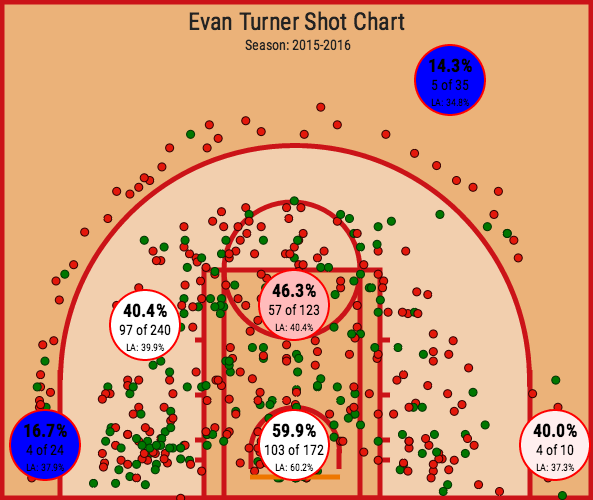 So in case you were wondering why he doesn't have more hype now you know, he can't shoot. According to NBA Stats, Turner is shooting just 38.6 percent of pull-up jump shots which also happen to be his most common type of offensive play. He's shooting just 39.8 percent on shots from 16-24 feet.
Turner's certainly appealing to the triangle offense, and the Knicks have $18 million to play with over the summer, some of which they could use on him. He'll likely command somewhere between a salary between $10 and $15 million, so as always it will be about the money.