The Mets took their second straight game vs. the Diamondbacks on Wednesday night at Citi Field. New York beat Arizona by a score of 7-1. However, quite a few also believe there was another victory before the game even started. It involves the Texas Rangers, Luisangel Acuña, and Max Scherzer.
Since getting traded to Texas, the veteran hurler had been producing at a mostly high level. Across eight starts (45 innings), Scherzer went 4-2 with a 3.20 ERA, a 0.96 WHIP, and 53 strikeouts. His ERA was only that high because of one bad start against the Houston Astros.
Unfortunately for Texas, who is in the heat of a postseason chase, Scherzer won't be taking the mound for them again during the regular season. It's unlikely to happen in the postseason, too:
Right-hander Max Scherzer is expected to miss the remainder of the regular season with a strained teres major — a muscle that connects the scapula to the humerus. Scherzer is, Texas GM Chris Young told reporters, "unlikely" to pitch in the playoffs.

Brutal news for the Rangers.

— Jeff Passan (@JeffPassan) September 13, 2023
---
👉 Bet $50, get $200 bonus with FanDuel NY Sportsbook
---
This is a tough blow for any contending team down the stretch. While I'd never be happy about a player getting hurt, I also felt some relief that this injury and the questions that come with it won't be the Mets' problem heading into the winter and then 2024.
Was Acuña feeling a little saucy after seeing the news, though? According to SNY's Matt Spendley, the timing of a picture he posted to his story on Instagram seems curious: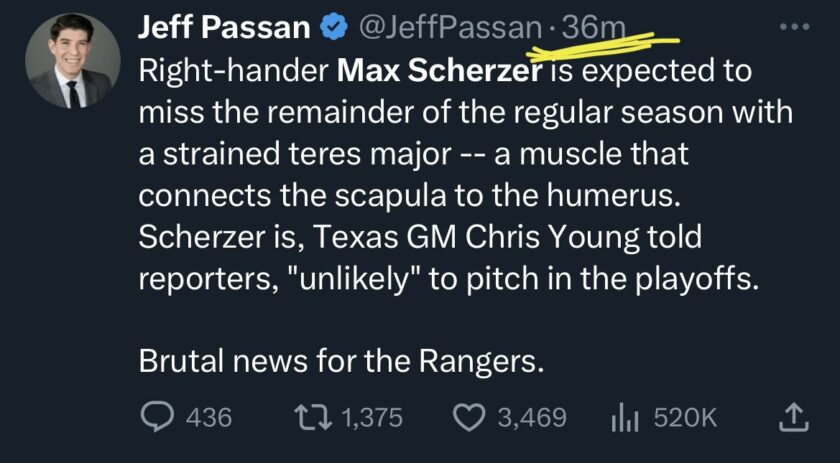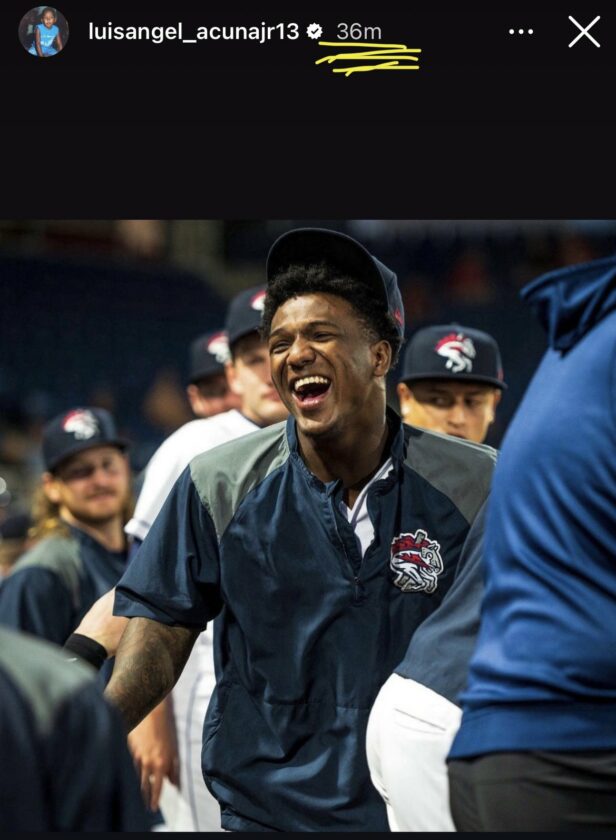 I'm not going to lie, folks… I need some more convincing.
In that IG story, he tagged what appears to be another one of his handles (acunita.2), which looks like more of a Mets-related account. But, you're telling me he saw Jeff Passan post this news and then immediately hopped on IG to post this picture?
The response from Spendley's tweet was all in favor of this not being a coincidence. I suppose it's possible that he has post notifications on for Passan. Maybe he was just cruising social media, saw it, and that was his initial reaction. Or, maybe someone told him what was happening before the news broke and he was ready. It's all within the range of possibilities.
I'm a little skeptical because of the exact timing, but I can certainly see the argument as to how this was on purpose.
Acuña has posted a .664 OPS in Binghamton since joining the Rumble Ponies in Double-A. That was mostly because of a slow start, though. Since August 18th (92 plate appearances), he's hitting .321/.380/.420, which susses out to a .800 OPS.
You can reach Matt Musico at [email protected]. You can follow him on Twitter: @mmusico8.