Remember way back in February when the Mets had World Series expectations attached to them after record-breaking offseason spending? Two hurlers who were supposed to be a big part of New York's plans are both pitching this week. But not for the Mets. One is pitching for the Astros and the other is pitching for the Rangers. Oh, and they're facing off against one another on Wednesday.
Two-time former teammates Justin Verlander and Max Scherzer are listed as the probable pitchers during a pivotal series between Houston and Texas.
Don't take my word for it. You can see for yourself below: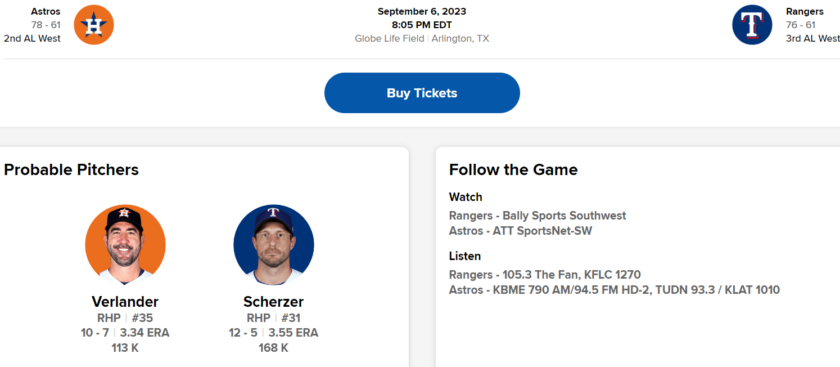 If you told anyone a few months ago that Verlander and Scherzer would be pitching against one another in the midst of a postseason chase, they would've called you crazy. Heck, Steve Cohen would've called you crazy if this was mentioned to him.
But, things can turn on a dime in sports. By the middle of July, the Mets were hoping to find another gear and get back into contention. Once August 1st rolled around, though, the white flag was waved and several of the main pieces of New York's roster were sold off for prospects.
New York had to send lots of money to Houston and Arlington to complete trades involving Verlander and Scherzer, but the prospect haul received in return was terrific. Luisangel Acuña, Drew Gilbert, and Ryan Clifford rank first, second, and sixth among MLB.com's top-30 Mets prospects.
The veteran pitchers are also getting what they wanted — a chance to pitch for a contender down the stretch. Verlander is 4-2 with a 3.86 ERA in 35 innings since re-joining the Astros. Meanwhile, Scherzer has been terrific for the Rangers. He's currently 3-1 with a 2.21 ERA through his first 36.2 innings with the club.
It's only been a little over a month since the Mets went into sell mode at the trade deadline. Some might not be over what happened, but I'd imagine there are plenty of people who have gotten past that initial gut punch. So, seeing JV and Mad Max face off on Wednesday could conjure up more of a chuckle than anything else for many fans.
Baseball is a funny game, isn't it?
You can reach Matt Musico at [email protected]. You can follow him on Twitter: @mmusico8.