Reports and rumors have been circulating around first baseman Pete Alonso for a few weeks now. That hasn't stopped the Mets from using the right-handed slugger to sell tickets to remaining 2023 home games at Citi Field, though.
We hadn't heard one peep about Alonso's long-term future until a few days before the trade deadline. And even then, it seemed unlikely that New York was seriously close to trading the 28-year-old.
The Athletic's Ken Rosenthal reported after the deadline that the Mets and Brewers were "within field goal range" of a deal getting done, despite a Mets source denying it. And then there's Bob Nightengale of USA Today. He's clearly planting his flag in the "Mets are going to trade Alonso" camp. Nightengale already mentioned Alonso and Edwin Diaz as offseason trade candidates. Then, he doubled down on the first baseman in his latest notebook:
All-Star first baseman Pete Alonso is expected to be traded by the New York Mets this winter, several executives insist, after conversations with the Mets. 
The Mets have informed teams that anyone that isn't under contract after 2024 will be available, and they have not come close to reaching a contract extension with Alonso in past years. He's a free agent after the 2024 season. 
"The fact that they had every opportunity to sign this guy, and didn't, speaks volumes about his future,'' one NL GM said. 
---
👉 NY Sports Online Betting: Best Sportsbook Apps
---
I talked about this report on Sunday night. Could there be truth to this? Yeah, sure — but I'm still having a hard time buying it. That could be the optimist in me who wants to see a prolific power hitter like Alonso continue to annihilate franchise home run records. I'm not going to deny that.
But then again, there aren't many guys in baseball who can do what he does at the plate consistently. Even if the Mets don't see themselves as World Series contenders until 2025 or 2026, Alonso should still be productive enough to contribute at a high level.
I'll continue to be skeptical of these reports/rumors for a few reasons:
Steve Cohen owns the Mets. He's proven many times that anything is on the table. We also know he obviously has the money to make something happen.
It feels like Nightengale is the only one continually stating that the expectation is for Alonso to be traded. He also appears to be the loudest about it.
The Mets are still using the first baseman to sell tickets for the remainder of this season.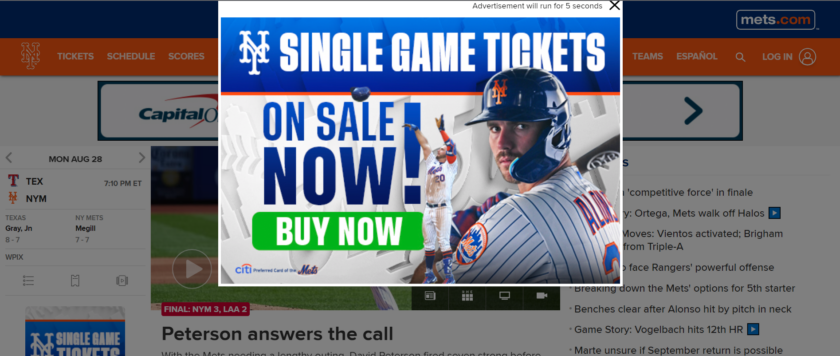 Look, I realize this means absolutely nothing in the long run. Simply using Pete on a ticket advertisement doesn't mean he's sticking around for the long haul. Or, that he even wants to stick around.
But if there really are concerns about him within the organization or in the clubhouse, would they be using him in this way? I suppose it's still possible. However, it'd be just as easy to use Francisco Lindor in these advertisements. You know, the guy who is also having a great year and is under contract for the remainder of this decade.
This is just the latest reason why all this stuff isn't adding up for me yet. And it'll stay that way until the offseason. Until we start hearing people other than Nightengale share reports about Alonso's immediate and long-term future, I'm going to file it away and not take it too seriously.
You can reach Matt Musico at [email protected]. You can follow him on Twitter: @mmusico8.