Angels general manager Perry Minasian has said it multiple times this year: Los Angeles has no plans of trading Shohei Ohtani. That possibility looks even more remote since the Angels are in contention. Entering Friday's action, they're 41-35, putting them in one of the AL Wild Card spots. It's also six games behind the first-place Texas Rangers in the AL West.
But that's not stopping people from proposing hypothetical trades for the 2021 AL MVP winner. I guess their goal is to get us talking about it. And since I'm writing about Bo Porter's hypothetical Mets-Angels trade from MLB Network, he's succeeded. But, there's so much going on in this proposal that there was no way I couldn't talk about it.
Someone snapped a picture of it from a segment on MLB Network and slapped it on Reddit: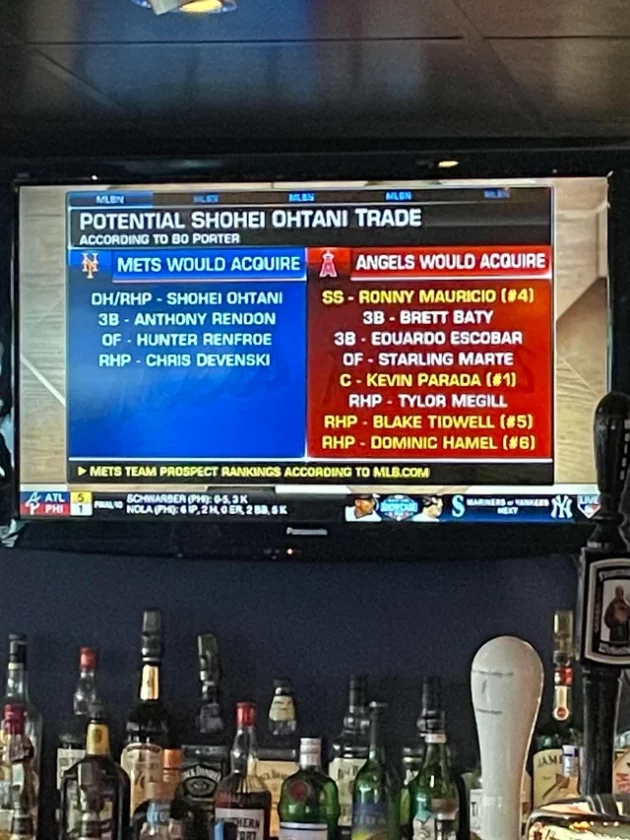 Holy crap, there's a lot going on here people. In case you lost count while looking at this picture, this proposed trade includes 12 (!) players between just two teams.
The inclusion of Ohtani is obvious — he's the only reason why this fake deal is being talked about in the first place. I can also see why Hunter Renfroe and Chris Devenski are included. Renfroe gives the Mets some right-handed pop, while Devenski would help a beleaguered bullpen.
But, why in the world is Anthony Rendon included? He hasn't played more than 58 games since 2019 and is currently on the IL. Would this be the Mets taking on a bad contract to convince LA to make a deal? I wish I could find the video of Porter talking through this deal to get the full picture.
And then from the Mets' side, my goodness. Even if Ohtani would become available this summer, it'd be in New York's best interest to just wait to pursue him this winter. We know New York doesn't like dealing its top prospects. What in the world makes one think they'd give four of their top six prospects (plus Brett Baty!) for a half-season of Ohtani? And no guarantee of an extension?
Eduardo Escobar could be a free agent this winter. But also, why would they want Starling Marte for two more years, especially since he's struggled to find his 2022 All-Star form?
I'd be surprised if this many players would be going back and forth just to pry Ohtani from the Angels' hands. This just solidifies the fact that there's really no hypothetical deal that would look "good" to both sides for a player of Ohtani's caliber.
But still, nobody would say yes to this trade. Not the Angels, and most definitely not the Mets.
Ohtani isn't getting traded this summer. Unless something catastrophic happens in Anaheim, of course. The Mets could use plenty of help if they intend on being buyers, so let's focus on energy elsewhere, yea?
You can reach Matt Musico at [email protected]. You can follow him on Twitter: @mmusico8.