The Knicks' magic ran out on Friday against the Miami Heat. After winning Game 5 at Madison Square Garden to avoid elimination, New York couldn't do the same thing in Game 6 down in South Beach. But at least it wasn't a blowout.
When your favorite team gets eliminated, you go through the five stages of grief. Especially when they exceed expectations and you start getting your hopes up that the magic can stay alive. But when it's officially over, all the emotions come pouring out in different ways.
There's denial that a super-fun season is actually finished. Then, there's anger that they couldn't keep things going. Once you get through bargaining and depression, you ultimately land on acceptance. Lots of Knicks fans got there quickly after Friday night's 96-92 loss to Miami. So quickly, in fact, that some are ready to hang a banner in the rafters of MSG for simply not getting embarrassed in an elimination game.
The below picture landed on the Knicks' subreddit over the weekend: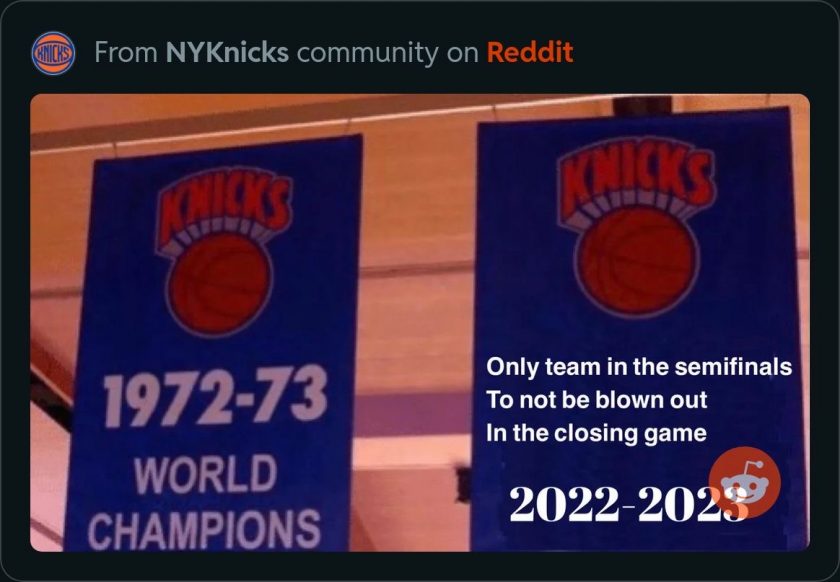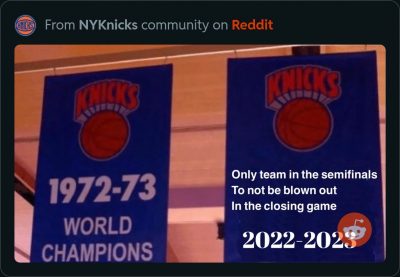 Hey, you've gotta latch onto something right? We've all been there with our favorite teams.
This obviously isn't worth a banner, but the point is made. Here's how elimination games went for the other three conference semifinals (which all lasted at least six games):
Celtics 112, 76ers 88
Nuggets 125, Suns 100
Lakers 122, Warriors 101
If I had to choose one way to watch my team go down, it's with a fight in a close game. Even though it might sting more once the buzzer sounds.
However, a loss is a loss. Whether it was close or a blowout, all those squads who came up short have to watch the rest of the NBA Playoffs on the couch. But at least the Knicks didn't get completely embarrassed on their way out, right?
You can reach Matt Musico at [email protected]. You can follow him on Twitter: @mmusico8.