Being a Mets fan is certainly not for the faint of heart. While team owner Steve Cohen has given the fan base more things to be optimistic about than ever before, it's still the Mets we're talking about. Fans should be ready to get their hearts broken while also riding a roller coaster of emotions.
Thursday night's dramatic comeback win over the Washington Nationals is a perfect example of that.
New York used the power of its Brandon Nimmo gnome shrine in the dugout to build a 7-3 lead heading into the eighth inning. Tommy Hunter came out for a second inning of relief, and it was less than stellar. Between him and Brooks Raley, three Nationals batters were hit by a pitch, and a five-run comeback was punctuated by a C.J. Abrams grand slam.
The Mets could've just rolled over at that point. Instead, the offense came right back to re-take the lead in the bottom of the eighth. Then, David Robertson shut the door in the ninth to earn his fifth save in five tries.
This put all fans on an emotional roller coaster nobody wanted to be on. First, everyone was relieved that the offense remembered how to score runs before feeling disgusted about watching what seemed like a safe lead completely evaporate. But then, the elation came back thanks to clutch hits from Pete Alonso and Jeff McNeil.
A Reddit user displayed what it's like being a Mets fan by posting part of the text message exchange they had with their father during the latter portion of the game. As a warning, it has some salty language, but it's also priceless: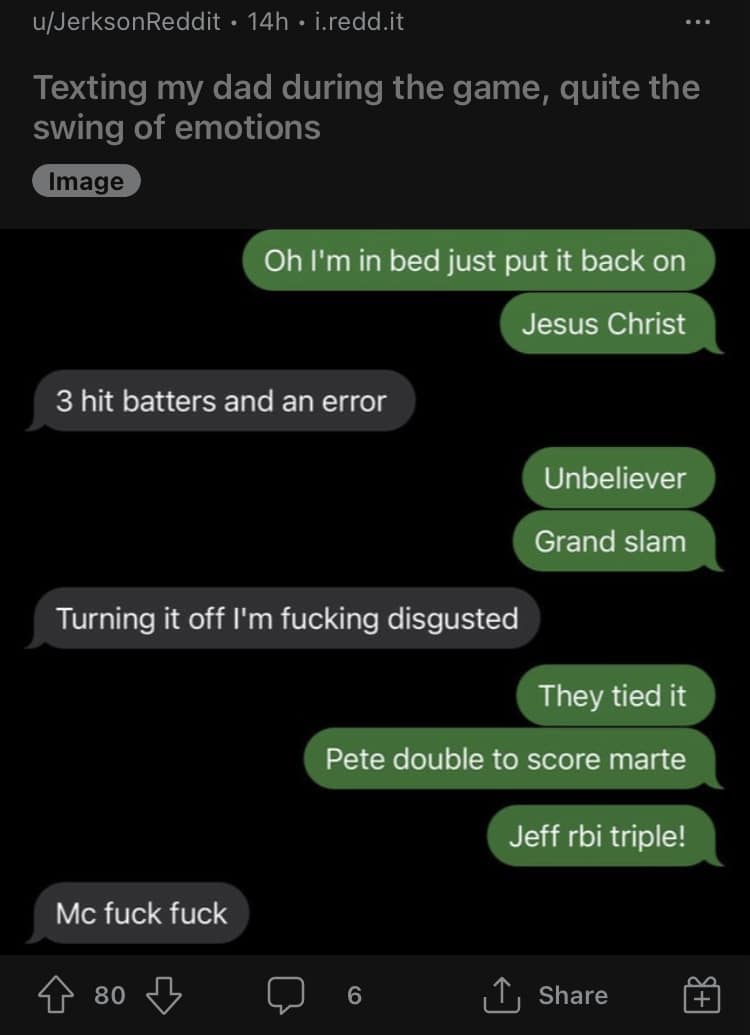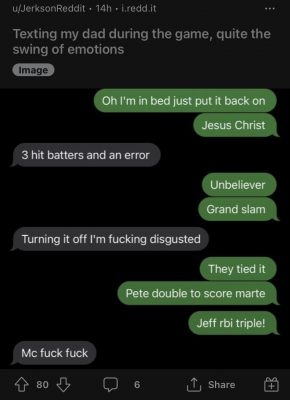 Quite the swing of emotions indeed. I'm not exactly sure what the last message referring to McNeil actually means, though. Maybe they were in and out of sleep while watching the comeback.
But honestly, if this text message exchange doesn't perfectly describe life as a Mets fan, then I don't know what does. Just when we're about to give up on them, they find a way to pull us right back in.
Only five more months of moments like this, folks. And if we're lucky, it'll be six more months if the Mets make it back to the postseason.
You can reach Matt Musico at [email protected]. You can follow him on Twitter: @mmusico8.