Life as a Minor League Baseball player is tough. There are lots of twists and turns on the way to achieving their goal of reaching the big leagues. And, most never even make it. It's different being a top prospect, but the pressure is greater because so many people inside and outside of an organization have certain expectations for your future as a ballplayer.
Top Mets catching prospect Francisco Alvarez knows a thing or two about that. The 21-year-old backstop has been among baseball's best prospects for the last couple of years. And after reaching the majors this past September, people are expecting him to land in Flushing — and stay there — in the near future.
Alvarez seems very confident in himself. That could be attributed to any number of things, but does he have a secret sauce? Apparently, according to FOX Sports' Deesha Thosar, part of the catcher's morning routine is reminding himself that he's "The best". How does he do that, you ask? Well, by looking in the mirror and seeing those words tattooed on his throat:
"I got the tattoo because when I wake up in the morning, I want to be reminded that I view myself as the best," Álvarez said through an interpreter. "Sometimes you wake up in the morning and you don't feel great and you forget who you are. But with that tattoo, it reminds me I'm great and I feel like the best."
Hell yea, man. I mean — we've all been there, right? Waking up after a cruddy night of sleep and not feeling too awesome isn't fun. Especially when the years start to pile up. But if all it takes for Alvarez to snap out of a funk is to look at his tattoo, then that's awesome.
Seems like a painful spot to get one, though. But that's because I'm a wimp when it comes to that stuff. Thosar mentioned that this message is inked on the base of Alvarez's throat in all caps and all red. The young backstop doesn't have a ton of posts on his Instagram page, but there's a group of pictures from December that inadvertently shows off the ink. Here's one of them: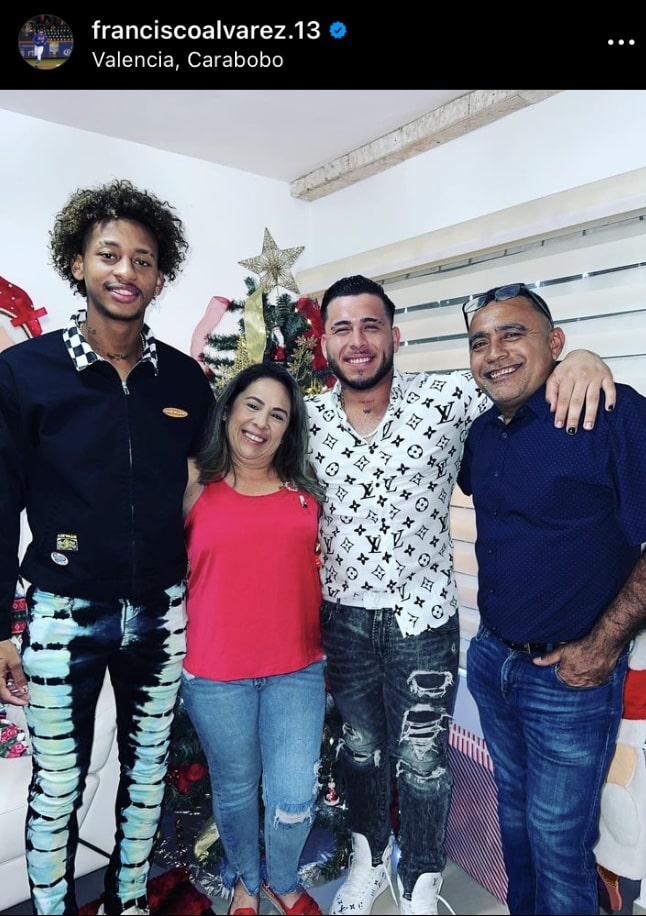 This mentality has helped the top prospect set and meet some lofty goals over the years. Prior to the 2022 season getting underway, a reporter asked Francisco Alvarez what his biggest goal was for the year. He responded by saying he wanted to reach the big leagues. Many probably thought that wouldn't happen since he hadn't yet played a game in Double-A yet. But it did.
While his goal is to make the Opening Day roster for 2023, that doesn't seem like that'll come to pass. Unless something drastic happens, at least. Tomas Nido and Omar Narvaez are entrenched as the catching duo for right now so Alvarez can get some final seasoning behind the plate in Triple-A.
That's not stopping him from setting another lofty goal, though. In Thosar's article, it was revealed that he's aiming to win National League Rookie of the Year. Not in 2024, but this year.
We'll see if he can reach that goal soon enough. For the time being, Francisco Alvarez is focused on making progress in Port St. Lucie while getting his daily boost of motivation each morning just by looking at himself in the mirror.
Matt Musico can be reached at [email protected] and you can follow him on Twitter: @mmusico8.