First, it was the Empire State Building congratulating the Eagles on reaching the Super Bowl. Now, there's a Philadelphia-based bakery openly rooting for the Mets in 2023. What has this world come to?
Pat McCarthy recently joined 880 WCBS to be the Mets' pre- and postgame host for the upcoming season. He's the son of Tom McCarthy, who is the Phillies' play-by-play announcer. And according to our friends at Crossing Broad, Pat has been the voice of the Lehigh Valley IronPigs since 2018.
So, he's got plenty of ties to the area. McCarthy also frequents the Collegeville Bakery when he's in the area, so they wanted to give him a shoutout for his latest career move. There's nothing wrong with that. What we see in the below Facebook post would've been completely fine…without the last line in the sign that's pictured: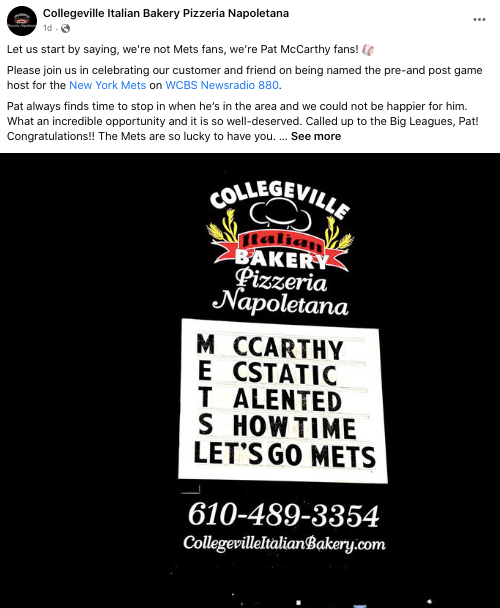 It's understandable to see why Philly fans are annoyed at this, right? Using "Mets" to share a fun message about McCarthy is allowable, but ending it with "Let's Go Mets"? Yea, I'd be annoyed if a similar NYC-area establishment did the same thing.
They'd never do that, though. Especially after seeing the Empire State Building light up green a couple of weeks ago. This wouldn't have created as much of a stir if the bakery replaced "Let's Go Mets" with something like… "Congrats, Pat!"
See? That wouldn't have been so hard. But then again, we can't blame them for being closet Mets fans. Phillies owner John Middleton isn't afraid to spend big bucks on his club, but there's only one Steve Cohen in baseball.
And yes, I know the Phillies just made it to the World Series. That's all they need for bragging rights at the moment. But let's not forget how the Mets completely dominated them in 2022. In 19 head-to-head meetings, New York went 14-5. There were plenty of memorable comebacks and rip-your-heart-out moments along the way, too:
Some #Mets highlights vs. Philly in '22:

⁃14-5 overall record
⁃9-0 in games started by Nola & Wheeler
⁃A combined no-hitter
⁃One ridiculous 9th inning comeback
⁃Today's three comebacks

The head-to-head matchup went well this year. #LGM

— Matt Musico (@mmusico8) August 21, 2022
These head-to-head matchups are always interesting. After the Mets reloaded with an expensive offseason and the Phillies supplemented their roster with Trea Turner, Taijuan Walker, and others, it'll remain interesting in 2023.
It looks like the Collegeville Bakery will be torn now that McCarthy is working with the Mets. Probably not. But maybe. Either way, we can't blame them.
Matt Musico can be reached at [email protected] and you can follow him on Twitter: @mmusico8.