Even with the Carlos Correa disappointment, the Mets have put together an offseason for the ages. They entered with many impact players heading for free agency. Instead of "retooling", New York reloaded to make another run at a World Series title. But with Spring Training just two weeks away, there's still one major free agent left on the board: broadcaster Keith Hernandez.
Not long ago, I mentioned that the former first baseman's contract negotiations dragging on with SNY aren't anything new. In fact, his past two contracts weren't agreed upon until the second or third week in January. This situation is different now, though. I mean, come on — it's February, folks.
We should be getting excited about Mets baseball and hearing the familiar voices of Gary Cohen, Ron Darling, and Hernandez in the broadcast booth. That's still a very real possibility. But the latest news about Mex's contract negotiations with SNY is starting to make people sweat (and rightfully so).
Here it is from Mike Puma of the New York Post:
There is still a gap between SNY and Keith Hernandez in contract talks. Hernandez was offered a new deal, rejected it, and counter-offered. SNY has not yet responded with another offer.

— Mike Puma (@NYPost_Mets) February 1, 2023
As I already said, it's not outrageous that Hernandez went into 2023 without a new contract. But this is just ridiculous. How big could the gap be between Keith and SNY? He just finished a three-year deal worth $2.4 million. You'd imagine Hernandez is looking for a raise, but who really knows at this point?
Whenever something stupid like this goes on with SNY, only one thought goes through everyone's mind…the Wilpons are at it again.
And sure, Fred Wilpon himself probably isn't actively negotiating, but Fred Wilpon Sterling Equities owns 65% of SNY. I'll never be convinced they don't have any influence on what's going on. Mostly because these types of ordeals sound very similar to what went on when the Wilpons owned the Mets.
Oh, and it's not like there isn't any money laying around. Steve Cohen bought the club for $2.4 billion in November 2020. The Wilpons definitely aren't able to generate the type of income Cohen can at his day job, but it's not like finding an adequate middle ground for both parties is impossible.
It doesn't help that Hernandez himself appears unsure of how his future will turn out. Here's a comment he made on Twitter the other day about Daniel Vogelbach putting in some work this offseason: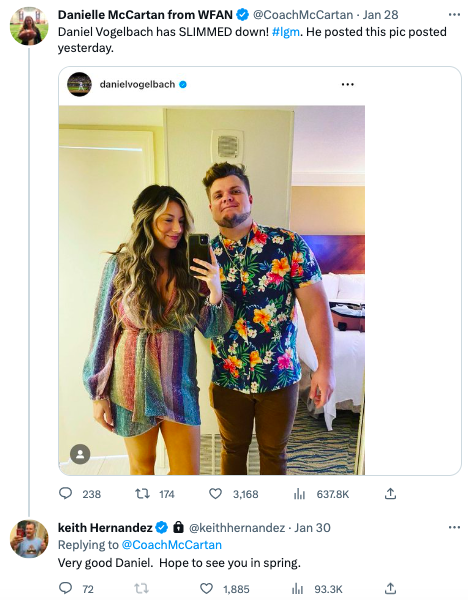 Oh, the humanity. Just get this man signed! He's certainly at the stage in life where he could just ride off into the sunset. But it doesn't seem like Hernandez is done in the booth. The Gold Glover also missed the end of the 2022 regular season because of a shoulder injury. He probably wants to go out on his own terms.
Let's hope he gets that opportunity. I'm still not convinced he won't be in the SNY booth with Gary and Ron for 2023. However, this saga has dragged on long enough that doubt is starting to creep into my mind. Just like many others, I'm sure. If this worst-case scenario happens, maybe Cohen will find a way to save the day.
After all, Mets fans are pretty convinced he can get anything done if he really wants to.
Matt Musico can be reached at [email protected] and you can follow him on Twitter: @mmusico8.