We're almost there. As we sit here on Tuesday, January 24th, we're just 22 days away from Mets pitchers and catchers officially reporting to Port St. Lucie. After a whirlwind of an offseason that included tons of money getting spent, there's not much left for New York to do.
General manager Billy Eppler is still hunting for roster upgrades, but the heavy lifting is complete. Instead of continuing to dissect everything we see on social media, let's pick apart New York's player projections for 2023, shall we? It'll feel a little more productive, at least.
After the Mets' 101-win campaign in 2022, New York has now had 13 teams finish with a winning record since 1997. After checking out the individual fWAR projections for each pitcher expected to be in manager Buck Showalter's rotation, I'll look to past seasons and tally up the number of 2.0-plus fWAR and 3.0-plus fWAR hurlers to see if there are any trends.
Current projections for Mets' 2023 staff
The Mets are heading into this upcoming season with what appears to be enviable depth in the starting rotation. If New York decides to keep Carlos Carrasco, the Amazins will have David Peterson and Tylor Megill as their sixth and seventh starters. Assuming everyone remains healthy throughout Spring Training, of course.
Many teams have to use seven, eight, nine, or even more starting pitchers throughout a season. So, while it seems like Peterson and Megill may not get a chance in the rotation, they'll probably rack up more starts than many are currently expecting.
Regarding the current rotation mix, here's what each hurler is projected for this season in terms of fWAR and innings pitched, according to FanGraphs' Steamer Projections:
Justin Verlander: 4.0 fWAR in 180 IP
Max Scherzer: 4.3 fWAR in 191 IP
Kodai Senga: 2.2 fWAR in 156 IP
Jose Quintana: 1.9 fWAR in 158 IP
Carlos Carrasco: 1.7 fWAR in 150 IP
Just for the record, Megill is projected for 1.1 fWAR in 78 innings pitched. Meanwhile, Peterson is tabbed for 0.9 fWAR in 64 frames.
For the top five, the only real unknown is Senga. He'll be pitching in the big leagues for the first time after spending his entire career in Japan. When it comes to the co-aces in Verlander and Scherzer, though, those numbers are attainable based on previous production and assuming general health.
The same could be said for Carrasco and Quintana. Since 2014, Carrasco has thrown at least 130 innings on six occasions. He's never produced an fWAR lower than 2.4 in those campaigns. Quintana has thrown 130 innings nine times. The only years he produced an fWAR below 1.9 was in 2012 (his rookie season) and 2018 (1.6 in each year).
Comparing this to past winning seasons
As I mentioned before, the Mets have produced 13 winning seasons since 1997. Outside of 2001 (82-80) and 2005 (83-79), they've registered at least 86 wins the other 11 times, which includes nine seasons of 88-plus victories.
Going back through the individual starting-pitcher production for each of these squads, I tallied up the hurlers with 80-plus innings pitched who accumulated at least 2.0 fWAR that year. Then, I wanted to see how many of those performances resulted in 3.0-plus fWAR. Here are those findings.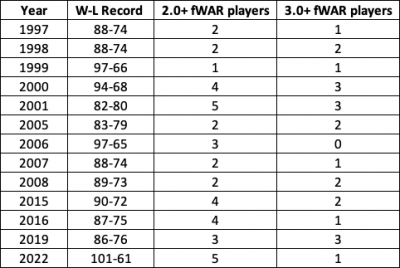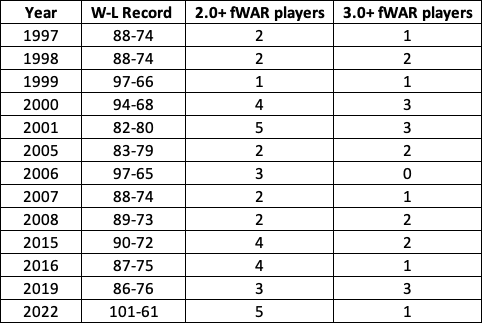 The only year the Mets didn't have multiple 2.0-plus fWAR pitchers in their rotation was 1999. Outside of that and 2022, New York's 2006 squad was the other top regular-season performer. While they had three pitchers accumulate 2.0 fWAR, none of them surpassed 3.0.
But of course, we know that team was carried by a top-tier offense and bullpen.
Looking ahead to the Mets' upcoming year
This data shows the importance of getting a certain level of production from New York's rotation in a winning season. An elite unit would be terrific, but it doesn't have to be full of Verlanders and Scherzers (I'd be open to that, though).
Of these 13 winning seasons, only six squads finished in the postseason (1999, 2000, 2006, 2015, 2016, 2022). The 1999 campaign stands out as the lone year without multiple 2.0 fWAR pitchers. However, the only time they produced three hurlers with 3.0 fWAR was in 2000.
Between '99, '06, '15, '16, and '22, there have been just five total pitcher seasons of 3.0-plus fWAR in a Mets rotation. The rotation's 2023 production will likely be top-heavy thanks to Verlander and Scherzer. What will make it hit another level, though, is how the rest of New York's starters perform. Of these six postseason teams, four of them (2000, 2015, 2016, 2022) had at least four starters accumulate 2.0-plus fWAR.
As we can see above, the 2022 squad had five hurlers surpass that number. That's tied for the most in one season within this sample. It's also the first time they reached that number since 2001.
More things have to go right for the 2023 Mets than just having a productive rotation. However, it clearly appears that a fully functioning unit is important to the organization's recent success more times than not.
Matt Musico can be reached at [email protected] and you can follow him on Twitter: @mmusico8.