The New York Knicks have plenty of options if they want to draft a franchise point guard in the 2021 NBA Draft.
We're just over a month away from the NBA Draft, and the New York Knicks have some decisions to make.
The team owns the No. 19 and 21 picks in the first round. To our younger Knicks fans, that's practically owning an Infinity Gauntlet. However, don't expect Leon Rose and Scott Perry to snap their fingers and eliminate half the superstars in the league while also nailing both draft picks.
Rather, Rose and Perry having two draft picks to play with means the New York Knicks have options. They can keep both, trade one, or even trade both to either move up in the draft or acquire top talent.
But regardless of what path the Knicks front office chooses, they still have to land a top point guard. Derrick Rose can still play, but can't carry a team with starter minutes anymore. Immanuel Quickley can shoot the three from Endor, but hasn't played nearly enough point guard as a pro to just be handed the job.
The free agency market is touch-and-go and trading for someone like Damian Lillard will be expensive, so this leaves the NBA Draft as the best option for the New York Knicks.
If they pick any of the following five five point guards, their draft night will be a success.
Check out ESNY's Updated Mock Draft here.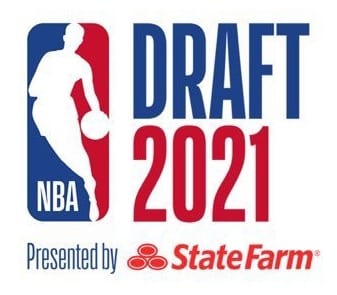 Honorable mention: Sharife Cooper, Auburn
Sharife Cooper is an interesting draft prospect in that he absolutely went off for Auburn last season. He averaged 20.2 points and 8.1 assists, and his shooting 39.1% from the field isn't that bad next to a true shooting percentage (TS%) of 51.9%.
Yet, Cooper is not without flaws. He isn't a good defender, averaged 4.2 turnovers in college, and was a horrific 22.8% from three-point range. Eligibility issues and injuries limited him to 12 games, so drafting Cooper means gambling heavily on his upside.
Then again, even if the Knicks do draft Cooper, perhaps Tom Thibodeau is the coach who can best develop him.
5: Josh Giddey, Adelaide 36ers, NBL, Australia
https://www.youtube.com/watch?v=IEwEYYRlhyc&ab_channel=BllenBllen
LaMelo Ball has formally ushered in the age of the long and athletic point guard, and Josh Giddey fits this exact mold. The young Aussie is only 18, but already has an NBA body at a long and lean 6'8″, 205 pounds.
Giddey had a good first season for Adelaide and averaged 10.9 points, 7.4 rebounds, and 7.5 assists per game. He also posted 32.1 minutes and played in 28 games.
Though Giddey's got that high ceiling, it's hard envisioning him as an immediate fit in New York. He's not the best shooter and may struggle to adapt to Thibodeau's demanding style. Yet, given how wrong fans were about Quickley, who's to say the same wouldn't happen with Giddey?
4. Jared Butler, Baylor
After leading his Baylor Bears to a national championship, Butler enters the NBA Draft riding high. He averaged 15.2 points, five assists, and 1.7 steals in the NCAA Tournament and was named Most Outstanding Player. Butler also shot a respectable 36.8% from three in the tournament and 41.6% for the regular season, so he'd be an offensive boost no matter who drafts him.
As for the Knicks, Butler isn't as odd a fit as he seems. Remember, Thibodeau often started Elfrid Payton before letting Rose come off the bench. Payton is a free agent who won't be back and, assuming Rose signs a new contract, the Knicks have options.
If Butler is drafted, he can easily be a bench shooter while Quickley graduates from that role to starting at the point. Or even vice versa. Butler was a phenomenal leader at Baylor and regardless of if he's the Knicks' starting point guard or coming off the bench, he'll find a way to fit in with teammates.
3. Ayo Dosunmu, Illinois
Ayo Dosunmu is an interesting guard prospect. He can play both the 1 and the 2, and proved reliable in every possible for the Illini last season.
In terms of scoring, Dosunmu would fill an immediate need. He posted 20.1 points and 5.3 assists per game as a junior, making 48.8% of his shots and 39% of his threes. Even better, he was effective from three while averaging less than three attempts per game. Throw in his 56.6 TS%, and he can absolutely be an offensive juggernaut in the NBA.
Yet, the Knicks need a point guard first and already have a pair in RJ Barrett and Julius Randle who can carry the offense. Dosunmu would just need to direct it and thus learn to take a step back as a scorer. If he can heed Thibodeau's coaching and build a strong rapport with his teammates, all while continuing to improve as a passer, then New York will prove a good fit.
2. Miles McBride, West Virginia
Miles McBride played at West Virginia for a very demanding coach in Bob Huggins. If he succeeded under Huggy Bear, he should have no problem meeting Thibodeau's standard with the New York Knicks.
As a player, McBride is an even stronger fit. He can drive the lane and shoot the three, and even defends well. McBride also averaged less than two turnovers a game for the Mountaineers, so he can be trusted to take care of the ball in the pros.
He isn't a scoring point guard, but McBride has the tools to make it in the NBA. As a Patrick Beverley type or a more talented Elfrid Payton, he could prove a strong fit for the Knicks.
1. Nah'shon Hyland, VCU
Nah'shon Hyland would be a literal fuel injection into the New York Knicks rotation. The man has Quickley-like range and has a notable motor. He only averaged 2.1 assists per game in college, but added 19.5 points and shot 37.1% from three.
Like Quickley, Hyland's future as an NBA point guard is up in the air. However, his ceiling as a scorer is such that it would be worth using him how we've already discussed using Jared Butler. Have him and Quickley compete for the starting point guard's job and let the best man win while the other comes off the bench.
Hyland may seem an odd fit for these New York Knicks, but so were Obi Toppin and Immanuel Quickley in last year's NBA Draft. By season's end, the fans had fully embraced both of them. There's no reason to believe Hyland can't follow the same path.