Offense is the name of the game at first, and the New York Mets have that covered. Here's to another year of Pete Alonso and Dom Smith.
Today we continue our 2021 preview series of the New York Mets, shifting our attention to first base.
No team in MLB is better set up for offensive success at first base than the New York Mets. Whether it's Pete Alonso, Dom Smith, or José Martínez, the Mets can rest easy knowing that they have the offensive firepower to dominate the league from its most offensive position.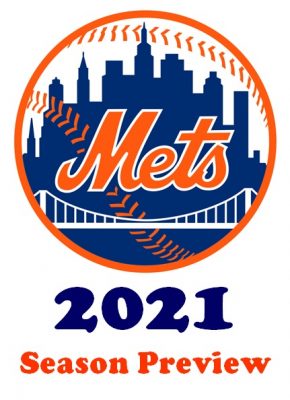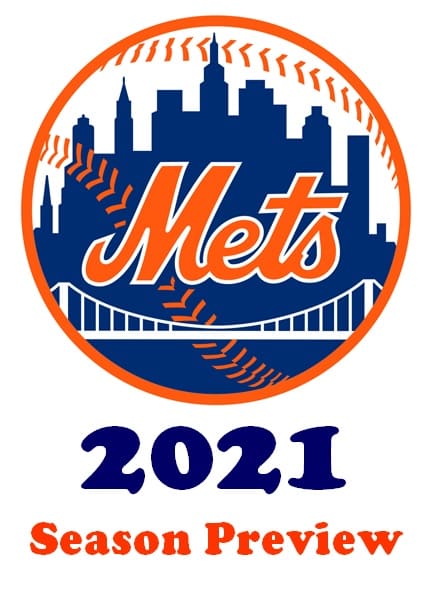 Pete Alonso
Pete Alonso burst onto the scene in 2019 with one of the greatest offensive rookie seasons of all time. He set a rookie home run record with 53, he became the first rookie in MLB history to lead the league in home runs, he slashed .260/.358/.583, and he was worth 4.8 fWAR. He was a deserving rookie of the year, even with his defensive limitations.
In 2020, Alonso hit a sophomore slump. His offense fell off, though it was still well above league average. He slashed .231/.326/.490. He still hit 16 home runs in 57 games, pace for 45 home runs over the same 161 games he played in 2019.
Despite the huge drop in offensive performance, Alonso's underlying advanced stats didn't really shift. His walk rate stayed steady, and he actually struck out a nearly full percentage point less. His ground ball rate also stayed steady.
Two things stick out, the first is Alonso's hard-hit rate dropped tremendously from 42.2% to 31.8%. Despite that, his soft contact rate was steady. That left Alonso's offensive status up to luck a lot more than it did in 2019. He suffered as a result, as his BABIP dropped from .280 in 2019 to just .242 in 2020. That's an unsustainably low number.
Over the course of a full season, that number likely would have corrected itself. Even if Alonso didn't reach the heights of his 2019 season, his numbers wouldn't have been as bad as they looked.
Probably the best example of this is Cody Bellinger. In his second season, he faced a horrendous first-half slump. He slashed just .245/.327/.481, pretty similar to Alonso's 57 game numbers.
Bellinger figured it out in the second half and put together a respectable season. Alonso didn't have the chance to rebound in 2020 due to the shortened season.
Expect Alonso to bounce back to his offensive dominance in 2021. His BABIP luck won't continue to be that bad, it's simply impossible.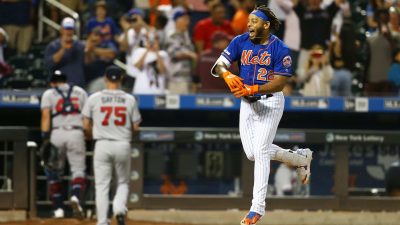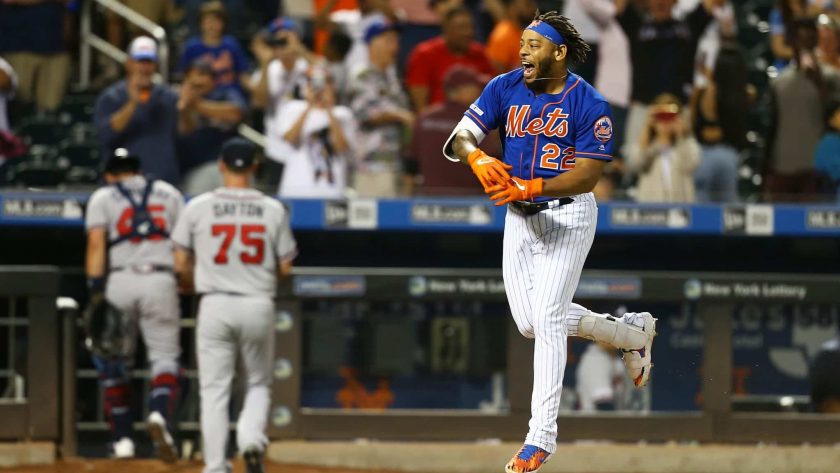 Dom Smith
When Dom Smith first came up in 2017 he was the future at first base. A top prospect with offensive upside and gold glove caliber defense. Smith was expected to hold down first base.
The problem is, Smith didn't hit and his defense didn't live up to the reputation. This continued for two seasons. By 2019, many believed he was a bust, a bench piece at best. Then he broke out.
Across 89 games in 2019, playing mostly left field, Smith was an offensive powerhouse. He slashed .282/.355/.525, and finally showed off the offensive potential that he showed as a prospect.
Smith followed that up with an even better 2020. He crushed the ball all season, slashing .316/.377/.616. Smith finished 5th in MLB in slugging and 7th in OPS.
Now he appears locked in as the team's starting left fielder. Still, he's almost guaranteed to get playing time at first base. If Alonso needs a day off, Smith will play. If Alonso gets hurt, Smith will play. The Mets are going to take any excuse to get his poor glove out of left field.
José Martínez
Should the Mets want to get a lefty killer in the lineup, Martínez will be their guy. He's a first baseman by trade, but has spent most of his career in the outfield to make room for other players.
Martínez is known for his bat. From 2017-2019, Martínez slashed .296/.361/.458. He doesn't provide the power that Alonso and Smith do, but his contact ability may be the best of the bunch.
2020 wasn't kind to Martínez. He started the season with the Tampa Bay Rays before being traded mid-season to the Chicago Cubs. Martínez slashed a paltry .182/.265/.295 — easily the worst offensive output of his career.
The Mets are betting on that being a result of a shortened season with little time to get into the flow. They're putting him on their bench because he can crush left-handed pitching. Over his career, Martínez slashed .307/.382/.534 against lefties. In his most recent full season, 2019, he hit .329/.397/.600 against lefties.
Martínez was brought to the Mets for one job, crush left-handed pitching. He may do some of that at first base, he may do some of it in the outfield. Wherever he's playing, Martínez will likely be in facing a lefty when he's in the lineup.