Given their need to improve the bullpen this offseason, the New York Mets may seriously regret landing free-agent pitcher Rick Porcello. 

Entering this offseason, the New York Mets were tasked with making upgrades to their bullpen, along with locating a fifth starting pitcher.
Following the winter meetings, only one of those tasks were addressed by Brodie Van Wagenen. The Mets' general manager added both Rick Porcello and Michael Wacha to his rotation during those meetings in San Deigo. By doing so, Van Wagenen has also chewed up the majority of his financial flexibility for the rest of the offseason.
Prior to this winter, the Mets owned just $15 to $20 million in spending for this offseason. If not for the restructuring of Yoenis Cespedes's contract, that amount would be significantly lowered through the remainder of the offseason.
After already signing Wacha to a one-year deal worth just $3 million, Van Wagenen then handed Porcello a one-year deal as well, worth $10 million. After these two acquisitions, the Mets' payroll has now increased above $200 million and is just shy of the $208 million luxury tax threshold.
Meaning, the Mets would have been unable to address their concerns within their bullpen, thanks to the signing of Porcello. Now that Cespedes will make somewhere around $10 million next season, instead of $29.5 million, the Mets can address the backend of their bullpen.
Given the Mets' current payroll restrictions, Van Wagenen is taking a huge risk in Porcello. The 30-year-old is coming off the worst season of his career and is scheduled to earn the third-highest salary within the Mets' starting rotation.
This past season with the Red Sox, Porcello threw 174.1 innings and produced a career-worst 5.52 ERA, 4.76 FIP, 5.14 xFIP, 1.39 WHIP, .276 OPP AVG and a 1.8 fWAR. The soon-to-be 31-year-old also sustained a major decline in strikeouts in 2019. Porcello created an 18.6% strikeout rate this past season, which was a 4.9% decrease from his 2018 performance.
The biggest reason for Porcello's declined strikeout ability was because of his ineffective fastball. During this past season, the right-hander increased the usage of his four-seamer by 11.4% but endured very little success with it. Porcello sustained a .079 AVG, .019 xAVG, .039 SLG, .048 xSLG and a .031 wOBA increase on his fastball compared to the 2018 season.
Porcello's fastball also generated lower strikeout and whiff rates this past season, which resulted in the decline of his overall strikeout rate. The veteran pitcher recorded a 21.4% strikeout rate on his heater, which was a 12.6% decrease from 2018. Porcello's 18.9% whiff rate on his fastball was also a 7.5% decline from his 2018 performance.
Throughout the majority of Porcello's career, his four-seamer has served as his primary strikeout pitch. Porcello's spin rate on his fastball also ranked in the 74th percentile this past season, which allowed his heater to seem harder than 91 MPH.
Traditionally, Porcello locates his fastball up and inside to opposing batters. However, his fastball sustained a decline in its vertical movement this past season. During the 2019 season, Porcello's four-seamer suffered a 0.9-inch decrease in its average vertical movement.
Basically, Porcello began locating his fastball lower in the strike zone in 2019. Instead of his fastball sitting atop of the zone, the decline in vertical movement caused it to sit below the letters, allowing opposing hitters to generate damage off it.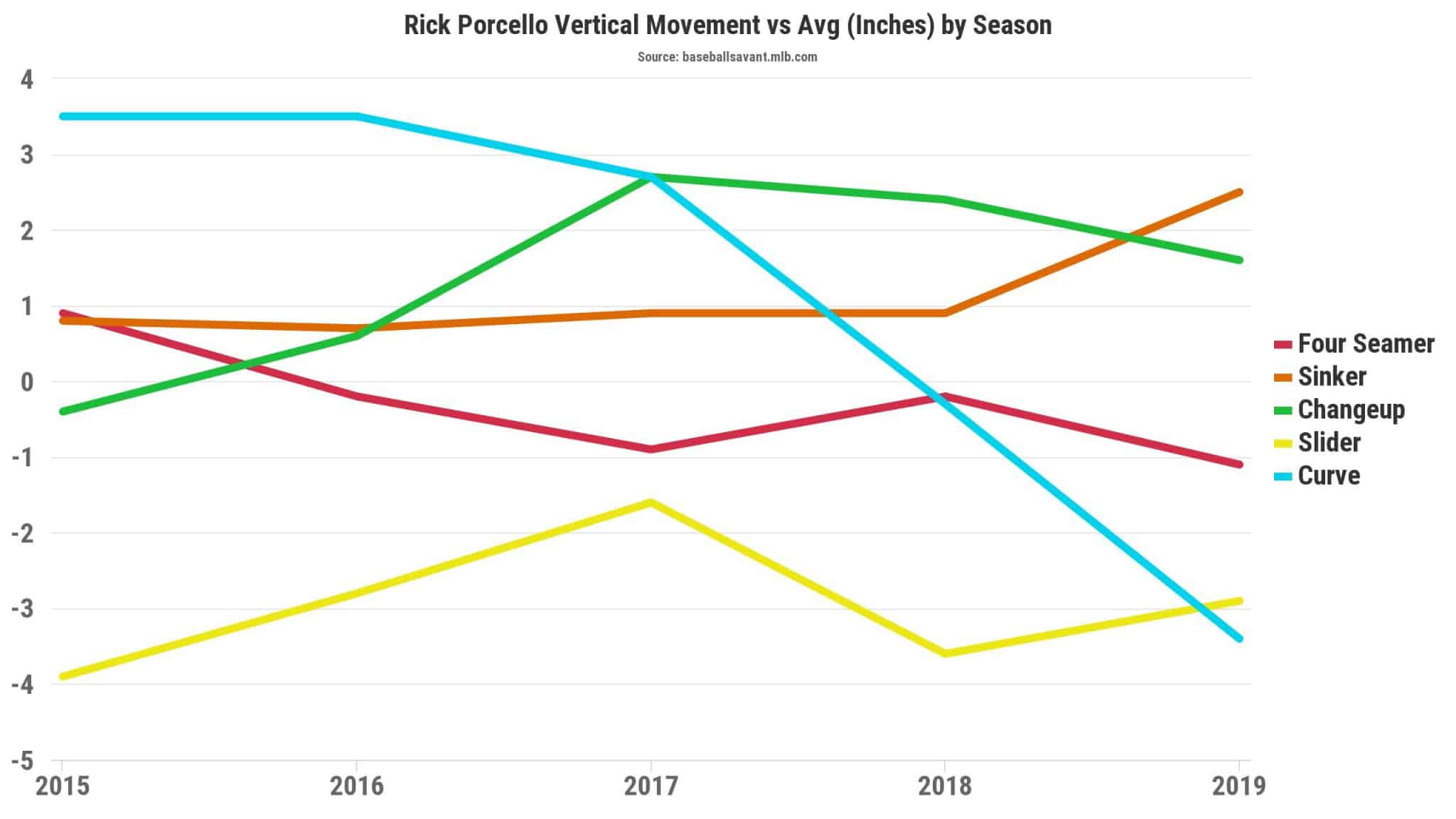 As seen in the chart above, Porcello failed to control any of his five pitches during the 2019 season. Along with the woes he faced with his four-seamer, Porcello's ineffective slider also played a major role in his demise during this past season.
This past season with the Red Sox, Porcello sustained a 6% decrease with his GB% from the 2018 season. One of the major reasons for this rapid decline was because of Porcello's inability to control his breaking ball. In addition to the 1.7 MPH decline in velocity his slider endured, it also suffered a 6.7% drop regarding its GB% as well.
Due to his inconsistent accuracy, Porcello wasn't able to create as many ground balls with his slider during this past season. Similar to his fastball, Porcello's slider suffered a decline with its vertical movements. Compared to the 2018 season, Porcello's breaking ball on average broke 0.7-inches less during the 2019 season.
With Porcello's slider positioned higher in the zone, there's more of a chance for the veteran pitcher to surrender hardly hit balls. As a result, Porcello endured a .149 SLG, .062 xSLG and a .069 wOBA increase against his breaking ball this past season.
Even as the fifth starter in the Mets' rotation, these types of numbers from Porcello just won't cut it during next season. The Mets will need him to produce similar results to his 2018 performance, where he threw nearly 200 innings and created a 4.28 ERA, 4.01 FIP and a 3.87 xFIP. Based on Porcello's inconsistency with all of his pitches from this past season, there's a very high possibility that he won't be able to replicate his 2018 performance.
If so, Van Wagenen and his staff will definitely regret overpaying for Porcello. While his contract won't prevent the Mets from signing a reliever anymore, Porcello will still need to prove his value.
The Mets are planning to contend for the division in 2020. In order to accomplish their goal, they'll need their entire pitching staff performing at their best, which includes Porcello.