David Fizdale was shown the door and now Steve Mills will do anything he can to save his job, which spells doom for the New York Knicks.

You can learn a lot about someone when their back is against the wall. Typically, it's that type of adversity that shows you all you need to know about a person's character. In the case of Steve Mills, New York Knicks fans hope that he'll put down the hammer and pick up the brush instead.
After a 4-18 start to the season Mills and the rest of the Knicks brain trust relieved head coach David Fizdale of his duties. This move was felt inevitable, but nevertheless, it seemed like putting a band-aid on a gash-wound.
Fizdale's exit was justified, given the team's record and lack of individual improvement. However, it's also a reactionary response that doesn't address the team's disjointed approach. The front office's team-building philosophy is the larger issue, and that was present long before Fiz.
As a result, Mills, who's been a survivor through numerous failed Knicks regimes, appears to be on his last legs. Therein lies the danger.
Desperation and self-preservation may be the last nails in the coffin for the current Knicks front office. One must hope that this last ride on the merry-go-round, doesn't set the franchise back another decade.
The avalanche started on Nov. 10. Mills and general manager Scott Perry held an impromptu and rare postgame meeting with the press. This came after an embarrassing 21-point loss to the Cleveland Cavaliers at home.
Ian Begley of SNY reported, that after Mills and Perry's meeting with the media, they met with owner James Dolan. Dolan, reportedly, gave both executives the impression that their jobs would be "secure". That is, so long as the team showed improvement.
Improvement, being the keyword could mean any number of things. Mills and Perry had pitched this current Knicks roster as a competitive group in the Eastern Conference.
Yet, a quarter of the way through the season that could not be further from the truth. Even if new interim head coach Mike Miller can somehow work miracles, most rational fans would not expect this team to come close to competing for the eighth seed.
A more realistic goal of success could be centered around player development. Specifically, the development of rookie RJ Barrett, second-year big Mitchell Robinson, and former lottery picks, Frank Ntilikina and Kevin Knox.
However, this would also require patience that may not be expected of Mills. That's especially true if he's fighting to save his job.
Last week, Frank Isola of The Athletic reported that Mills would be let go at the end of the season or re-assigned within the Garden.
Mills and Perry are the architects of a roster that has been described as clunky. Their on-court results have mirrored anything but a modern NBA offense/defense.
Certainly, Fizdale will take some of the blame and he should. However, the poor fit of playing styles, lack of spacing/shooting, and non-existent defense has left all parties involved on the ground. Fiz was just the first to get the ax.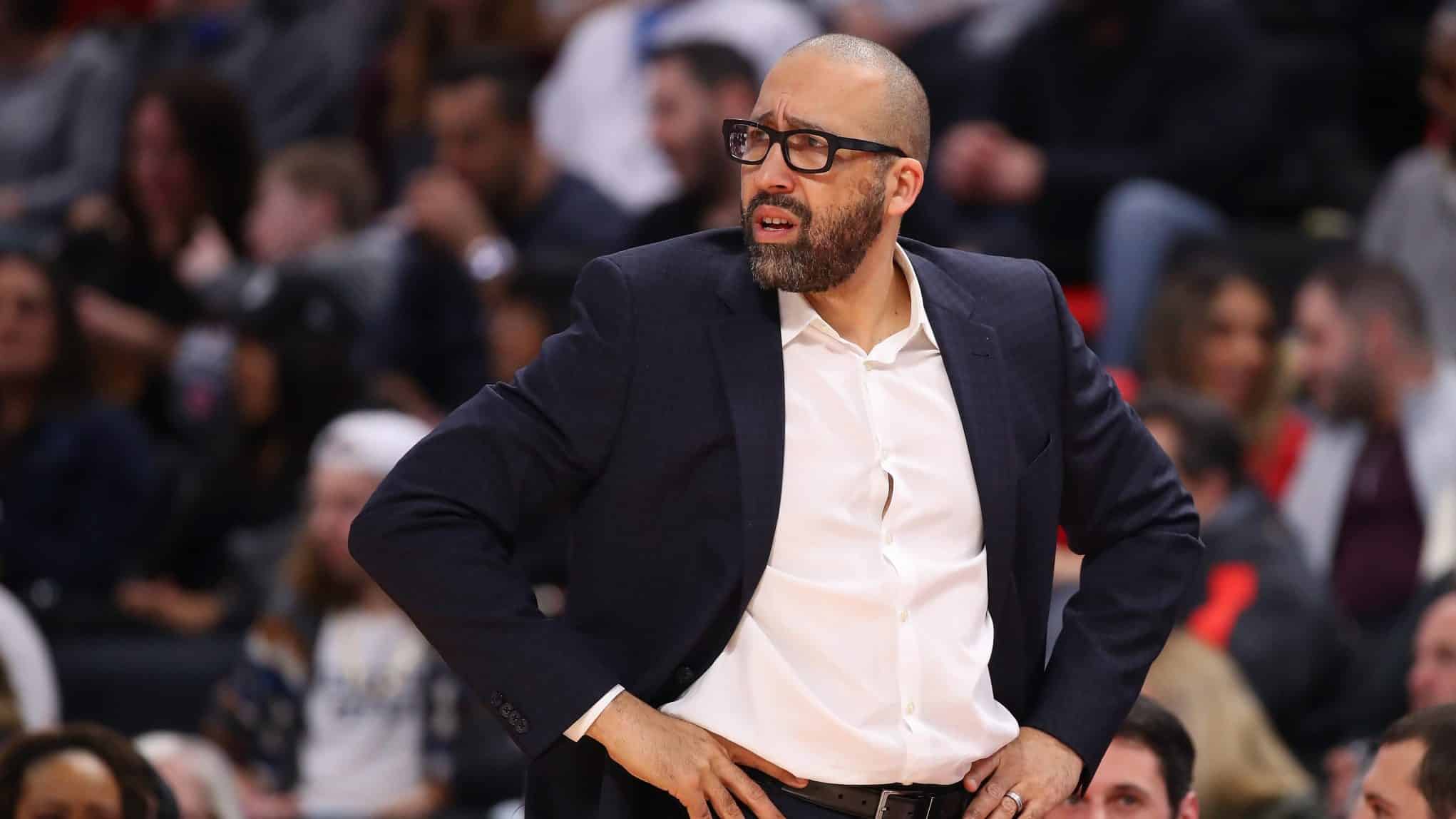 That leads to Begley's most recent report. He stated that the Knicks will be keeping their "eye on a lot of players" as Dec. 15 approaches. Specifically, Dennis Schroeder, DeMar DeRozan, and Kevin Love were mentioned as potential targets.
This, of course, would be a disastrous approach. Mills has repeatedly reassured Knicks fans that he wouldn't take this direction.
All of the aforementioned targets have at least two seasons (including the 2019-20 season) left on their current contracts. Love's contact skyrockets over $31 million during the 2021-2022 season.
None of these three players are guaranteed to make a significant difference in the Knicks' win-loss record. Any attempt by Mills to save his hide must be checked by ownership.
Ironically, Mills' best chance to avoid termination may be trading away some of the free-agents he and Perry signed this past summer.
Marcus Morris Sr. is shooting 50% from the three-point line to go along with 18 points per game. Any playoff team looking to add firepower and toughness could use his services.
Even in spite of the poor start to the season, the Knicks still maintain an impressive young core. That's despite some stagnation in their development.
They also maintain cap flexibility and all their first-round picks going forward. This current Knicks regime had previously received praise for surpassing a very low-bar of front office functionality. They avoided the pitfalls of signing aging stars on bloated contracts and not trading away future draft picks.
Funny enough it may be the same low-bar that saves the Knicks from entering another dark period with no end in sight.