The New York Yankees are attempting to make upgrades to their pitching staff this offseason, but there's a chance Deivi Garcia could fill that void next season. 
During this offseason, the New York Yankees are seeking to put their squad over the top in hopes of reaching the World Series in 2020.
In order to accomplish that feat, general manager Brian Cashman will need to fill the current holes within the Yankees' starting rotation and bullpen as well.
According to multiple reports, the Yankees will be targeting both free-agent pitchers Gerrit Cole and Stephen Strasburg to fill the current void in the rotation. Cashman and the Yankees also own the luxury of having a young and talented pitcher in their minor league system, who could make an impact at the major league level next season.
Pitcher Deivi Garcia, who's currently ranked as the No. 1 prospect in the Yankees' system, has a chance to make his MLB-debut during the 2020 season. Before fans begin their excitement over Garcia's debut, there's virtually zero percent that it'll come at the start of the next season.
More than likely, Garcia will start the 2020 season at Triple-A with the Scranton/Wilkes-Barre RailRiders. The 20-year-old also has yet to be placed on the Yankees' 40-man roster. So, Garcia would need to be placed on the roster before debuting with the Yankees.
Based on the number of injuries the Yankees sustained this past season, Garcia could become an injury replacement within the starting rotation at some point during next season. Although, the Yankees will likely turn to pitcher Jordan Montgomery and fellow prospect Michael King before turning to Garcia for help. Depending on the severity of his suspension, the Yankees will likely have pitcher Domingo German at some point next season as well.
While rehabbing from his Tommy John surgery, Montgomery threw just 7.2 innings across three different levels in 2019, including his four innings pitched with the Yankees last season. Coming into this season, Montgomery will likely be competing to win the long relief role within the Yankees' bullpen.
As for King, the 24-year-old threw 23.2 innings at triple-A in 2019 and recorded a 4.18 ERA, 4.05 FIP, .225 OPP AVG, 28.6% strikeout rate, 6.1% walk rate and a 20% HR/FB rate. King also completed a pair of scoreless innings with the Yankees as one of their many September call-ups this past season.
Despite the multiple pitchers ahead of him in the pecking order, Garcia has the potential to make a serious impact for the Yankees next season. This past season, Garcia split his time between double-A and triple-A. The young hurler tossed 53.2 innings with the double-A squad and recorded an impressive 3.86 ERA, 2.20 FIP, .212 OPP AVG, 37% strikeout rate, 11.1% walk rate and a measly 5% HR/FB rate. During his time at triple-A, Garcia was roughed up for a 5.40 ERA, 5.77 FIP .253 OPP AVG and an 18.2% HR/FB rate through 40 innings pitched.
Even though Garcia struggled during his time at triple-A in 2019, the Yankees' top prospect was still able to generate a 25.3% strikeout rate and an 11.2% walk rate. Garcia's outstanding ability to strike opposing batters out is exactly what could fast track his career to the major leagues. If Garcia doesn't make his MLB-debut for the Yankees as a starting pitcher in 2020, then there's a possibility it could come from out of their bullpen instead.
With reliever Dellin Betances likely destined to pitch elsewhere in 2020, the Yankees could certainly use another hard-throwing pitcher like Garcia in their bullpen, who also specializes in creating strikeouts just like Betances. Garcia could provide manager Aaron Boone with multiple innings out of the bullpen during high-leverage situations.
As a reliever, Garcia would be able to primarily focus on his electric fastball that would likely play up to 98 mph in the bullpen. Along with his already impressive wipeout curveball, Garcia would be able to create swings and misses with both of his elite pitches out of the bullpen in 2020.
Along with closer Aroldis Chapman, Zack Britton, Adam Ottavino and Tommy Kahnle, Garcia would make an excellent addition to the Yankees already impressive bullpen.
There's also the possibility of Cashman and his staff using Garcia as the centerpiece for a blockbuster trade this winter. Prior to the 2019 trade deadline, the Yankees had been open to the idea of trading away Garcia for a frontline starting pitcher in return. So far this offseason, there has yet to be those same rumblings regarding Garcia. However, if the Yankees are somehow unable to sign either Cole or Strasburg, then Cashman could utilize Garcia as a trading chip to acquire an impact pitcher in return.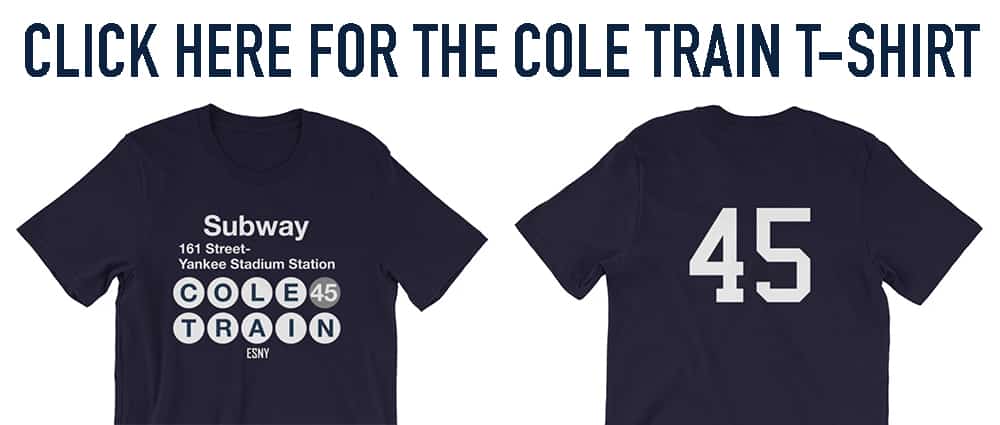 Immediately, the New York Mets are the obvious trading partner for the Yankees. Although, Mets general manager Brodie Van Wagenen has stated his strong preference against trading away either Jacob deGrom or Noah Syndergaard. So, that leaves just Cubs' pitcher Yu Darvish as the lone ideal trading target for the Yankees. Through 31 starts this past season, Darvish recorded a 3.98 ERA, 4.18 FIP, .211 OPP AVG, 31.3% strikeout rate, 7.7% walk rate, 22.8% HR/FB rate and a 2.6 fWAR.
Aside from deGrom, Syndergaard and Darvish, no other pitchers would be worth surrendering Garcia. So, Cashman and the Yankees would likely be better off holding onto Garcia, which is very likely why the young pitcher wasn't dealt back in July either.
Even with Garcia entering just his age-21 season in 2020, Cashman and the Yankees are very aware of his extremely high value at this stage of his career. Unless Cashman finds the perfect trade for Garcia, he'll be wearing black and white pinstripes for the majority of his career, if not for the entirety of it.
Whether he's utilized in the rotation or the bullpen in 2020, Garcia will likely make his MLB-debut next season and have a serious impact on the Yankees. Through his four seasons in the Yankees' organization, Garcia has already shown flashes of becoming a pitcher in the Bronx for a very long time, which would be ideal for the future of this Yankees team.