New York Knicks rookie RJ Barrett has been playing a ton of minutes. The Knicks need him on the court, but at what cost?

After a 1-6 start to the season, the New York Knicks and head coach David Fizdale have already found controversy surrounding the minutes of RJ Barrett.
Barrett has been far and away one of the biggest positives of the season. After mixed reviews coming out of college, and an up and down summer league/pre-season, Barrett has put on a show averaging 18.3 points per game and just over six rebounds per game.
However, after a recent blowout loss to the Sacramento Kings, in which Barrett played 40-plus minutes, coach Fizdale was pressed about his young point guard's heavy minutes. An aggravated Fiz responded swiftly.
"We gotta get off this load management crap," Fizdale said.
Per Basketball-Reference, seven games in Barrett is averaging 37.1 minutes per game and has totaled 260 minutes this season. For some context, Barrett currently ranks fifth in the NBA in minutes per game and is tops among all rookies.
Additionally, via HoopsHype's Alex Kennedy's Twitter, Barrett has run the most miles in the NBA.
Which NBA players are running the most miles per game?

1. R.J. Barrett 2.83
2. Fred VanVleet 2.80
3. Justise Winslow 2.79
4. Tobias Harris 2.73
5. Gordon Hayward 2.70
6. Kyle Lowry 2.70
7. Domantas Sabonis 2.69
8. Tyler Herro 2.69
9. Josh Richardson 2.68
10. Jrue Holiday 2.67 pic.twitter.com/dBwTmIkJPC

— Alex Kennedy (@AlexKennedyNBA) November 3, 2019
Barrett's high usage is nothing new. As a freshman, the 19-year-old posted a 32.2 usage rate, which ranked 26th in the NCAA. In coach Fizdale's defense, he's riding what might be his best all-around player on the team.
But again the question becomes at what cost? Does Fiz need to implement load management? Or is that philosophy holding back the development of an exciting young player?
The philosophy of load management has received plenty of criticism in the NBA. In one of the more public examples, Kawhi Leonard's eventual split from the San Antonio Spurs boiled down to a massive disagreement on the severity of his injured quad and approach in recovery.
Once Leonard was finally traded to the Toronto Raptors, he played 60 games after playing just nine the previous season, and went on to win an NBA title and MVP as well. In general, the phrase "load management" has been used to characterize veteran players managing their minutes in recovery from an injury.
Yet as the game has evolved, load management has been implemented in younger players as well, and for good reason. As ESPN's Baxter Holmes writes, "What our orthopedics are telling us," Silver says, "Is they're seeing wear-and-tear issues in young players that they didn't used to see until players were much older." This was a direct quote from Adam Silver.
Holmes continues to write, "And according to Stotts' database, the four highest tallies of games missed by young players in their first two seasons have occurred in the past four seasons. Players picked in the 2014 first-round missed 838 games to injury during their first two seasons, the highest figure Stotts has ever recorded; in 2015, 637, the third-highest tally; in 2016, there were 548 missed games; and in 2017, 751 games, the second-highest."
The Holmes articles is an eye-opening piece into the amount of basketball and stress that young players are putting into their bodies, before entering the league. The AAU circuit is front and center as to one of the reasons that orthopedics are seeing more lower-body injuries in teenagers.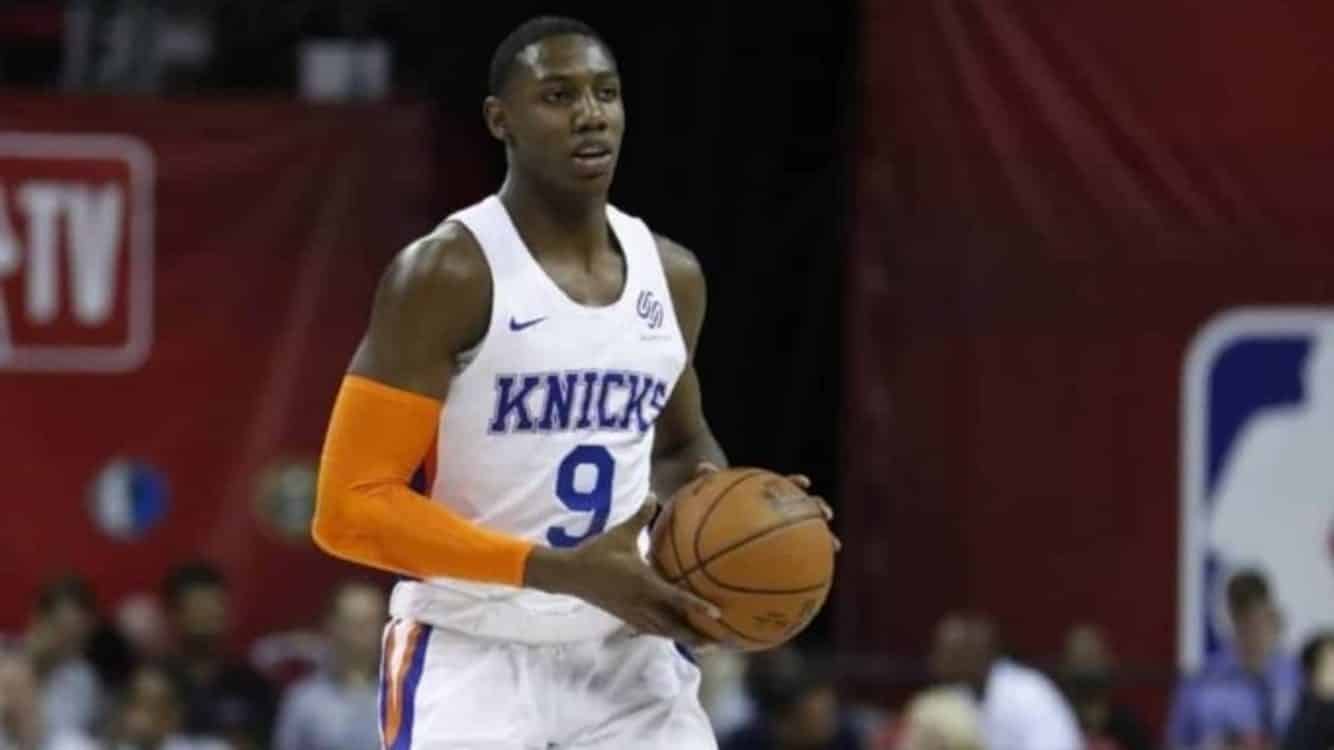 The counter-arguments to load management seemingly always include comparisons with players from other eras, which in regards to most basketball conversations is entirely inappropriate. Sure, Michael Jordan averaged over 38 minutes per game during his rookie year and played all 82 games. Jordan also broke his foot the next season and played just 18 games.
What people also forget is Jordan did not go through the years of AAU circuit basketball as Barrett did. Even in his offseasons, Jordan historically stayed away from the basketball court, played golf, amongst other things.
As fans and analysts often fall into the trap of, "Well if I went through it and came out okay, then you can too," not acknowledging the differences in the way that athletes train and their round-the-clock practice and game schedule.
Even if you're a Knicks fan, but still don't buy into load management consider the following, RJ Barrett is actually good! A franchise in the middle of a rebuild with plenty of questions at almost every position including coaching, front-office, and personnel finally has two players in Barrett and Mitchell Robinson that may turn out to be stars.
If you at the very least believe that, then with the understanding that making the Knicks a successful franchise has been the equivalent of congress passing bi-partisan legislature for the past 20 years, you have to error on the side of caution with this kid. He is, after all, transitioning from playing 38 regular-season games to 82.
It's not to say that Barrett should periodically miss games as a healthy scratch or just play 25 minutes per game. Sure, there are benefits to having him on the court as often as possible.
Everyone wants Barrett to experience and process as many defensive coverages as possible, late-game situations that require tight execution, and have the ability to learn from his mistakes. There's no reason this can't be done while playing 30-35 minutes per game.
In closing, monitoring Barrett's minutes is not just a necessity, it's common sense. For a franchise that has experienced so little in the way of winning and homegrown star talent in the last 20 years, the Knicks sure know how to play with fire. And for coach Fizdale, his blatantly open defiance of science and logic is only going to make calls for his job louder.