Familiar No. 15, Carlos Beltran, returns to Queens with a mission, one that could help him rewrite history as New York Mets manager.

Carlos Beltran said Monday morning at Citi Field, "I can't wait to rewrite our story with the New York Mets."  He now gets that opportunity as the 22nd manager in franchise history and there was never a doubt he was coming home.
Beltran, a nine-time All-Star, World Series champion with the Houston Astros, three-time Gold Glove winner and American League Rookie of the Year, said the Mets were the only team he considered to be a first time manager.
And what he said during the long interview process secured the deal. He desired to be a players' manager, and he will.
"I feel that I have more credibility to motivate the players and be there for them," he said.
Today, the way the game has changed, Beltran has those tools to relate in and out of the clubhouse.
Not that Mickey Callaway, who was dismissed after two years, didn't have that relationship with his teams. Despite what was reported, the manager's office was always open for communication when Callaway was at the helm.
But the Mets went in another direction and this time they brought a former player home.
Mets fans will eventually forgive Beltran for the last out in 2006 that concluded the season and travel to World Series, and they should with a successful career for six and a half seasons after signing a record seven-year, $119-million contract under then-general manager Omar Minaya.
Minaya was a key component in getting this three-year deal with an option for a fourth done. He was always a Carlos Beltran supporter and they kept in contact.
Brodie listened, along with former Kansas City Royals GM Allard Baird, who is an assistant to Van Wagenen, and brought Beltran to the Major Leagues.
An eventual Hall of Famer, eligible for induction in 2022, Beltran ended his career as the fifth player to reach both 400 home runs and 300 stolen bases, and just the fourth switch hitter with 400 home runs.
And this from Brodie Van Wagenen, "It was Carlos's strengths that won the day. His ability to relate to young players, very few people have that ability to do that and walk in a room."
Yet this could be the most significant move made by Van Wagenen. A year on the job, he did not hire Mickey Callaway two years ago. He wanted his own manager and now he has one that comes from the family.
And if the Beltran hire does not work, Brodie Van Wagenen will have failed again in the eyes of Mets fans who want that commitment to win and play baseball in October.
Will Beltran and the GM co-exist? That relationship remains to be seen as the baseball world of analytics will also come into play in the years ahead. Time will tell how much analytics plays a role and how Brodie and Beltran will co-exist, but there is that chance it will work.
Beltran is no longer a player and that should not be an issue. The strength is working with players and respect that comes his way. No longer the adviser that learned more about front office dealings the past year under Yankees GM Brian Cashman, but Beltran, the first Latino manager for the Mets, has that understanding of the player and manager.
"Is it February yet?," asked J.D. Davis from his home in Elk Grove California. "I am ecstatic about this hire."
Davis had dealings with Beltran in 2017 while both were employed by the Houston Astros organization. That was the last active year for Beltran as a player during the Astros championship season.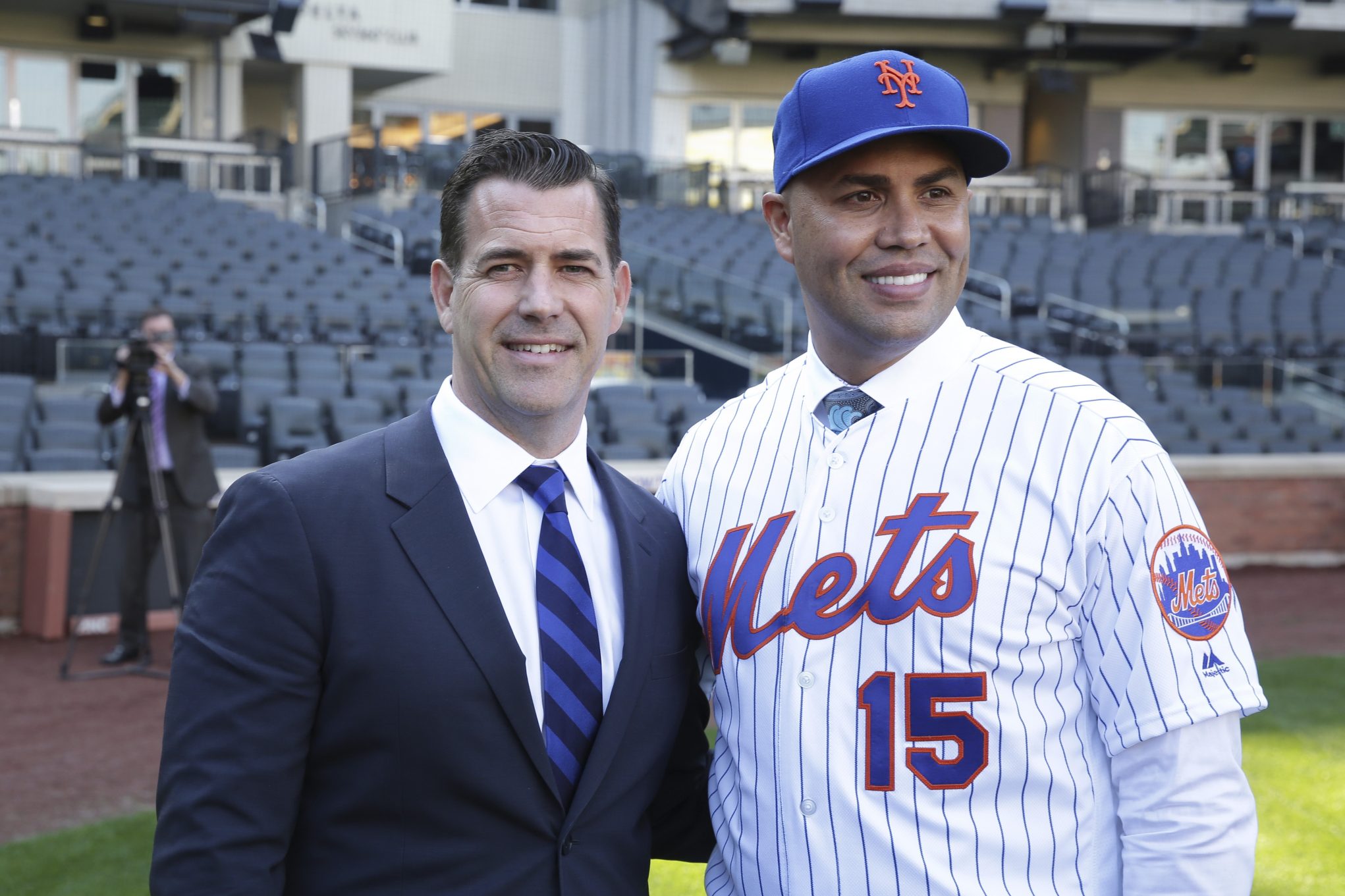 After that, Beltran took his talents further and learned more about the player and their development. He has always been a winner and that's what earned him a lucrative contract with the Mets that culminated in that championship year of 2006.
You know that characteristic stuck with the Mets hierarchy during the interview process.
Sources said that when Carlos Beltran had his first interview, it was more than his Mets history that came into play. He had more to offer as that manager who can relate to players in this new era of the game.
More to offer than Tim Bogar and Eduardo Perez, who would have also been first-time managers.
And something more important than a lucrative contract with the experience Buck Showalter and Joe Girardi would have commanded. Those names were the choice of the fans, but in the room, they listened to Carlos Beltran who comes home.
Beltrán played with the Mets from 2005-2011. He ranks sixth on the club's all-time list in the following categories: home runs (149), RBI (559), extra-base hits (374), on-base percentage (.369) and slugging percentage (.500).
He will be the ninth person to both play for and manage the Mets, joining Gil Hodges, Yogi Berra, Joe Torre, Bud Harrelson, Roy McMillan, Dallas Green, Bobby Valentine, Willie Randolph (as well as interim manager Mike Cubbage).
Beltran said, "It is time to rewrite the story," one that will hopefully begin with success when spring training commences in February.