Joe Girardi is set to be the Phillies' next manager to the dismay of New York Mets fans. However, this is far from the end of the world.
Joe Girardi had been connected to the New York Mets job since the first whispers of Mickey Callaway being fired started in May. Mets fans were understandably excited for what would have been one of the biggest hires in franchise history.
It's rare for the Mets to hire big fish as their manager. The only examples of them doing so were the hires of Casey Stengel, Gil Hodges, and Arte Howe. The rest of the bunch fall into two categories: first-time managers and re-treads after disappointing somewhere else.
So the prospect of Girardi in the Mets' dugout was a tantalizing one for fans. This is especially true after the disaster that was Mickey Callaway's tenure as manager.
The Callaway debacle has soured many Mets fans on the idea of another first-time manager. They feel that only an experienced manager can push this win-now team over the hump—and Girardi fit the bill.
He was perfect in every way. He had won a World Series as a manager and he did it in New York. Girardi also has a reputation as an ingenious in-game tactician, something that Callaway struggled with mightily.
Those in-game moves are why many Mets fans fear another rookie manager. They don't want someone who will "have to learn on the job." It's easy to see why fans would feel that way after Callaway's failures.
However, that isn't fair to the candidates the Mets brought in. Just because Mickey Callaway failed does not mean that all first-time managers are awful. It's actually quite the opposite.
The numbers
Eight of the 10 managers of teams that made the 2019 playoffs are in their first permanent major league managerial job. Three of whom made the LCS. Washington Nationals manager Dave Martinez is currently up 2-0 in the World Series. This comes just one year after Alex Cora won a World Series in his first year as a manager at any level.
The numbers don't stop there. When you compare the records of first-time managers to experienced managers in 2019, you see quite the discrepancy.
Experienced Managers: 990-1114, a .471 winning percentage
First-Time Managers: 1439-1308, a .524 winning percentage
When those numbers are put back into a 162-game season than the record of the experienced managers is just 76-86. Compare that to the record of first-time managers at 85-77.
This trend holds true for the Mets as well. Since the Wilpons took over as full owners of the team in 2000 they have hired five managers. Three of those managers had prior experience and two didn't have any prior managerial experience.
The three that had prior experience were Art Howe, Jerry Manuel, and Terry Collins. All three finished their Mets' tenure with a record under .500. On the other hand, the two first-time managers the Mets hired, Mickey Callaway and Willie Randolph, both finished their tenures with records over .500.
Only six managers in Mets history have finished their tenures with records over .500. Of those six, only two had prior managerial experience, Gil Hodges and Bobby Valentine. Willie Randolph, Mickey Callaway, Bud Harrelson, and Davey Johnson were all first-time managers.
There is no statistical or historical reason to believe that an experienced manager is better for a win-now team than a first-time manager. In fact, it shows the exact opposite that rookie managers often fare better than experienced managers do.
These guys are all fired for a reason and Joe Girardi is no exception.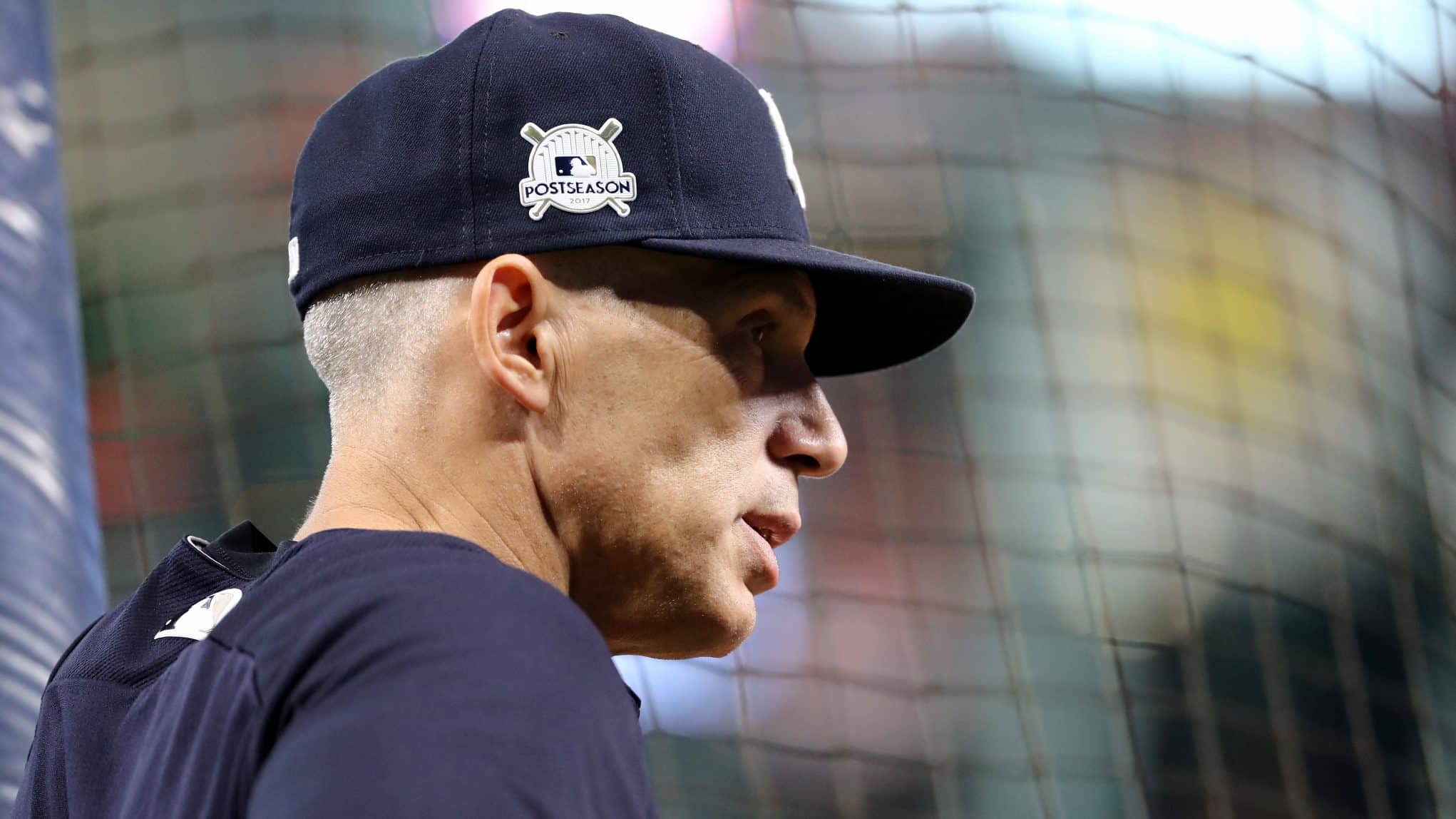 Why Joe Girardi was fired
Girardi's first managerial job came with the Florida Marlins prior to the 2006 season. He won Manager of the Year for leading that Marlins team to a 78-win season. This was a miraculous season for a team with a payroll of just $15 million. To put that into perspective, Carlos Beltran made $17 million playing for the Mets that year.
Yet, once the season ended, Girardi was fired. That's because he had reportedly gotten into a heated argument with then-owner Jeffery Loria. Girardi wanted full control to do things his way and didn't like Loria taking on a larger role with the team.
After taking a season off, he was hired by the Yankees in 2008. He would stay on as their manager for the next 10 years. He finished over .500 in every season, made the playoffs six times, and won a World Series in 2009.
Again, Girardi was fired after a successful season in 2017. The Yankees won 91 games and were eliminated from the playoffs in Game 7 of the ALCS. They lost to the Houston Astros who went on to win the World Series that year.
Why was Girardi fired after another successful season? It goes back to his standoffish personality. According to reports, Joe Girardi had a hard time connecting with his young team and was not well-liked in the clubhouse. Reports indicated that Joe Girardi and Gary Sanchez had a very strained relationship after the manager publicly criticized the catcher.
This wasn't new for Girardi. A report by Joel Sherman of the New York Post detail how Girardi had issues within the Yankees clubhouse when he stepped into the door in 2008. There was a reported rift in the clubhouse between Girardi and Yankee legends Jorge Posada, Derek Jeter, and Mariano Rivera.
Remember, Girardi played with all of those guys for years, winning three World Series together. Yet, he had an up-and-down relationship with the trio during his time as manager.
On top of that, anonymous members of the Yankees front office came out after Girardi was fired to disparage the manager. He didn't like to collaborate and had a strained relationship with general manager Brian Cashman.
Girardi has brought strained relationships and conflict to both of his prior managerial jobs. Did the Mets really want to bring him into their clubhouse, which is special because of the community and connection these players fostered over the 2019 season? Did they want to take the chance that he would ruin that special bond?
Joe Girardi has strengths that made him a good candidate, there's no denying that. However, way too many Mets fans completely dismissed the red flags that existed. Girardi was a strong candidate, but he was hardly the only candidate.
Who's left
With Girardi out of the picture, the Mets are down to five known candidates: Luis Rojas, Derek Shelton, Eduardo Perez, Carlos Beltran, and Tim Bogar.
It's very unlikely that Derek Shelton walks away with this job. While he has done a good job to make it this far, he just doesn't seem to be a fit. He is a very similar candidate to Mickey Callaway in 2017. It's doubtful the Mets want to go down that route again.
It's also unlikely that Luis Rojas ends up with the job. The Mets love Luis Rojas and think he will be a manager in the future, but now doesn't seem like the right time. Expect Rojas to be a strong candidate for the next Mets bench coach.
The three strong candidates remaining are Tim Bogar, Eduardo Perez, and Carlos Beltran. They all have some incredible strengths. Perez and Beltran have both been praised for their communication skills, and ability to handle the media.
Beltran has also been praised for his ability to deal with the pressures of New York. He also has a good grasp on analytics, and his leadership abilities are second to none.
Eduardo Perez has managerial experience, something Beltran doesn't, and was named Manager of the Year in Puerto Rico. He has the best grasp of analytics of any of the remaining candidates. There are very few known flaws for Perez.
Lastly, Tim Bogar has made a strong case for himself. He has been compared to AJ Hinch in his experience and his managerial style. He was a minor league manager for four years and won Manager of the Year in three of those seasons. He's also been a major league coach for the past eleven years. He has the most coaching experience of any of the remaining candidates.
Bogar is also the Nationals first base coach, so he's currently working. Hiring from a successful team is a tried-and-true method. Hiring from a rival is also something the Mets do with regularity.
Yes, Joe Girardi is heading to the Phillies. No, it is not the end of the world. The Mets have a ton of strong candidates on their list. Some of which are just better candidates than Girardi and his baggage.
It'll be up to Brodie Van Wagenen to hire the right guy to lead this team into the future. When it comes it managers it's often more a case of right guy, right place more than anything else. If the Mets find the right guy who can work well with the front office, this team is going to be successful for years to come.