As the New York Knicks young players continue to improve, only a few can become the stars of tomorrow. Who will they be?

After stepping down from his position as president of basketball operations for the Philadelphia 76ers, Sam Hinkie, The Godfather of "Trust The Process," penned an insanely long-letter to fans where he spoke about innovation, a willingness to fail, being misunderstood, and about eight million other things.
The New York Knicks, although they did not engage in a similar process, certainly forged an expedition to find their own treasure chest. A treasure chest that, with time, they hope will yield riches above sea level, on the basketball court, and not covered by seaweeds at the depths of levels called "bust."
A theme that ran consistently throughout Hinkie's letter was the idea that any real change requires trust and patience—and a certain stubbornness.
"A yearning for innovation requires real exploration," Hinkie wrote. "It requires a persistent search to try (and fail) to move your understanding forward with a new tool, a new technique, a new insight."
For the Knicks, their innovation was, in part, actually committing to a rebuild instead of staying the course with a philosophy that included short-term fixes, bloated contracts, and paying coaches after they had been fired. Thus far, despite a lack of wins, there are reasons to be encouraged.
The Knicks own all their first-round draft picks through 2027, and have exciting players like Mitchell Robinson, RJ Barrett, Dennis Smith Jr. and Kevin Knox II on their roster. Sure, trading away Kristaps Porzingis for draft picks and cap space can stretch the limits of "trust" and "patience", but there is a plan in place. Whether it's the right one or not, we'll see.
In addition to having a bunch of young prospects on the roster, talent evaluation becomes the next pivotal part of building an NBA franchise. Hinkie, with the 76ers, placed his chips on the development of players like Ben Simmons, Joel Embiid, and Dario Saric. Hinkie played the numbers game and bet that at least two, maybe three of these players would become future pillars of the franchise.
The Knicks are hoping to experience similar results. But who will rise to the top and become part of the future core for the Knicks? Let's take a look at the top-five prospects who have the best chance of staying with the team long-term.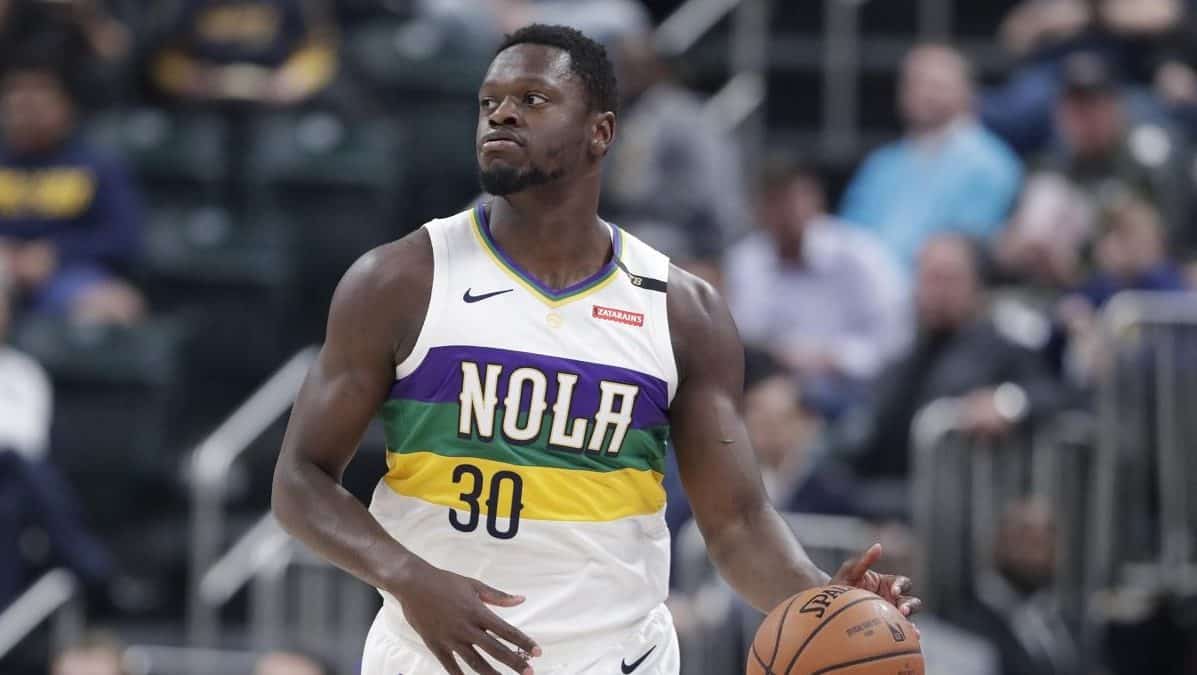 5. Julius Randle
Signed to a three-year, $63 million deal this offseason, Julius Randle has wasted no time asserting himself as one of the leaders on this team. His contract may symbolize more of a stepping stone towards another opportunity for a different team eventually. But Randle has every opportunity to be a Knick for years to come.
Per Synergy Sports, Randle finished the 2018-19 season within the 87th percentile in points per possession for shots around the basket. Randle's craft around the basket is especially important since Mitchell Robinson's offensive game has not developed too far outside rolling to the basket off the pick and roll.
A versatile scorer, Randle also finished within the 97th percentile in both, points per possession off screens and dribble hand-offs. Randle's true shooting percentage has increased steadily since his rookie season.
Additionally, Randle attempted 487 free-throws last season which ranked higher than players like Karl-Anthony Towns, Nikola Jokic, and LaMarcus Aldridge. Prior to the season, head coach David Fizdale made it clear that he wants a team that can get to the line. Randle certainly fits the bill.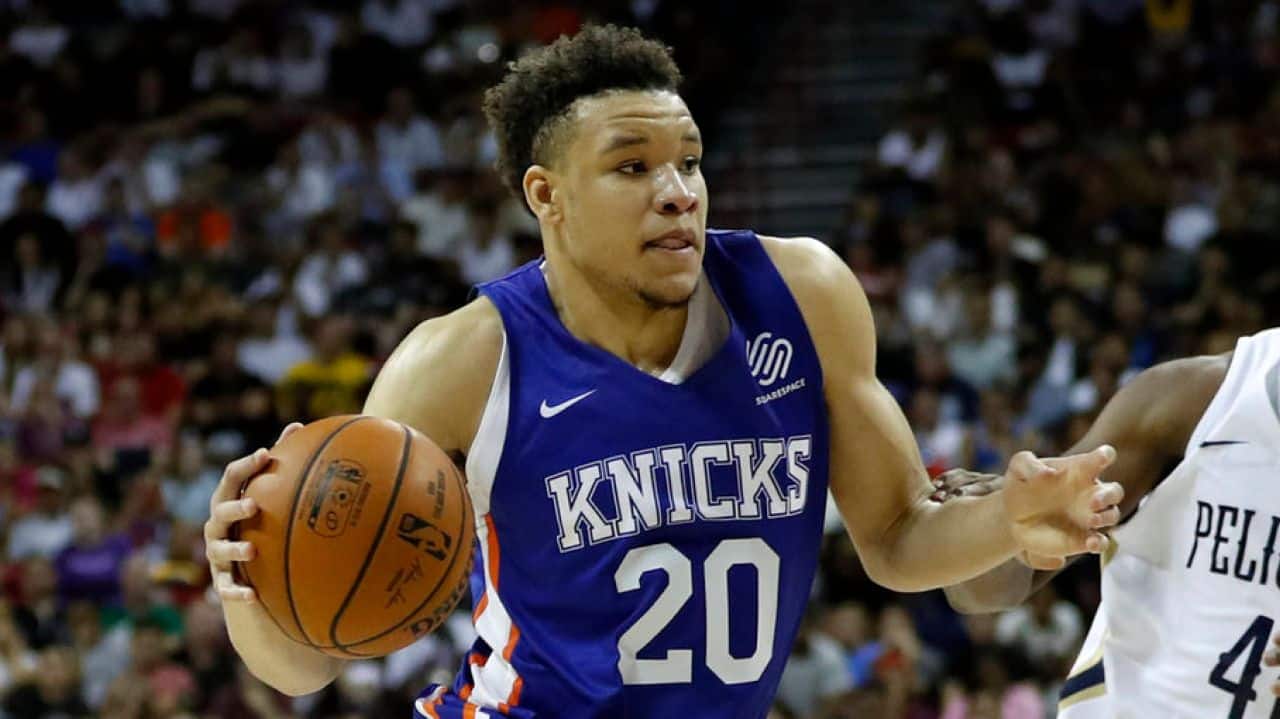 4. Kevin Knox
In regards to efficiency, Knox had one of the worst rookie seasons in NBA history. As Drew Steele of Posting & Toasting writes, Knox, when compared with other rookies, had the seventh-highest usage rate and second-lowest true shooting percentage amongst rookies who qualified for the minutes-per-game leaderboard.
With that said, it's hard to find statistics that would support Knox's potential and adding him to the list of players most likely to be a Knick in the future. But with Knox, it's the eye test that makes you believe he has a future in New York.
Maybe the most encouraging single play from the Knicks five summer league games…
Knox show good vision and unselfishness, kicking it out to Barrett.
And then Barrett knocks down the contested 3-pointer pic.twitter.com/wv7d5o8JRs

— Tommy Beer (@TommyBeer) July 14, 2019
Knox has never been known to be a playmaker. However, when Knox makes quick decisions and takes what the defense gives him, he can be productive. Here, Knox makes a quick move, gets his defender off-balance, and finds RJ Barrett for the open three in summer league.
Kevin Knox with a cut to the hoop and Taj with an awesome pass to find him. Knox is gonna need to embrace that sorta movement this year. pic.twitter.com/46NM1DxK4e

— Posting and Toasting (@ptknicksblog) October 7, 2019
Here again, Knox improves on one of his weaknesses from last year, cutting without the ball. Despite a limited amount of games in Las Vegas Summer League and preseason, it's readily apparent that Knox's court awareness has improved. Knox saw his defender's back turned, reacted, and once he received the pass, shielded the ball as he drove to the hoop.
If Knox gets the minutes and repetitions, especially in catch-and-shoot situations, he has all the talent to become a problem in the league. However, my fear is that Knox may get lost in the shuffle with all the forwards signed this past offseason.
With pressure to win games, Knox's development may take a back seat. I'm hoping it won't, but Knox will have to make some strides to improve his efficiency with fewer minutes. It's not likely that he will see the 28 minutes per game that he played in his rookie season, but I'm rooting for the kid.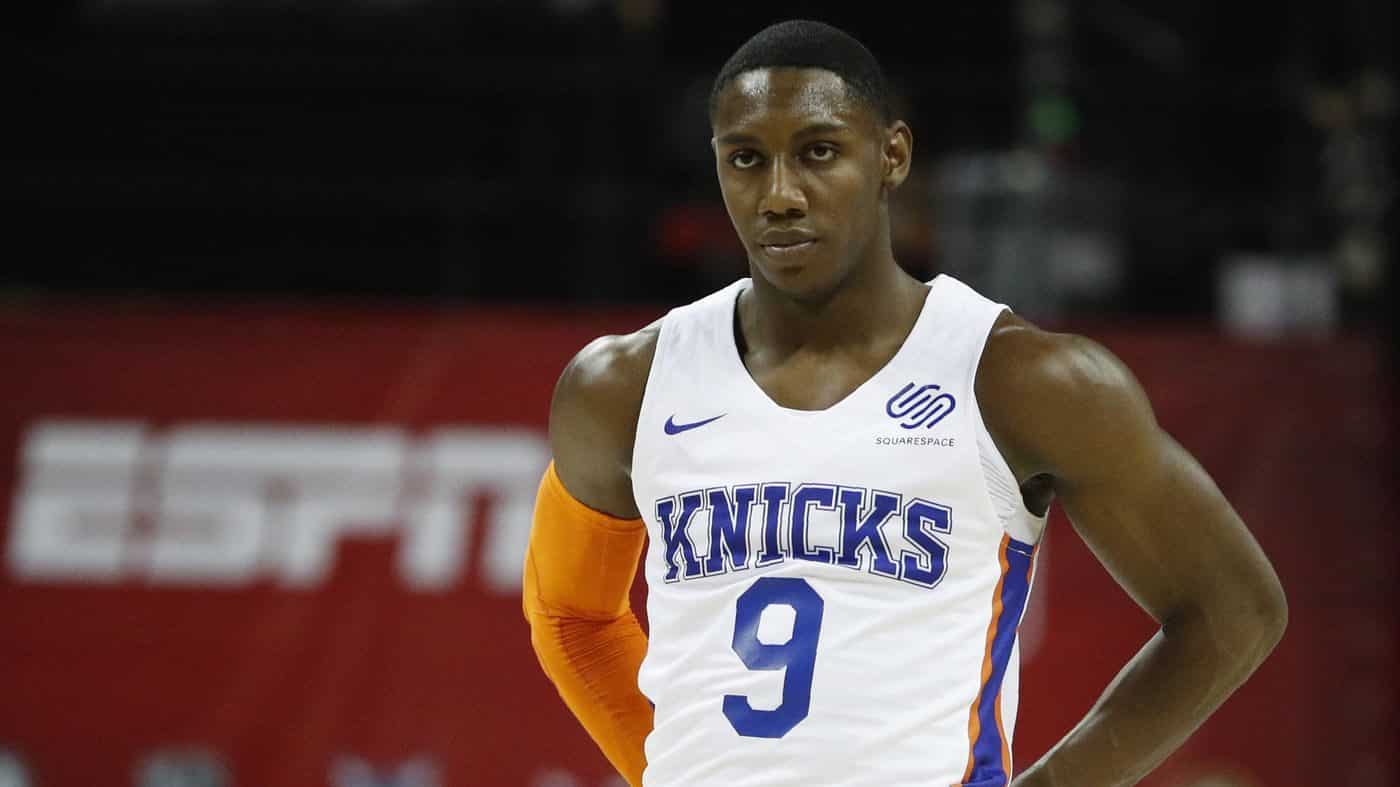 3. RJ Barrett
RJ Barrett has to be on this list. Any time a player is drafted in the top five, his chances of making it to his next contract in the same jersey are better than most of the other players on the roster. And despite Fizdale's popular "you keep what you kill" philosophy, Barrett is going to play regardless of his production.
The Knicks are still looking for their franchise player and someone will do the heavy lifting in regards to scoring. If Barrett is going to become that person, he is going to make major strides from his college days. Per Synergy, Barrett finished within the 51st percentile in points per possession in half-court offense and within the 60th percentile in transition points per possession. Keep in mind he was just a freshman.
In various play types including spot-up jump shots, pick-and-roll ballhandler, isolation, off-screen, and handoffs, Barrett's rankings were in either within the "Good," "Average," or "Below Average" range. But even with a fairly mundane advanced stats profile, the Knicks didn't pick Barrett based on what he did at Duke, but rather what they thought he could do in the NBA.
RJ Barrett's pre-season debut:

17 points
7 rebounds
3 assists
2 3PM
6-13 FG pic.twitter.com/GQBw3sNtZy

— NBA Central (@TheNBACentral) October 8, 2019
Looking at some of the highlights from the Knicks preseason win over the Wizards you can see what Steve Mills and Scott Perry are so excited about. Barrett shows good court awareness and catch-and-shoot ability. However, his biggest strength is his ability to navigate through tights spots despite his size, and his ability to finish through contact. At the 28-second mark, Barrett takes the contact from Thomas Bryant (6-foot-10, 248 pounds), finishes with his off-hand and gets the foul.
Coupled with the fact that Barrett is an above-average rebounder for his size and position, and still only 19 years old, the sky is the limit for the Maple Mamba.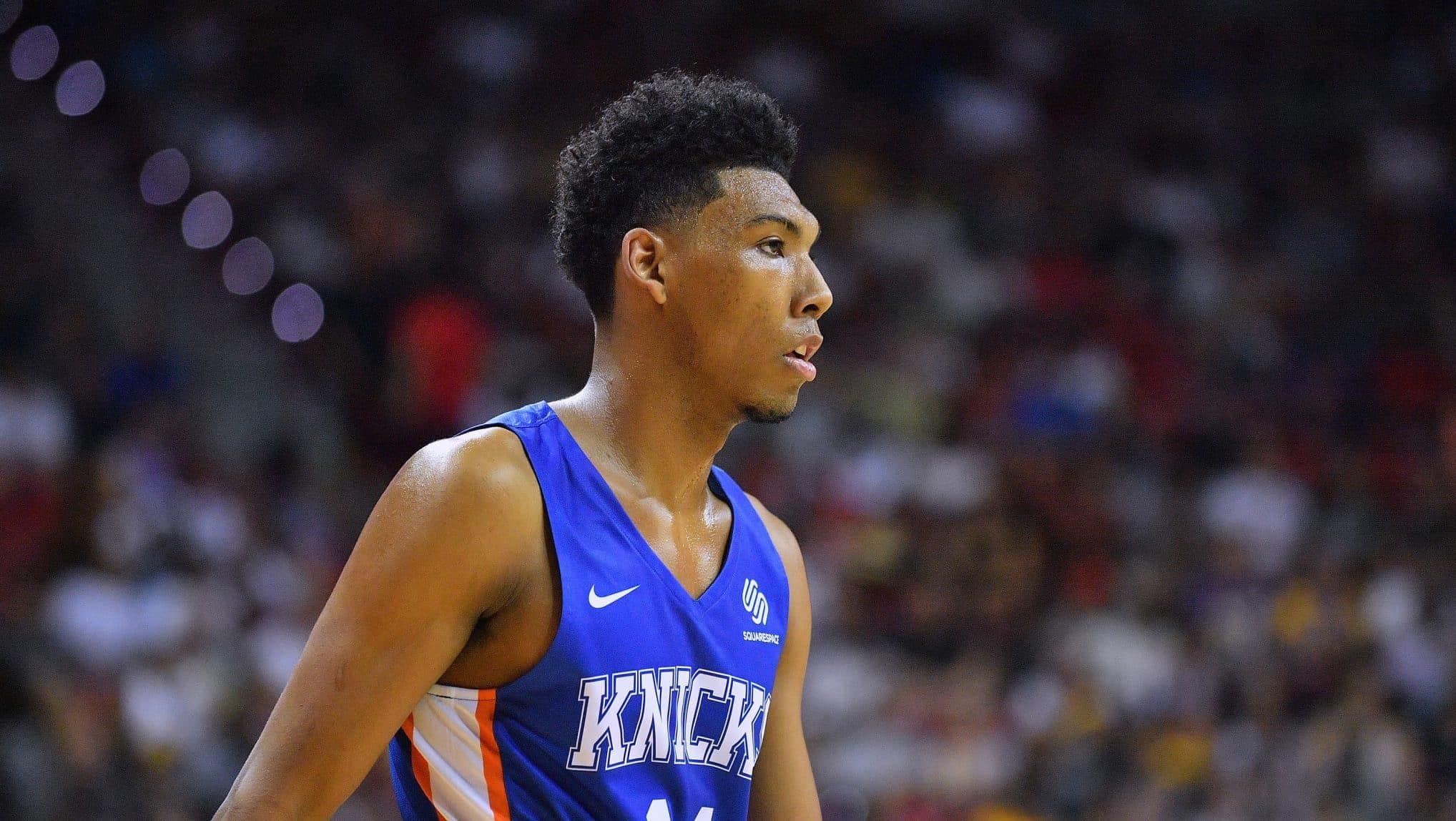 2. Allonzo Trier
This is a hill/island I'm willing to die on. Allonzo Trier is the most valuable Knick not named Mitchell Robinson. Back in July, I wrote extensively about Trier's strengths and his contract situation. In short, Trier is an efficient scorer in isolation and he excels in catch-and-shoot situations. However, the "IsoZo" nickname, while it sounds cool, also carries with it a negative stigma.
Trier is a good defender. In fact, there are statistics that support that he might've been the second-best defender, albeit on a bad defensive team,  behind Robinson. Using NBAstats on/off-court numbers, the net rating difference between the team's defense with him on the court and off the court was the largest (4.2) besides Robinson.
When I see Trier on the court it's hard to draw a solid comparison to other NBA players. He handles the ball like some of the elite guards in the game. His shot is a little unorthodox, but he hits threes at a pretty good clip (39% as a rookie). But the more I watch, and especially when I watch him shoot off the dribble, he reminds me a lot of CJ McCollum.
McCollum's ability to create separation with his crossover dribble and ability to shoot off-balance is a big part of the reason why the Portland Trail Blazers are not looking to separate the mama's boys anytime soon. Trier is just as shifty and maybe even a little more advanced with his handle, but both players absolutely bury defenders.
Furthermore, Trier is no slouch in the athleticism department either. He's thrown down some thunderous dunks including one during Summer League which may or may not have started an earthquake. Overall, I think great things are on the horizon for the young man out of Arizona. My only fear is that another team will see his potential more clearly than the Knicks.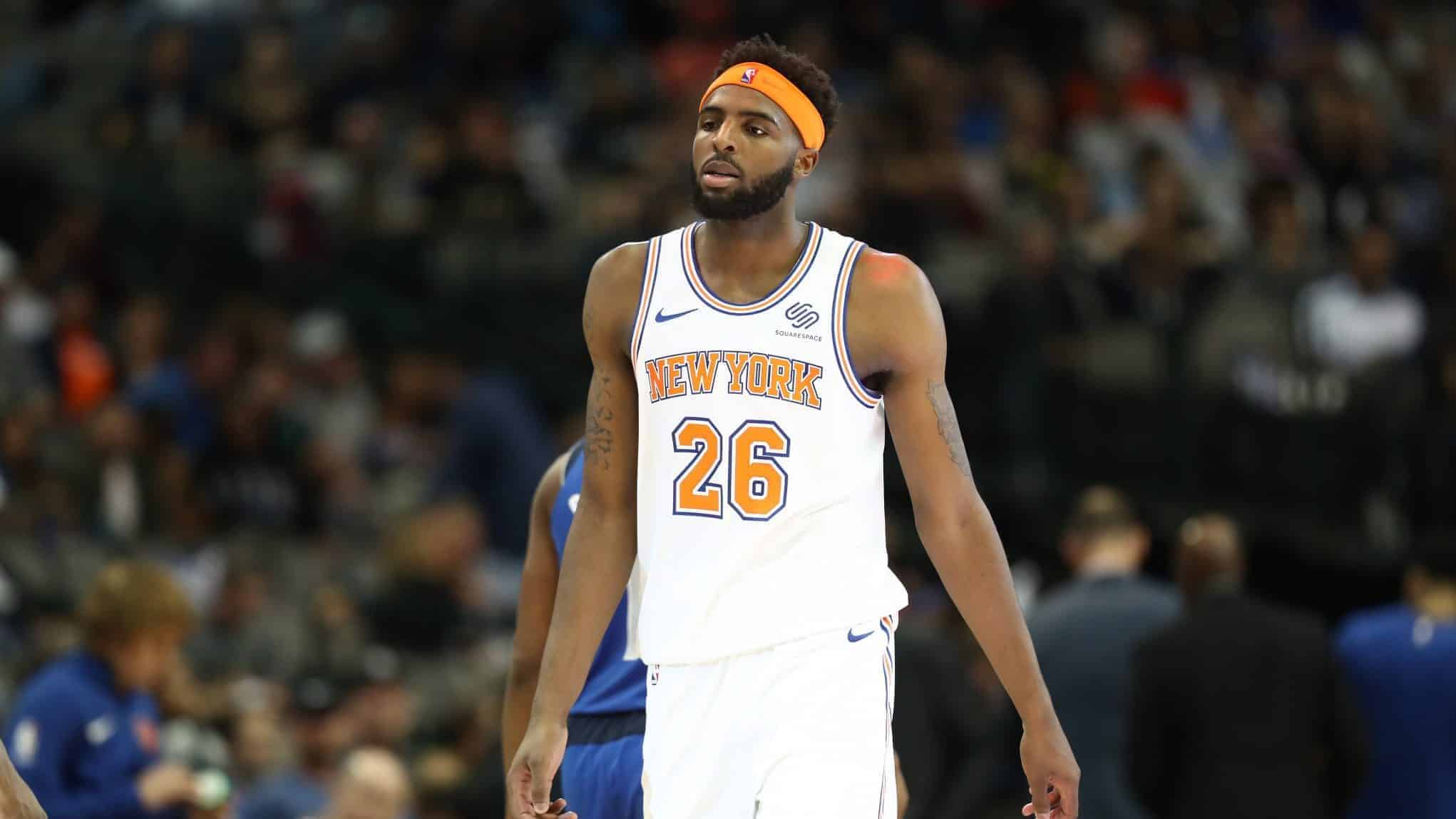 1. Mitchell Robinson
Everyone that has a pulse loves Mitchell Robinson. Big Meech's Block Party does not discriminate and it strikes fear into the hearts of any player coming into the paint.
Robinson is the ultimate diamond in the rough. After literally missing a year of playing organized basketball at the collegiate level, general manager Scott Perry pulled the trigger and drafted Robinson in the second round of the 2018 draft.
Since then Robinson has been astounding everyone from scouts, to opposing players, front office staff, and of course the fans. Using Nylon Calculus' player impact plus-minus, a statistic calculating a player's offensive and defensive impact as well as their wins added, Robinson posted a +2.35 PIPM and 4.18 wins added.
Based on that production his estimated annual salary should've been $11,738,550. And Robinson's production, within a historical context, also stands out. Using Basketball-Reference, in 2018-19 Robinson had the fifth-best rookie season of all-time using the box-plus-minus metric. But Robinson's impact on the game is just as clear on video as it is on the stat sheet.
Mitchell Robinson tallies 9 BLOCKS for the @nyknicks at home. #NBARooks

At 20 years and 215 days old, Robinson is the 2nd youngest player in @NBAHistory to record 9+ blocks in a game. #NewYorkForever pic.twitter.com/Atri05R9Pd

— NBA (@NBA) November 12, 2018
Last season, Robinson recorded nine blocks in a game against the Orlando Magic. This video shows how amazing his timing and patience is for such a young player. Robinson actually fakes players into thinking that he doesn't have the angle to block them as they're driving to the hoop. Equally as impressive is his ability to close out to three-point shooters, sending their shots into the third row.
Robinson is number one on this list because of his ability to impact the game, even without a defined offensive arsenal. Even if Robinson doesn't develop as most think he will, the 7-foot phenom will still have the potential to be an All-NBA defensive team selection or potentially even a candidate for Defensive Player of the Year. Robinson is the crown jewel in the Knicks treasure chest.
The 2019-20 season promises to be very telling for the Knicks. At least two or three players from this list have to show signs that they can be primetime players and worthy of a long-term investment. The Knicks, much like Hinkie in the past, have committed to their plan and continue to ask the fanbase for trust and patience. But without history on their side, one wonders whether it will be Mills and/or Perry writing their own letter, in the future, reflecting on best-laid plans.