Defense was a major issue for the 2019 New York Mets, especially up the middle. The best way to fix that would be to grab a defensively responsible centerfielder.
The New York Mets put forth a -93 DRS as a team. That's the second-worst DRS by a winning team since 2003 when DRS started being tracked. Only the 2005 Yankees had a worse defense and still had a winning record. The biggest culprit in that awful defense was centerfield.
Between Brandon Nimmo, Michael Conforto, Juan Lagares and Rajai Davis, the Mets weren't able to find a single true centerfielder this year. It was an issue all year long and the Mets have to address it this offseason. Lucky for them, there are a few options likely to be available on the free-agent market to fix that issue.
Like every year, it will be up the Mets to be willing to spend to fix the issue. They'll also have to figure out how to get all of Nimmo, Davis, Conforto, McNeil and a new centerfielder's bats into the lineup. That's not an easy thing to do, but that's the task the Mets are starting down.
Marcell Ozuna
Marcell Ozuna has been a disappointment in St. Louis. After putting up a 5 WAR season playing mostly CF for the Marlins in 2017, he's struggled to reach those heights again. Since heading to St. Louis in 2018, Ozuna has shifted over to left field where he is undoubtedly a better defender. However, he has spent time in CF in the past to decent results and has enjoyed his best season a pro playing primarily CF.
Ozuna hasn't looked good this year. His .243/.330/.474 line is unimpressive, but it's misleading. Ozuna had a career-low .256 BABIP drag down his batting average. He also became more patient at the plate posting a career-high walk rate. His K rate also increased from 2018-2019, but at just 20.7%, that's more than manageable. He also posted a career-high hard-hit rate and a career-low soft hit rate. Everything points to him being a much-improved hitter who was dragged down by bad luck.
Defensive Ozuna has been a combine 10 DRS in LF over the past two years. He has the range and the arm to play CF and would be moving to a smaller outfield. It's not likely Ozuna is going to be a gold glove CFer, but he can at the very least replicate what Nimmo and Conforto offer while bringing another big bat into the lineup.
Defense is a secondary part of Ozuna's game, but it's good enough that you would no longer need to worry about him that position dragging you down. Plus, the added benefit of his bat could vault the team into the upper echelon of offenses in the league.
Starling Marte
The Pirates own an $11.5 million option for Starling Marte. There has been some speculation that the team won't pick up the option and let him leave. The other thought most have had is that the Pirates will pick up the option and trade Marte. Either way, the Mets should make a play for him.
Marte just turned 30, but he still has a lot left in the tank. He just posted his second straight 3 WAR season, slashing .295/.342/.503. He hit a career-high 23 home runs and had a career-high .203 ISO. Like many in the game, Marte's power is on the rise. He hasn't let that raise in power affect him as a hitter though. His constant ability to make contact and get on base is incredibly valuable.
Marte might not be the superstar many thought he was going to be, but he is borderline All-Star caliber player. That's true defensively as well.
This was Marte's worst year in CF during his career. Usually, a solid defensive CFer Marte posted -9 DRS this year. In just 2018 Marte had posted 1 DRS, and in 2017 Marte had 8 DRS. It's possible that Marte is on the decline defensively, or it could be that this year is an aberration. Marte still has the speed to play the position, and he's always had good instincts.
Whether or not the decline in CF is real, Marte likely only has a few years left there anyway. If the Mets could squeeze two years out of Marte in CF that would be enough to justify giving him a 3-4 contract and moving him out of CF when he ages out of the position.
The best-case scenario is the Mets finding a way to trade for Marte for a single year. His $11.5 million dollar salary is less than they would likely have to pay for Ozuna in free agency. It also takes some of the risks of making the move away since it's a short term deal.
With the deal only being for a single year it's not likely the Pirates would ask for a large return. If the Mets could get Marte for a prospect like Kevin Smith or Junior Santos that's a deal they have to make.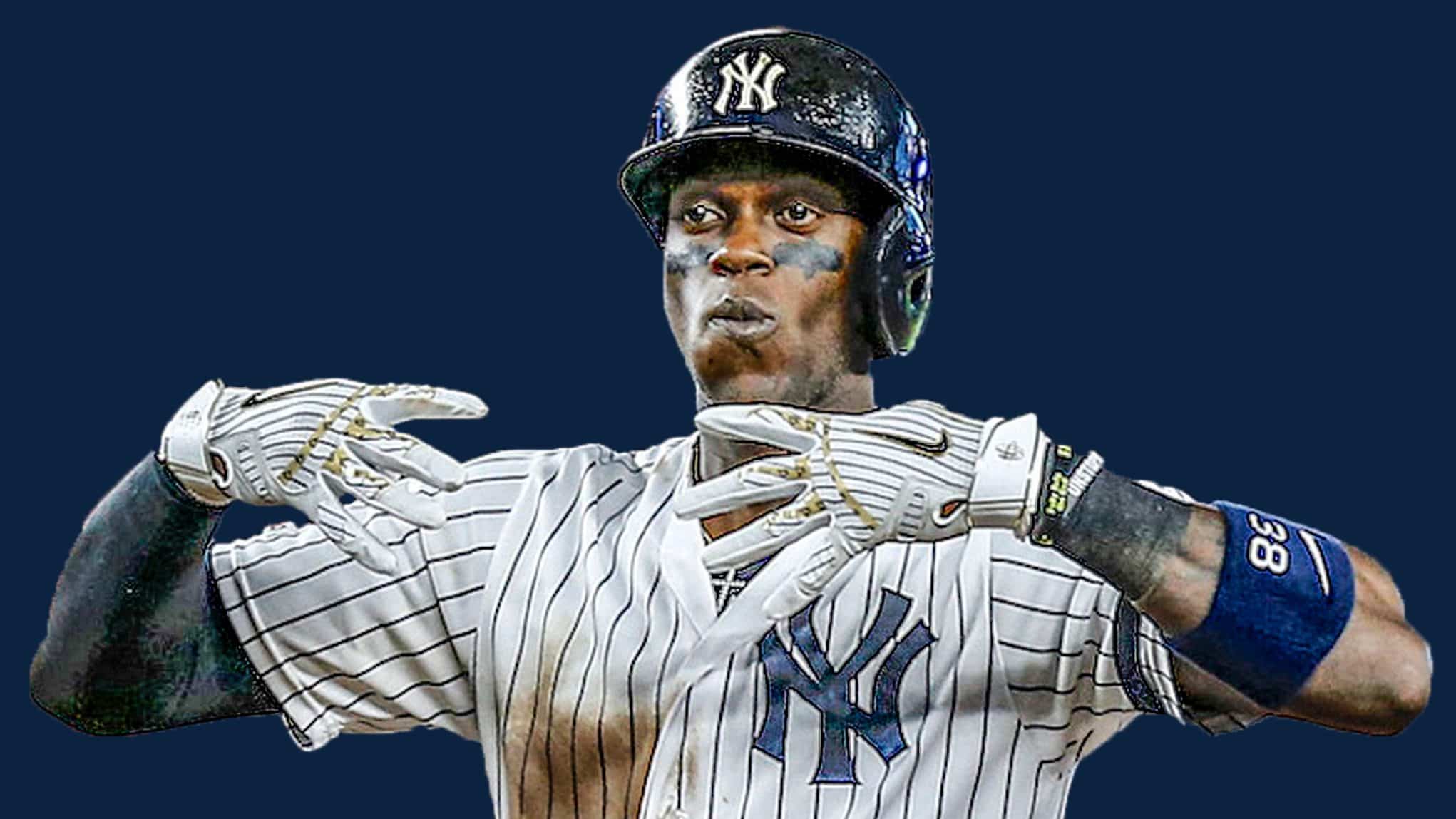 Cameron Maybin
The soon to be former Yankee has spent the last couple of years off the bench. That likely won't be the case after a phenomenal 2019 season that saw him step into the Yankees lineup and excel.
Like Marte, Cameron Maybin hit a career-high in HRs with 11 and had a career-high .209 ISO. He aired that with a .285/.364/.494 slash line. This brings the obvious question, can he repeat that success offensively? Maybin's rise in hard-hit rate and fly ball-rate is an indicator that he might. It's not a sure thing, but when you are looking to save money you need to take risks. The Mets would be smart to take a chance on Maybin's being able to repeat or at least come close to repeating his offensive outburst this year.
Maybin's defense is an enigma. There are years he is stellar defensively, posting 6 DRS, and there are years when he posts -11 DRS. In 2019, Maybin has been worth 0 DRS in the outfield. He was worth 2 DRS in CF, 3 DRS in RF, but -5 DRS in LF. It's very strange how wildly Maybin's defense can change year-to-year and position to position in the outfield. Again, this would be a risk for the Mets. If it pays off, the Mets are getting a plus defensive CFer, if not the Mets are likely to spend starter money on a bench bat.
Maybin is the bargain bin option in CF, but he's the best bargain bin option there is. If the Mets decide to spend money elsewhere this offseason, then Maybin might be the most likely outcome as he Mets search for a new CFer.