Following his breakout season, New York Mets' Jeff McNeil is just a few adjustments away from becoming one of the best hitters in the NL.
Entering this season, not many people within the New York Mets organization expected Jeff McNeil to transform into the best all-around hitter on the team. Prior to this season, McNeil had a total of just 63 games of major-league experience.
During the 27-year-old's time up with the Mets last season, McNeil displayed flashes of becoming this type of hitter, but not many could have predicted an offensive production like this just one year later. Through 133 games this season, McNeil has recorded 38 doubles, 23 home runs, 75 RBI, .214 ISO, .337 BABIP, 143 wRC+, 4.5 fWAR and an impressive hitting line of .318/.384/.531/.916.
Despite these outstanding numbers from McNeil this season, there are still areas in his game where he can improve next season. In speaking with reporters before Thursday's finale against the Marlins, McNeil spoke about once his broke hand fully heals, he wants to work on becoming more of a consistent power hitter in 2020.
The 2019 season was a tale of two halves for McNeil. Through the first half of the season, the Mets' leadoff hitter didn't hit for much power, as he produced just seven home runs to begin the season. Although, McNeil did generate significantly more hits in the first half of the season compared to after the All-Star break.
During his first 75 games of the season, McNeil created 23 doubles, seven home runs, 36 RBI, .159 ISO, .385 BABIP, .389 wOBA, 146 wRC+ and a slashing line of .349/.409/.509/.917 as well. While McNeil didn't hit many home runs in the first half, he was able to perform as one of the best pure hitters in the NL with his outstanding number of hits.
Following the mid-summer classic, McNeil exploded with his extra-base power, which was the very aspect that was missing from his game during the first half of the season. It took McNeil all of 75 games to record just 30 extra-base hits this season. After the All-Star break, McNeil had surpassed that amount by one through just 57 games. However, even though McNeil has slugged for more power since the break, he has also slightly become a less consistent hitter at the top of the Mets' lineup.
During those 57 games in the second half, McNeil recorded 15 doubles, 16 home runs, 39 RBI, .285 ISO, .266 BABIP, .379 wOBA, 139 wRC+ and a line of .276/.353/.561/.915. With the increased number of home runs in the second half, that also meant a rise in strikeouts for McNeil as well. Through the first half, McNeil produced a measly 11.9% strikeout rate. In the second half, McNeil saw a 3% increase in his strikeout rate. While a 14.9% strikeout rate isn't concerning for McNeil, an ideal rate for him would be somewhere in between those two rates through a full season.
The big reason for these two different types of results for McNeil this season has been because of his differing performances against fastballs and breaking balls. Excluding May, McNeil has been destroying heaters this season. Currently, McNeil is hitting .338 AVG, .302 xAVG, .543 SLG, .470 xSLG and .406 wOBA along with a 10% strikeout rate and a 15.5% whiff rate against fastballs.
Along with those impressive numbers above, McNeil has hit eleven of his 16 second-half home runs against fastballs. Following a significant timing adjustment made by McNeil after the break, he has been able to barrel-up more heaters at a 7.9% increase since then.
In doing so, McNeil has since been able to make solid contact with fastballs located on the inside half of the strike zone.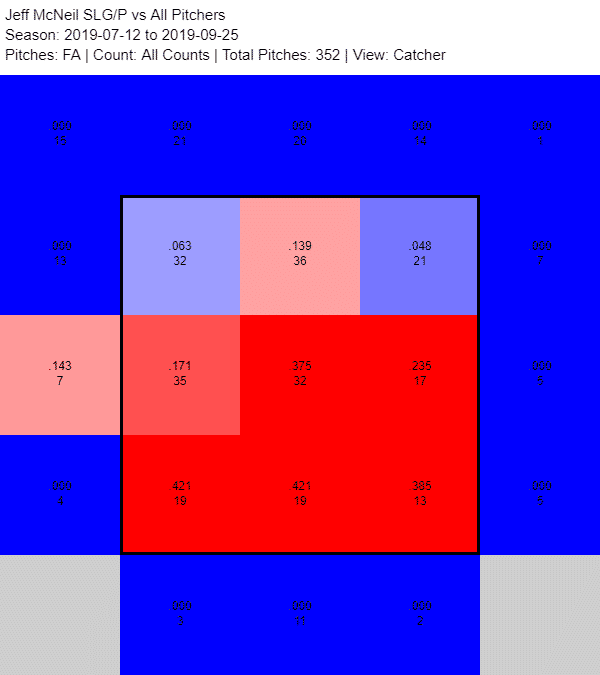 As seen above, with the adjustment made by McNeil, he has been able to slug the ball especially well at the bottom of the zone since the break. Particularly, McNeil has done a much better job at squaring fastballs up located down the middle of the zone. Prior to his timing adjustment, McNeil extremely struggled to hit fastballs on the inside half of the zone.
Compared to before the break, McNeil just wasn't able to bring the barrel of his bat into the zone quickly enough, which denied him of hitting for power during the first half of the season.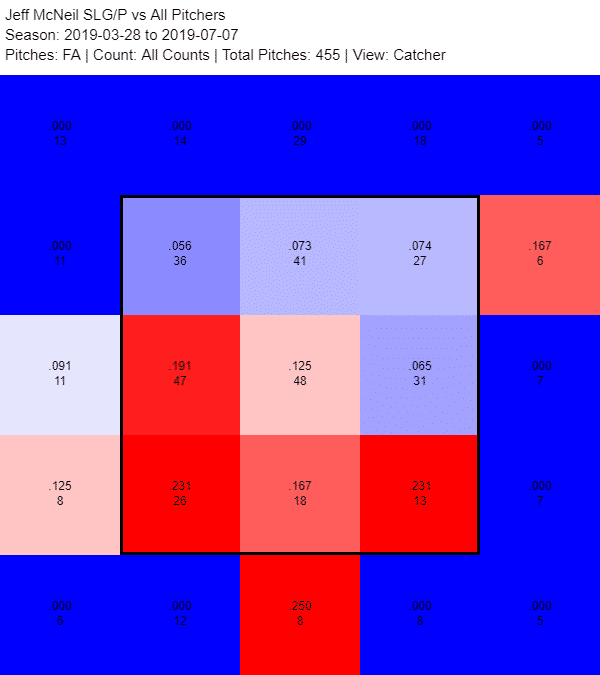 The chart above shows exactly why McNeil wasn't able to produce many home runs against heaters through the first half of the season. Opposing pitchers haven't been throwing fastballs any differently to McNeil throughout this season. So, this adjustment made by McNeil should allow him to hit for more power at the start of the season next year.
Throughout this season, McNeil hasn't sustained any issues hitting breaking balls out of the ballpark, hitting eight of his 23 home runs this season against them. Although, McNeil did struggle to hit for consistency against breaking balls after the week-long break in July. Despite McNeil's timing adjustment against fastballs since the break, his ineffective timing against breaking balls since then has extremely hindered his production.
During the first half of the season, McNeil recorded a .318 AVG against sliders and curveballs. Since then, McNeil has produced a measly .197 AVG against them. The biggest reason for McNeil's lack of success against breaking balls has been because of the increased number of weakly hit ground balls he's induced.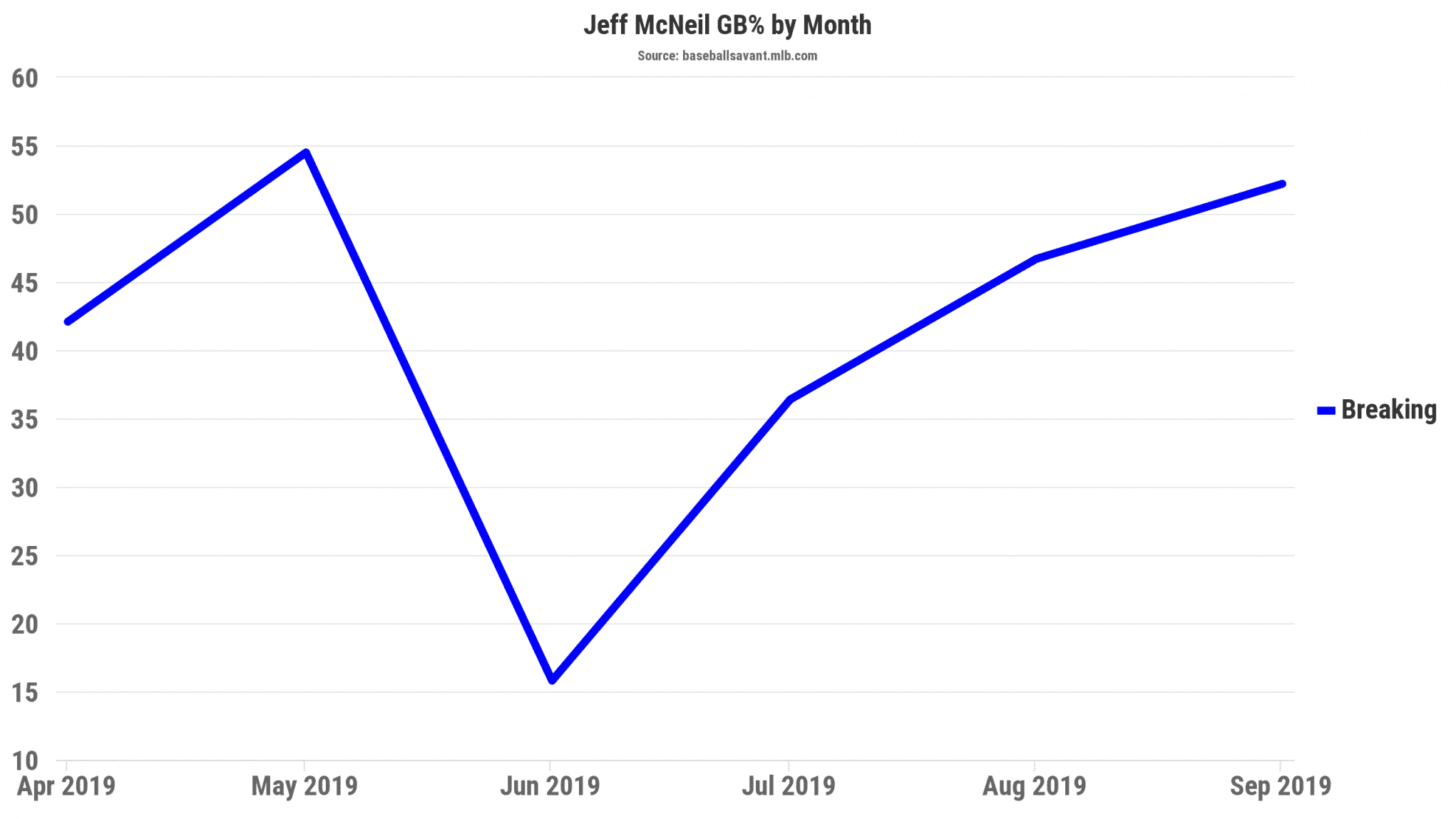 The graph above shows that McNeil has created significantly more ground balls against breaking balls as the season has gone on. Since the start of July, McNeil failed to square up as many sliders and curveballs like he had been doing prior to the All-Star break. During June, McNeil recorded a 52.6% line drive rate against breaking balls.
As the number of ground balls increased for McNeil, he began to produce fewer and fewer amounts of line drives against breaking balls through the second half. Since the start of July, McNeil recorded a 24.5% LD rate. So, McNeil will need to make a similar timing adjustment to the one he made against fastballs earlier this season, in order for McNeil to improve even further next season.
If Brandon Nimmo is healthy to begin the 2020 season, then the Mets will likely place McNeil in the second spot in their lineup next year. If McNeil can continue to crush heaters as he did in the second half of this season and improve his timing against breaking balls, then he has the potential to become one of the best all-around hitters in the entire NL.
There's no question McNeil has the potential to hit 30-plus home runs along with 100-plus RBI while maintaining his .300 AVG throughout an entire season as well. Heading into the offseason, the Mets have to be excited about next season. If McNeil can take this next step with his production at the plate, then the Mets will definitely not have to worry about their offense during the 2020 season.