The New York Knicks are entering uncharted territory regarding lineups and rotations. Should they start rookie RJ Barrett?
Only eight rookies out of the 2018 NBA Draft class logged more than 2,000+ minutes on the year. Will RJ Barrett reach that feat in the upcoming season?
It's almost entirely dependent upon his eligibility for the New York Knicks starting lineup.
Teammate Kevin Knox spent 75% of his rookie year as a member of the starting five. He was one of the aforementioned rookies of last year to log 2,000+ minutes.
It's no metric for success, but more so a measurement for dedication and development: starting your rookie draft pick right out of the gate.
But for a team like the Knicks, there are arguments for and against the idea. A look at Barrett, his positional competition and whether or not coach Fizdale should give the rookie starter-level responsibility.
Entering the Season
RJ Barrett enters the NBA as a top-three pick in what is widely considered just a three-player draft. The New York Knicks serve as the league's wasteland, a land commonly thought of as devoid of both talent and direction.
The rookie's role, not yet defined, is as complex as any other 19-year old entering the professional work field. Whether you agree or not, the Knicks success will be directly tied to Barrett for at least the 2019-20 campaign, if not beyond.
In his lone season with the Duke Blue Devils, the guard played 38 games; posting averages of 22.6 points, 7.6 rebounds and 4.3 assists, all while playing alongside unanimous first overall pick Zion Williamson and fellow lottery talent Cam Reddish.
This suggests that Barrett may already be comfortable making his name among a crowded roster, albeit not yet on an NBA level.
Slated now as the starting two-guard, Barrett will have to tap into his climbing potential as a playmaker to help New York find an offensive rhythm. Scoring hasn't been an issue for the Knicks in recent year, as much as efficiency and defense.
Looking Back
We have an empirical amount of data that suggests New York has not been kind to rookie talent over the years. Their last three draft picks stand as all the evidence you'd need to make the case against starting Barrett.
Kristaps Porzingis, the highest of the last three in terms of draft position (fourth overall in 2015), tore an ACL and amidst his rehab demanded a trade.
The other two, Frank Ntilikina and Kevin Knox, have failed to cement themselves as not only New York cornerstones, but NBA talents overall.
In fact, the Knicks ninth-overall pick last year who was awarded a majority of starting appearances was one of the NBA's worst players last season. Knox averaged just 12.8 points on a .370 shooting clip from the field.
Per Basketball-Reference, of all rookies to start at least 41 games last season, the former Kansas product had the lowest win shares (-1.3) and the sixth most turnovers (114).
It's unclear if he was simply unprepared to go head-to-head with starting-caliber talent or the Knicks failed in their summer and mid-season attempts to help him adjust. Regardless, he'll not be handed the starting job this year, if ever again.
Ntilikina, on the other hand, is showing more and more signs of progression, but simply can't crack the rotation under coach David Fizdale. After his eye-opening FIBA World Cup performances this summer, he'll undoubtedly be given the chance to earn minutes.
But at the end of the day, this isn't either of their rookie years, and Barrett's progression or regression will prove the most costly of the trio. To play devil's advocate, he does appear more NBA ready on the offensive end than either Ntilikina or Knox were entering their respective rookie seasons.
As it stands, it can't hurt to begin the year with Barrett slated in the starting lineup.
One could look at it as some form of a litmus test, provided Fizdale cuts it short once it begins down trending. Barrett is the most important player on the Knicks this season, there's no arguing that, which is more than you could say about either Knox or Ntilikina their entire time in the league.
Positional Competition
Fortunately for Barrett and Fizdale alike, the roster is slim at his position.
If we're talking about the two-guard slot, he's only truly competing with Damyean Dotson and Allonzo Trier. Both took huge leaps last season. While Dotson developed into a respectable wing defender, Trier became a legitimate scoring threat in any situation.
What Barrett will inevitably offer over either of them, in both the short and long term, is passing. Neither Trier or Dotson eclipsed two assists per game on the year.
Barrett, coming fresh off a year where he played the primary ball-handler, averaged 4.3 over his 38 games next to Williamson and Reddish.
The shots will be harder to find/create in the NBA assuredly. But the 19-year old is debatably a more established passer already than either Dotson or Trier. For a Knicks team that finished dead last in assists per game last season, they'll be handing out opportunities to all the established facilitators on the roster, including Barrett.
Where Dotson may raise some ears and push his rookie teammate in the chase for starting two-guard, is off-ball impact. The (now) third-year guard moves fairly well without the ball in his hands and is even better defensively in that regard.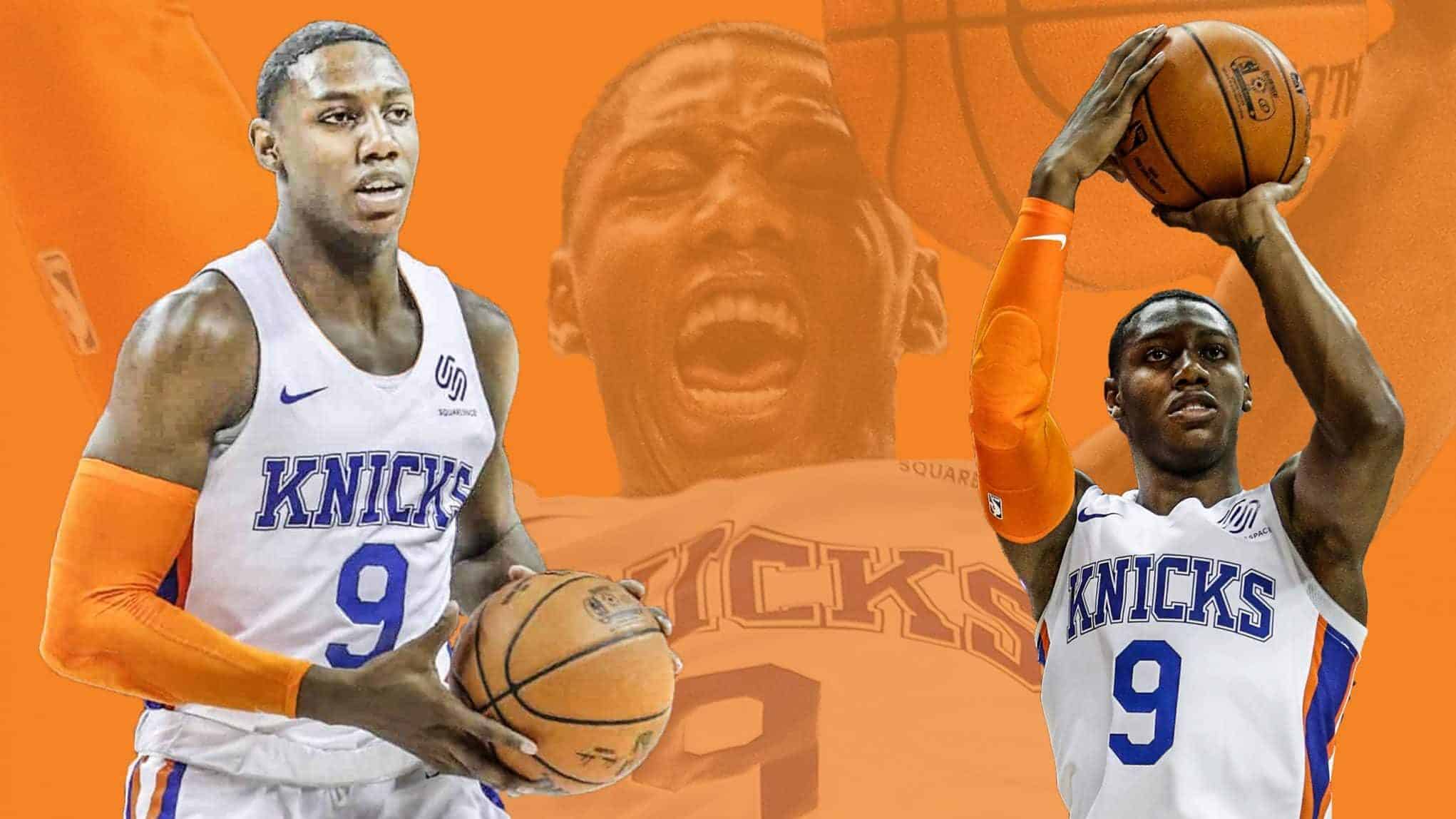 New York Knicks Direction
Look, last season it was undeniable. But this year, I truly believe the Knicks won't fall into their old tanking habits. The structure of the draft lottery has gotten a makeover, and they've brought in some ready to win now veteran guys through free agency.
The team won just 17 games last season, behind the lead of Emmanuel Mudiay at the helm, and Knox getting free reign on the floor. Now, Dennis Smith Jr. is the point guard, and he's on a revenge campaign. Julius Randle has been brought in to be the starting power forward and is a potential All-Star candidate now in the Eastern Conference.
Mitchell Robinson is insanely good for just 21-years old and Marcus Morris is a proven winner via the regular and postseasons. Very little surprises any Knicks fans nowadays, after the Porzingis and Carmelo Anthony sagas.
There's very little the New York Knicks could do for shock value at this point. They've traded away their franchise star twice in the last three years and signed multiple contracts that still stand high among the league's worst.
But for the team to once again fall into tanking and attempt to acquire the highest draft pick instead of winning as much as possible–really?
Look at the neighboring Brooklyn Nets, who did sign Kevin Durant and Kyrie Irving, after they birthed the playoffs for the first time since 2014. Cap space isn't everything it turns out. Maybe winning actually holds some value among the league's top talent.
Which is what raises the following question: If your goal is to win as much as possible, does starting a 19-year old rookie make sense?
---
Not starting your (healthy) third overall pick is essentially unheard of in the NBA. Still, head coach David Fizdale could gain to take a hard look at Barrett's candidacy. While it's easier to just say, "Why not?," it may prove beneficial to buy-in on winning now.
And unless he proves that he contributes to such right out of the gate, RJ Barrett may thrive more in a bench role where he can be the alpha-ball handler we saw with the Blue Devils.