New York Mets RHP Noah Syndergaard recently addressed his slider's ineffectiveness this season, although there may be a way for him to fix it. 
The 2019 season has certainly not been kind to New York Mets pitcher Noah Syndergaard. Following his impressive 2018 season, the man fans call "Thor" has pitched extremely inconsistently through this season.
One of the biggest reasons for Syndergaard's struggles this season has been due to his ineffective slider.
While his slider hasn't been the only pitch he's struggled with this season, it's the pitch that has caused Syndergaard to surrender so many home runs this season. Last season, Syndergaard owned a respectable 0.52 HR/9 through 154.1 innings pitched. This season, Thor has struggled to keep the ball in the yard as he currently owns a 1.07 HR/9.
Of the 22 home runs, Syndergaard has allowed this season, five of them have come against his slider. While that number may not seem very high, all those home runs have forced Thor to throw fewer sliders this season, which has had a massive impact on his other pitches. Before this season, Syndergaard utilized his slider as one of his primary pitches.
The 27-year-old on average used his slider 20.6% of the time from 2016-2018. Through this season, Syndergaard has needed to throw fewer sliders because of it's ineffectiveness. Currently, Syndergaard is throwing his breaking ball 14.9% during his starts this season. Along with giving up five home runs off his slider this season, Syndergaard has also recorded a career-worst .357 OPP SLG and a 3.8% walk rate with it as well.
In addition to those poor numbers, opposing hitters have been laying off Syndergaard's slider during the second half of the season. During July, Syndergaard produced a 54.4% whiff rate with his slider. Since then, hitters have been able to lay off that pitch, as Syndergaard has only created a 32.7% whiff rate with his slider.
Despite hitters recording fewer number of swings and misses, Syndergaard has still been able to generate strikeouts with his slider. As he currently owns a 41.2% strikeout rate with his breaking ball this season.
The fewer number of breaking balls has also had a big impact on Syndergaard's fastball as well this season. Syndergaard has had to throw his four-seamer a lot more this season, leading to an 8.2% increase from a season ago.
The increased number of fastballs also hasn't led to more success for Syndergaard this season. Syndergaard currently owns a .272 AVG .243 xAVG .422 SLG .339 xSLG against his four-seamer this season.
Despite Syndergaard's dreadful numbers this season, there's still a way for the Mets' righty to turn things around. The key to success for Syndergaard will be to improve his slider this offseason and into next season as well. First off, there are no issues with the spin that Syndergaard creates with his breaking ball. Thor has actually been generating even more spin with his slider this season.
Prior to this season, Syndergaard produced an average spin rate of 2081 RPM with his slider. Through this season, Syndergaard has recorded an average spin rate of 2179 RPM, which shows that he's been attempting to create even more movement with his breaking ball this season. However, even with the additional spin on his slider, Syndergaard hasn't been able to locate his breaking ball to the lower half of the strike zone this season.
Too many times this season, Syndergaard has left his slider hanging up in the middle and the outer half of the zone, or too far below and away from the zone this season. In doing so, that has resulted in all the home runs, hard-hit balls and walks against his breaking ball.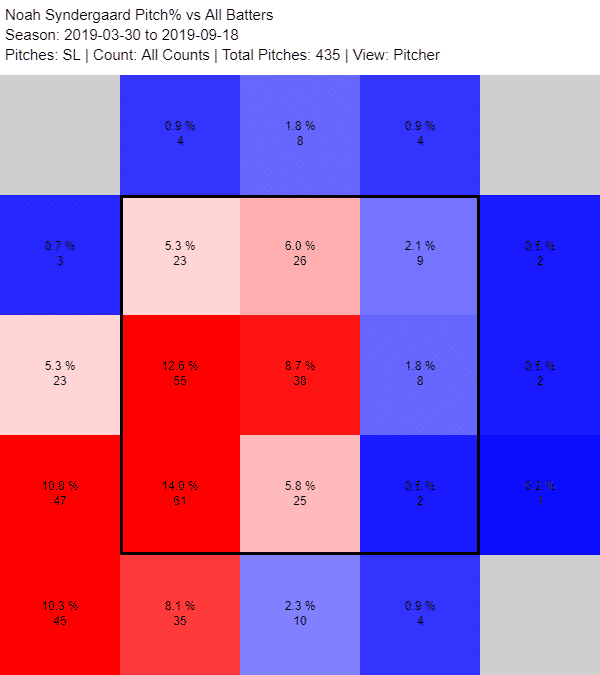 In the chart above, it can be seen just how much Syndergaard has left his slider where it can be crushed or be completely forgotten about. Particularly against right-handed hitters, Syndergaard has missed with his slider up in the upper half of the zone, which has been smashed all around the ballpark this season.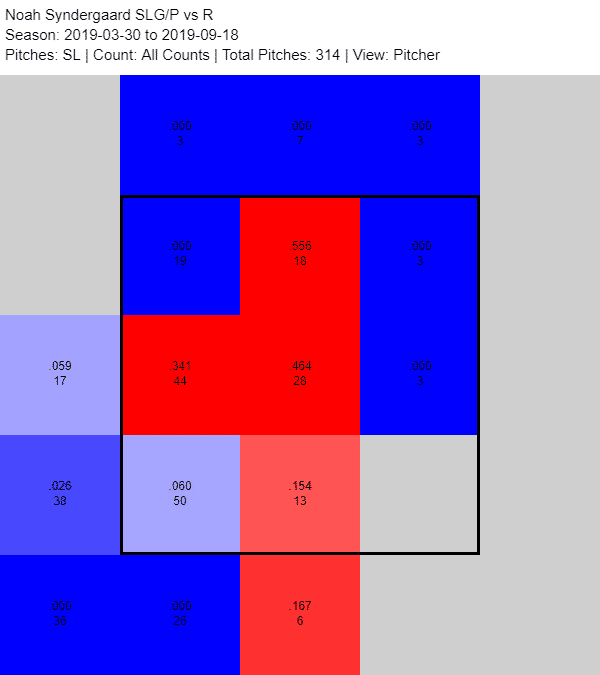 As seen in the chart above, Syndergaard has had the majority of the damage done to his slider by righties this season. After witnessing exactly where Syndergaard has been locating his slider this season, it shouldn't come as much of a shocker to see why he's lost his confidence with it.
Going forward, Syndergaard will have to find a way to locate his slider down and away from righties and continue to locate his breaking ball low and inside to lefties.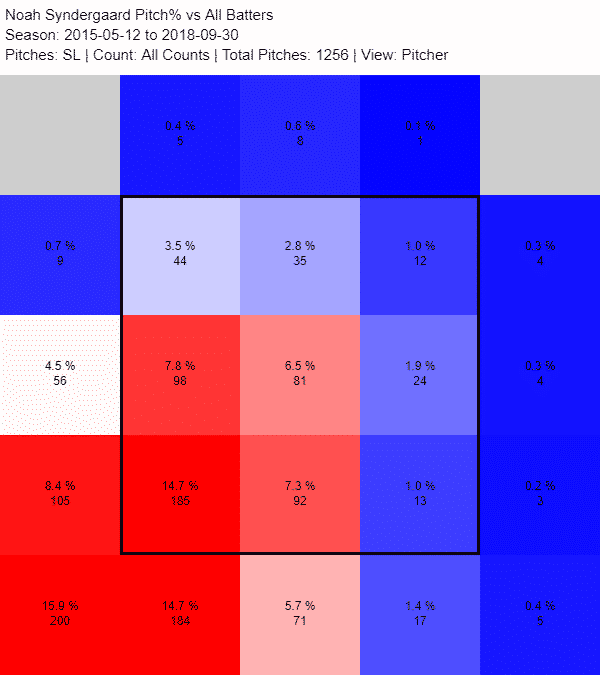 This chart above displays how effective Syndergaard's slider has been in previous seasons. Keeping his breaking ball out of the middle of the zone is exactly how Syndergaard was able to surrender just a single home run against his slider heading into this season.
Once Syndergaard is able to locate his breaking ball again, he'll then need to increase the usage of it back up towards 20% or even more than that. If Syndergaard is able to command his slider next season, then that'll allow him to rely on both his changeup and slider to record strikeouts next season. During Syndergaard's career, his changeup and slider have led all of his pitches in strikeout and whiff rate each season.
While it's understandable for Syndergaard to be frustrated with how he's performed this season, it shouldn't take much for the right-hander to regain his once-dominant slider. Syndergaard needs to go through this offseason with a clear mind, and focus on improving the location of his slider heading into next season.
The Mets should be in a position to contend for a playoff spot once again next season. So, they'll certainly need Syndergaard dominating opposing lineups once again if they're going to find their way back to the playoffs.