ESNY's Week 2 preview brings you everything you need to know, predictions for this week's games, and a quick Week 1 recap. Let's go.
What a first week it was in the NFL. Football has finally returned and players, coaches and fans have gotten back into the swing of things.
Week 1 was definitely full of numerous surprises, blowouts, close games, and dominant performances from certain players. Needless to say, it was a great week that brought joy to many that pro football is back and here to stay (at least until February).
That being said, let's look back at Week 1 in the NFL.
Recap: What we saw during Week 1
As I said, there were numerous surprises around the NFL this past week. We saw a limited amount of offense in the opening-night Green Bay Packers-Chicago Bears matchup last Thursday. A 10-3 finish that saw Aaron Rodgers and the Packers trump Mitch Trubisky and the Bears. Needless to say, Trubisky didn't have his best game.
We saw a phenomenal game from Carolina Panthers running back Christian McCaffrey in a 30-27 loss to the Los Angeles Rams. The former Stanford standout finished with 19 rushes for 128 yards and two touchdowns, catching 10 balls for 81 yards through the air as well.
We saw Cleveland Browns quarterback Baker Mayfield throw three interceptions in a stunning 43-13 loss to the Tennessee Titans. Still believe the Browns are the new "America's Team?"
Jacksonville Jaguars quarterback Nick Foles is out indefinitely after fracturing his clavicle in a 40-26 loss to the Kansas City Chiefs. Patrick Mahomes is, yes, still great, completing 25 of his 33 throws for 378 yards and three touchdowns in the victory.
"Pretty good for a running back" is what Baltimore Ravens quarterback Lamar Jackson said after throwing for 324 yards and five touchdowns in a 59-10 rout of the Miami Dolphins. Tanking may be the early story (and continue to be the story) for the Dolphins in 2019.
We saw DeSean Jackson return to his old form in his first game back as a Philadelphia Eagle. The veteran wide receiver caught eight balls on 10 targets for 154 yards and two touchdowns in the 32-27 win over the Washington Redskins.
Arizona Cardinals rookie quarterback Kyler Murray flipped a switch in the second half and was able to tie the game late against the Detroit Lions. The game headed to overtime and the NFL eventually had its second straight year with an opening-day tie. The Lions and Cardinals finished the game knotted at 27-all.
Matt Stafford (27-45, 385 yards, three touchdowns, zero interceptions) and Danny Amendola (seven receptions, 104 yards, and one touchdown) could be a great connection for Detroit.
Dallas Cowboys quarterback Dak Prescott was dominant in the midst of contract talks. He was 25-for-32 for 405 yards and four touchdowns against a horrid New York Giants defense. Big Blue didn't get one single sack and their secondary was non-existent for much of the game in a 35-17 loss.
The New England Patriots are dominant, to say the least. They defeated the Pittsburgh Steelers 33-3 on Sunday night and will add Antonio Brown to the mix when he joins the team this week. However, Brown is now in the midst of a sexual assault and rape lawsuit, so his future his unclear at the moment.
The Houston Texans and the New Orleans Saints on Monday night had one of the best finishes to any football game I've ever seen. Down 27-21, it only took two deep throws for Deshaun Watson to get the Texans into the end zone to take the lead 28-27. Then, Drew Brees took five plays and 35 secondes to get the Saints and kicker Wil Lutz in position to kick a 58-yard field goal to win the game 30-28.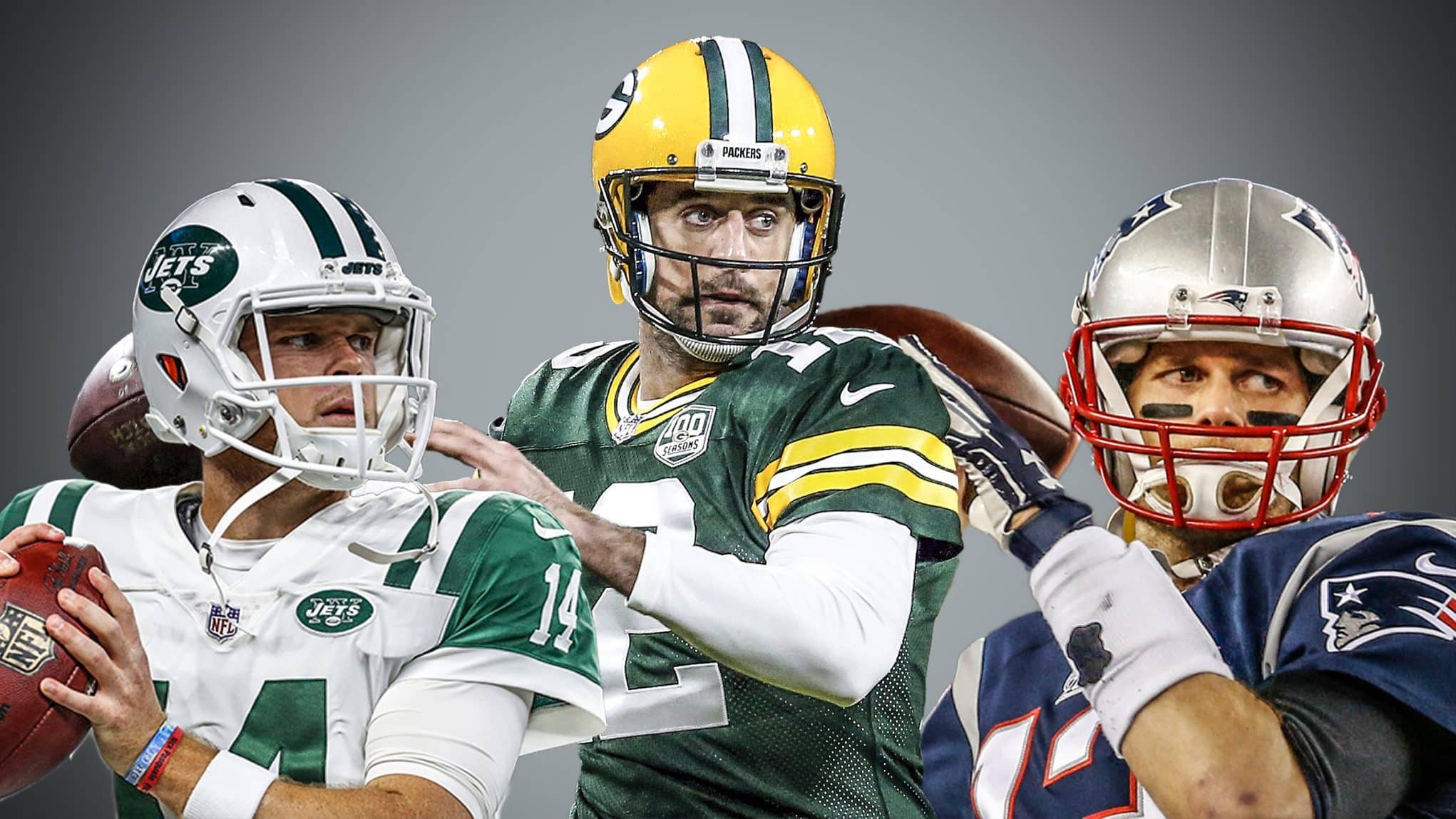 Week 1 Final Scores // Prediction Results
Green Bay Packers: 10 at Chicago Bears: 3 // Incorrect
Los Angeles Rams: 30 at Carolina Panthers: 27 // Correct
Tennessee Titans: 43 at Cleveland Browns: 13 // Incorrect
Kansas City Chiefs: 40 at Jacksonville Jaguars: 26 // Correct
Baltimore Ravens: 59 at Miami Dolphins: 10 // Correct
Atlanta Falcons: 12 at Minnesota Vikings: 28 // Incorrect
Buffalo Bills: 17 at New York Jets: 16 // Incorrect
Washington Redskins: 27 at Philadelphia Eagles: 32 // Correct
Indianapolis Colts: 24 at Los Angeles Chargers: 30 // Correct
Cincinnati Bengals: 20 at Seattle Seahawks: 21 // Correct
Detroit Lions: 27 at Arizona Cardinals: 27 // Incorrect
New York Giants: 17 at Dallas Cowboys: 35 // Correct
San Francisco 49ers: 31 at Tampa Bay Buccanneers: 17 // Correct
Pittsburgh Steelers: 3 at New England Patriots: 33 // Incorrect
Houston Texans: 28 at New Orleans Saints: 30 // Correct
Denver Broncos: 16 at Oakland Raiders: 24 // Incorrect
Week 1 results: 9-7
Overall 2019 results: 9-7
Preview: What to watch for during Week 2 of the NFL
Arizona Cardinals at Baltimore Ravens – Sunday, Sept. 15, 1:00 p.m. ET
Kyler Murray will head into Baltimore to try to achieve his first-ever victory in the NFL after tying the Detroit Lions in Week 1. Can he prove he can actually play in this league and that the switch he flipped in the second half against Detroit wasn't just a one-time thing?
Can Ravens quarterback Lamar Jackson build off of his five-touchdown performance from Week 1? Maybe the depleted Miami team was the major reason for his Week 1 success. Maybe Jackson is actually en route to silencing the doubters this year. We'll find out in the coming weeks, and it starts with their game against Arizona this coming Sunday.
Minnesota Vikings at Green Bay Packers – Sunday, Sept. 15, 1:00 p.m. ET
Both these teams start out 1-0, with Green Bay's defense only allowing three points last week and Minnesota's only allowing 12. It's going to be a good quarterback battle as well, with Aaron Rodgers (25 touchdowns and two interceptions in 2018) going up against Kirk Cousins (30 touchdowns and 10 interceptions in 2018).
This game will decide who'll take the early lead and momentum as the team at the top of the NFC North. Both these organizations are potential playoff teams, with the 2018 division-winning Chicago Bears also in the mix.
Jacksonville Jaguars at Houston Texans – Sunday, Sept. 15, 1:00 p.m. ET
This will be a great battle between Texans weapons Deshaun Watson/DeAndre Hopkins and Jaguars cornerback Jalen Ramsey. Both Hopkins and Ramsey have emerged as one of the best at their respective positions, with Watson one of the top up-and-coming quarterbacks in this league.
Watson completed 66.7% of his throws against the Saints on Monday night for 268 yards, three touchdowns, and one interception. Hopkins, on the other hand, had eight receptions on 13 targets for 111 yards on two touchdowns.
Ramsey could very well follow Hopkins wherever he is during this game, as this will be one of the better wide receiver-cornerback matchups in the NFL this week.
Seattle Seahawks at Pittsburgh Steelers – Sunday, Sept. 15, 1:00 p.m. ET
Pittsburgh is coming off of a brutal loss on the road to the Patriots in which they lost by 30 points and didn't reach the end zone. However, this week, they're back home at Heinz Field. It's their home opener, and there'll certainly be a different atmosphere within this team and their fans.
But will they get their first win of the year against a promising Seattle team that has the potential to win the NFC West division? This is a game between two Pro Bowl-type quarterbacks in Ben Roethlisberger and Russell Wilson. However, both need to step it up if they want their respective team to win this game.
Wilson only threw for 196 yards in the win over the Cincinnati Bengals this past weekend. Roethlisberger threw for 276 yards but only completed 57.5% of his throws with zero touchdowns and one interception. Both need to step up their game and I feel like whichever one plays better will ultimately come away with the victory in this one.
New Orleans Saints at Los Angeles Rams – Sunday, Sept. 15, 4:25 p.m. ET
It's the rematch of last year's NFC Conference Championship. Not only that, it's a battle between two quarterbacks and two head coaches, both young and old. The 40-year-old New Orleans quarterback Drew Brees will take on the 24-year-old Los Angeles quarterback Jared Goff. Additionally, 13-year Saints head coach Sean Payton (14 if you count the suspended year) will go to battle against the third-year Rams head coach Sean McVay.
Brees had 370 yards and two touchdowns against the Texans on Monday night, and even with his age, doesn't seem like he's slowing down.
One of the bigger questions with the Rams is how running back Todd Gurley will be used going forward. Fans were told he was healthy and good to go regarding the lingering issues in his knee. Yet, he only received 14 carries against the Panthers in Week 1. Running back Malcolm Brown wasn't too far behind him with 11 carries.
Ultimately, it'll be interesting to see how Gurley will be utilized in this Los Angeles offense moving forward.
Cleveland Browns at New York Jets – Monday, Sept. 16, 8:15 p.m. ET
This will be a prime time battle between two young, up-and-coming quarterbacks in Baker Mayfield of the Browns and Sam Darnold of the Jets. Despite both teams coming off Week 1 losses, these are teams who've struggled in recent years but definitely have potential going forward.
Both teams have great offensive weapons, with the Jets possessing the versatile running back Le'Veon Bell and the Browns starting the ever-so-talented wide receiver Odell Beckham Jr.
Speaking of OBJ, this game will be the former Giant's return to MetLife Stadium. It's not against his former team, but it'll still be a special moment for the young player to return to his former home.
Predictions (In bold)
Tampa Bay Buccanneers at Carolina Panthers – Thursday, Sept. 12, 8:20 p.m. ET
Arizona Cardinals at Baltimore Ravens – Sunday, Sept. 15, 1:00 p.m. ET
San Francisco 49ers at Cincinnati Bengals – Sunday, Sept. 15, 1:00 p.m. ET
Los Angeles Chargers at Detroit Lions – Sunday, Sept. 15, 1:00 p.m. ET
Minnesota Vikings at Green Bay Packers – Sunday, Sept. 15, 1:00 p.m. ET
Jacksonville Jaguars at Houston Texans – Sunday, Sept. 15, 1:00 p.m. ET
New England Patriots at Miami Dolphins – Sunday, Sept. 15, 1:00 p.m. ET
Buffalo Bills at New York Giants – Sunday, Sept. 15, 1:00 p.m. ET
Seattle Seahawks at Pittsburgh Steelers – Sunday, Sept. 15, 1:00 p.m. ET
Indianapolis Colts at Tennessee Titans – Sunday, Sept. 15, 1:00 p.m. ET
Dallas Cowboys at Washington Redskins – Sunday, Sept. 15, 1:00 p.m. ET
Kansas City Chiefs at Oakland Raiders – Sunday, Sept. 15, 4:05 p.m. ET
Chicago Bears at Denver Broncos – Sunday, Sept. 15, 4:25 p.m. ET
New Orleans Saints at Los Angeles Rams – Sunday, Sept. 15, 4:25 p.m. ET
Philadelphia Eagles at Atlanta Falcons – Sunday, Sept. 15, 8:20 p.m. ET
Cleveland Browns at New York Jets – Monday, Sept. 16, 8:15 p.m. ET
Follow Ryan on TWITTER