The NFL's all-time leading scorer, Morten Andersen, spoke with ESNY about the New York Giants and so much more. 

Until recently, no name in NFL history had been featured in a box score more often than Morten Andersen.
The Copenhagen native, 59, retired as the all-time leading scorer in NFL history, having tallied 2,544 points over a 25-year career. Locally, that tenure included a brief stop with the New York Giants in 2001.
Though Anderson's groundbreaking point and field goal tallies were surpassed by Adam Vinatieri last season, he still holds numerous scoring records, whether they come via age or ability. Andersen last played in 2007, finally retiring a year later at the age of 47. In 2017, Andersen made history as the second kicker to be inducted into the Pro Football Hall of Fame and first since Jan Stenerud.
Andersen recently sat down with ESNY to talk about the present and future of professional kicking, as well as his memories from New York and elsewhere.
(Special thanks to Rob Kreis and Bet-NJ.com for their assistance in obtaining Andersen for this interview.) 
Q: What was it like to get the call from the Pro Football Hall of Fame?
A: It was actually a knock on the door by PFHOF president Dave Baker. When I heard the knock, it was unmistakable, and I ran to the door. Having just been told that I was going into the PFHOF was very emotional. I think that I cried for a while on the shoulder of Mr. Baker. It is the greatest honor bestowed on an individual player in pro football and I do not take it lightly. I try to live a Hall of Fame life every day and to affect positive change wherever I go. Our saying in our Morten Andersen Family Foundation is that "What you give will grow and what you keep will perish". 
Q: How important are special teams in being successful in today's NFL?

Special teams are an integral part of football. Not only do you produce points but many of the big plays come from special teams. Kick returns can change field position instantly and flip the field to your advantage. Blocked kicks that get scooped and scored have an incredible impact on the outcome of games. The kicker usually will affect 3-4 games a year with his foot. 
Q: What are your thoughts on Carli Lloyd's potential as an NFL kicker?
A: I think that Carli Lloyd is an incredible athlete and I want to celebrate her dream and vision of breaking down barriers in sport. She will have to put in the time and lean on sound realistic advice from athletes that have done it. She will have to earn the right to get a roster spot in the NFL. It is difficult and there is a lot of competition for 32 jobs. I support her quest to do it when she chooses to do it and stand ready to assist in whatever way that I can.
Q: Of all your kicks in the NFL, which is the most memorable?
A: My kick in NFC Championship game to beat the Vikings in overtime and put the Falcons in the Super Bowl is my most significant. However, I always knew that all kicks had the same value and to take them all with great focus and determination.
Q: Which of your NFL records are you most proud of?
A: When I played my focus was always on the process. I tried to make that as powerful as possible and as dominant. Records came and went. One record to mention is 360 consecutive games scoring, an NFL record that I doubt will ever be broken.
Q: What do you recall about your experiences with the New York Giants?
A: I loved playing for the New York football Giants. I admired the owners Wellington Mara and Robert Tisch. I loved New York and playing on the biggest stage in the world. I was there during 9/11 and saw firsthand how a city came together around its football team despite having been viciously attacked by terrorists. I learned that New Yorkers are resilient and patriotic and that you can count on them in tough times. I am proud to have been a part of that team during a very difficult time.
Q: After a tough start, what, in your opinion, is the turning point of your NFL career?
A: 1983 was my breakthrough year and it happened because Coach Bum Phillips had the patience to stick with me and let me mature and develop as a player. As I started to make some big kicks and game-winners my confidence grew and I was able to solidify my position as one of the dominant kickers in the league.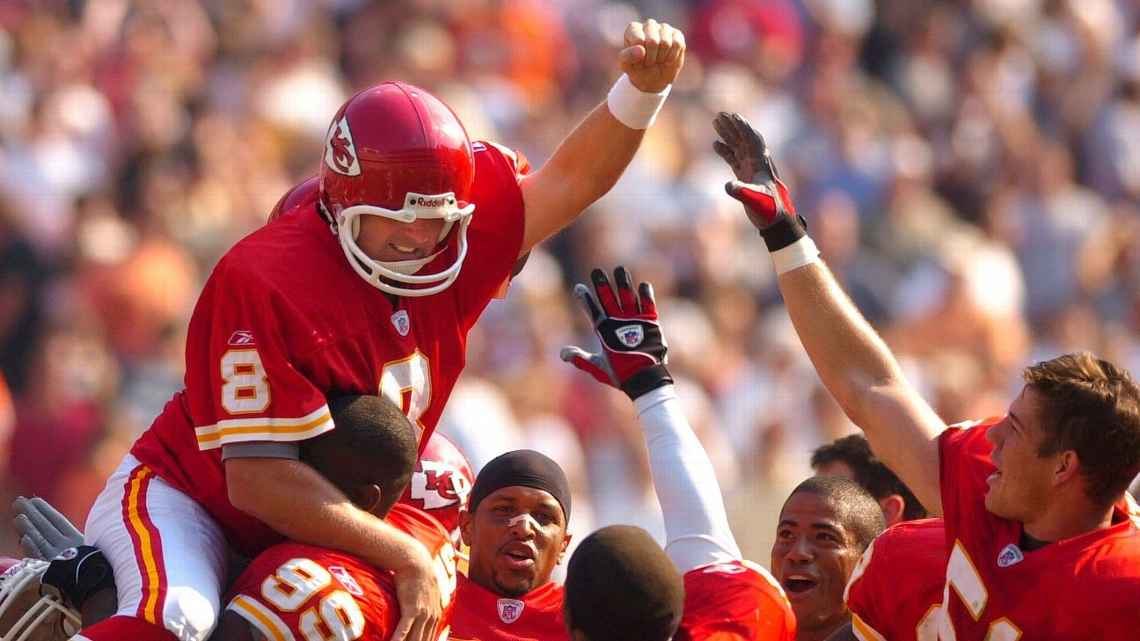 Q: What is your greatest piece of advice for an international player looking to make an impact in American football?
A: Believe it to achieve it! You represent your home country, family and club and should use that as motivation. Dream big and go for it. Work relentlessly with uncompromising determination and ask questions. Develop a high level of knowledge and own your workbench for whatever position that you play.
Q: As a multi-sport athlete in Copenhagen, what drew you to American football?
A: My introduction was purely coincidental. I was interested in playing soccer for the Ben Davis Giants in Indianapolis but they did not have a team. Their football team needed a kicker and I was asked if I wanted to try out for the team which I did. I would hit 50 yarders and was the new kicker.
Q: What can the NFL do to improve its image, impact, and identity on the European stage?
A: The NFL is a powerful brand that is flourishing. We have great players across all positions and tremendous fan support throughout the league. The more international players that the league can add the better for the game. It helps to have games in London and I would welcome games in other international locations. Flag football development could be a powerful grassroots strategy to engage the younger international audience. It is a fun way to be introduced to the game of football and can be played inexpensively and by everyone.

Follow Geoff Magliocchetti on TWITTER