After struggling to hit for consistency through the majority of the season, New York Mets catcher Wilson Ramos has drastically turned things around since the beginning of August. 
Coming over to the New York Mets this past offseason, Wilson Ramos wasn't expected to lead the offense. But, the 32-year-old was brought over to provide the Mets with some consistent production at the plate, which is something the Mets haven't had in many seasons.
Originally, the Mets first choice this past offseason was to sign Yasmani Grandal. After he rejected the Mets offer, the team later moved on to Ramos. For the majority of this season, it looked like the Mets had made a terrible mistake in giving Ramos a multi-year deal for a total of $19 million.
Through 96 games from the start of the season to Aug. 2, the Mets' catcher has hit eight doubles, ten home runs, 49 RBI, .121 ISO, .271 BABIP, an 88 wRC+ and slashed a line of .256/.330/.377/.707 as well. Compared to the numbers Ramos produced last season with the Tampa Bay Rays and the Philadelphia Phillies, something was clearly not right with the two-time All-Star.
The lack of production from Ramos also led to backup catcher Tomas Nido receiving significantly more playing time, especially when Noah Syndergaard and Jacob DeGrom were on the mound. However, everything started to change for Ramos once the calendar turned to August.
During 28 games starting from Aug. 3 to now, Ramos has significantly improved his production by hitting seven doubles, three home runs, 19 RBI, .148 ISO, .436 BABIP, a 164 wRC+ and he's also recorded a hitting line of .407/.434/.566/.989. Ramos also tied David Wright for the second-longest hitting streak in Mets history during this stretch as well.
For 26-straight games, Ramos found a way to record at least one hit in every single one of those games. It has been astonishing to witness this incredible turnaround for Ramos this season. But it begs the question as to what has changed in such a short period of time for Ramos.
Just months ago, most people around the Mets were talking about what a disaster the Ramos signing has been. Now, the situation surrounding the veteran catcher has turned into an inspiring story. What also makes this transformation from Ramos even more interesting is the fact that the only difference from now to earlier in the season, is that Ramos has now been able to square balls up more effectively.
Before the beginning of his hitting streak, Ramos was popping balls up at a rate of 8.6%. Normally, that rate wouldn't attract much attention. In this instance, that number is significant because of the fact that Ramos hasn't hit a single popup since the start of his historical hitting streak.
A major reason for the decline in infield fly balls is due to Ramos's improved performance against fastballs over this recent stretch.  Before August, Ramos hadn't recorded an AVG over .269 against fastballs in any of the prior months this season. Specifically, Ramos extremely struggled to hit the fastball during July.
Ramos created just a .227 AVG, .242 xAVG and a .318 SLG against fastballs during July. The majority of the 162 fastballs that Ramos faced were ending up as lazy fly balls, as he produced a 26.2% FB rate off of fastballs during July. Although, Ramos began turning those lazy fly balls into hard-hit line drives during August.
Since Ramos hasn't recorded a single pop-up since Aug. 3, he has seen his fly ball rate decrease from 21.6% to 14.4%. In today's game, you would think fewer balls in the air would mean fewer hits being recorded. Well, that hasn't been the case for Ramos because of all the fastballs he's been able to hit with extremely high exit velocity.
During July, Ramos generated a measly 14.3% line drive rate against fastballs. In August, Ramos was able to square more fastballs up, leading to a 12.4% increase in his line drive rate. The fewer amount of lazy fly balls has also reflected in Ramos's improved results against fastballs as well. Since the start of August, Ramos has produced a .389 AVG and a .473 SLG against fastballs.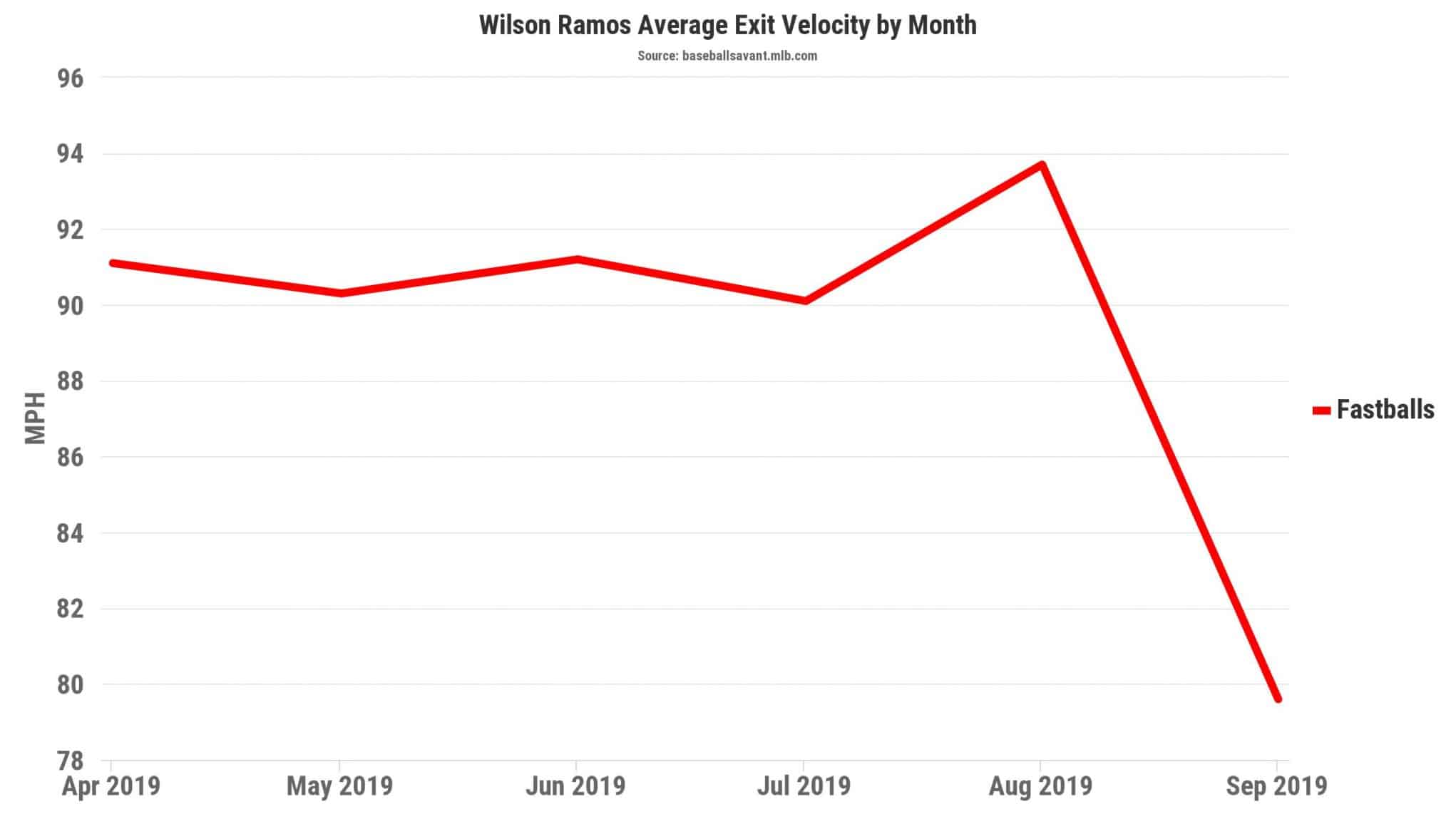 As seen in the chart above, Ramos was crushing fastballs during August with an average exit velocity of 93.7 mph. Before August, Ramos had been averaging a 90.7 mph average exit velocity off fastballs.
While Ramos has seen his line drive rate and his average exit velocity decline once again this month, his past performance during August shows exactly what he needs to do to be successful throughout the rest of the season. With just one hit of his three hits this month coming off a fastball, Ramos will need to continue to sharply hit fastballs for line drives to sustain this production he recorded during August.
The Mets have to be impressed with the way Ramos has been able to turn his season around over the last month and a bit. If they're going to surge back into the playoffs, they're going to need consistent contributions from everyone on their roster, including Ramos.