The transition to the New York Mets hasn't gone exactly as planned for Marcus Stroman, but an adjustment to his cutter could be the solution he needs. 
The New York Mets shocked the world when they acquired Marcus Stroman from the Toronto Blue Jays in July. Most people questioned the intelligence of the Mets' front office for deciding to buy instead of selling off their assets. Marcus Stroman's performance since being traded to the Mets also hasn't silenced those people either.
In his five starts with the Mets, Stroman owns a 4.91 ERA, 1.675 WHIP, 5.20 FIP, 4.2 BB/9, 1.8 HR/9 and an 85 ERA+. Stroman has also uncharacteristically been inducing a lot fewer ground balls since becoming a member of the Mets. Through his five starts, Stroman has seen his HR/FB rate increase by 15%, and his GB% has also decreased by 8.9% as well.
These disappointing numbers are largely the result of Stroman's ineffective cutter. This season, the usage of Stroman's cutter has gradually increased from 17.9% at the beginning of the season, to 25.3% during this month. The increased usage of Stroman's cutter has produced a lot more swings and misses for the Medford-native.
Stroman produced a measly 9.1% strikeout rate and a 26.4% whiff rate through his six starts to begin the season. Fast forward to this month, Stroman has recorded a 27.6% strikeout rate and a 36.2% whiff rate. That being said, his high strikeout total has been the only positive thing about Stroman's cutter lately.
Stroman hadn't allowed a walk on his cutter during the month of July. However, his ineffective cutter led to the 13.8% walk rate he's recorded with his cutter in August. Opposing hitters have also been crushing that pitch during the month of August as well.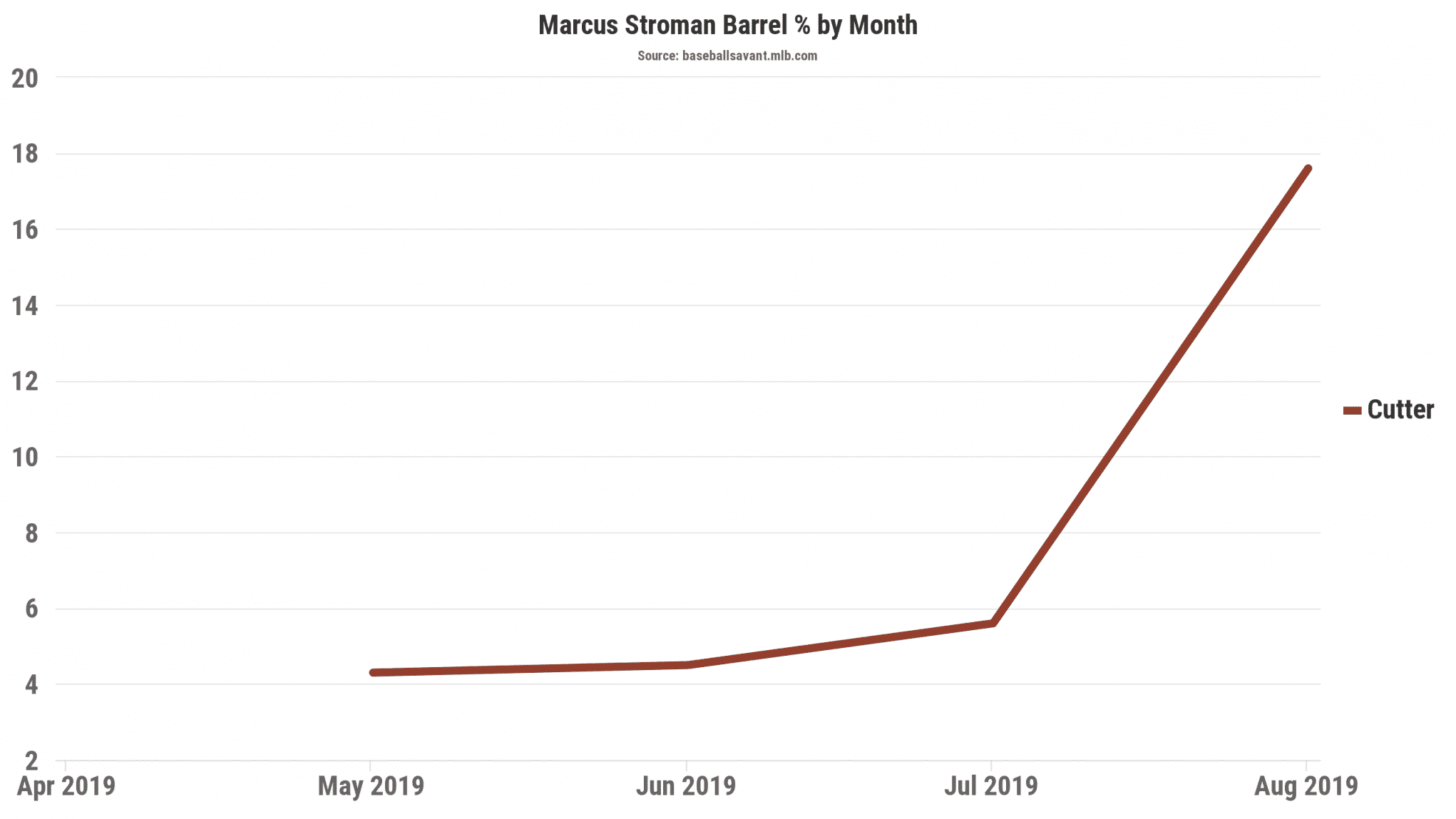 As seen in the chart above, opposing batters have been barreling up Stroman's cutter significantly more this month. The barrel % on the pitch rose 12% in August. That increase has also resulted in Stroman surrendering four home runs and a .920 OPP SLG off his cutter this month as well.
Before this month, Stroman had only given up a total of two home runs off the cut-fastball this season. So while the strikeout numbers are impressive, Stroman clearly needs to make an adjustment with his cutter.
Making changes will largely need to come against left-handed hitters. Seven of the 10 hits surrendered against Stroman's cutter this month have come from lefties as a result of poor execution.
Too many times this month, Stroman has been missing to lefties in the middle of the strike zone. Four of those seven hits have come from pitches located in the middle quadrant of the zone.
Unlike with the Blue Jays, Stroman hasn't been able to locate his cutter inside against lefties near as much as he would like. Until he improves his command, he'll continue to allow hard contact.
This season with the Blue Jays, Stroman only gave up five hits on his cutter within the middle quadrant of the zone. What was the reason for his success? You guessed it: pitch execution.
The chart above displays Stroman's ability to keep his cutter from leaking in the middle of the zone against lefties while he was with the Blue Jays. The good news for Stroman is that this should only require a minor adjustment to fix.
Traditionally, Stroman induces most of his ground balls with his sinker and his slider, but his cutter can still be a weapon in his ground ball repertoire. Stroman saw his GB% with the pitch drop 21.3% from July to August. He's used the pitch to jam hitters in on their hands in the past, but that hasn't happened with the Mets.
As a member of the Mets, when Stroman has thrown his cutter in the middle of the zone, it's been barreled up instead of hit weakly on the ground. Hitters are just seemingly not fooled like they were earlier in the season.
If Stroman can locate more to the inside quadrant of the zone to left-handed hitters, then that should rapidly decrease his barrel % and induce far more ground balls. During his time with the Blue Jays, Stroman rarely missed over the heart of the plate.
Left-handed hitters know Stroman has an outstanding slider and sinker, which means they'll continue to sit on his cutter if he's unable to make these adjustments.
The Mets are relying on Stroman to pitch effectively through the last month of the regular season. They'll need him to return to early-season form if they're going to surge back into the playoff race. Stroman has shown the ability to perform effectively in a Mets' uniform, but he's been somewhat inconsistent. So, a minor adjustment to his cutter should start to emulate that through the rest of the season.