The New York Mets have a lot of ground to make up after a first half filled with some positives, but far more negatives.
Back in December, New York Mets general manager Brodie Van Wagenen boldly declared that the Mets were the team to beat in the NL East. His message to the rest of the National League East was that the team he had assembled was ready to dominate the division. Instead, his squad has literally become the "team to beat" as the Mets have underperformed in every aspect of the game.
The crazy thing is that the Mets' roster currently includes the reigning NL Cy Young winner in Jacob deGrom as well as the current league batting leader, Jeff McNeil and Pete Alonso, who is tied for second in all of baseball with 30 home runs. With this type of talent, you would think that the Mets would be contending. Instead, in typical Mets fashion, they are falling way short of the mark.
It will take a miraculous turnaround for the Mets to salvage what is left of this season. With that in mind, here are the midseason grades for the 2019 New York Mets.
The Mets' rookie first baseman has been the standout player of the season. Alonso broke Darryl Strawberry's rookie home run record for the season before the All-Star break (26) and heads into the second half with 30 long balls. The winner of the Home Run Derby is well on his way to being named the National League Rookie of the Year. Alonso has a 1.006 OPS and has displayed unbridled joy every step of the way.
Grade: A+
McNeil was called up last season with little fanfare. All he's done since then is hit and get on base. His .349 batting average is tops in all of baseball and he has been the sparkplug for the Mets' offense. He was named to the National League All-Star team and his future looks bright.
Grade: A+
In his brief cameos with the Mets in 2017 and 2018, Smith was disappointing. This year he's been a different player. His production has made it impossible to keep him off the Major League roster and out of the lineup. In just 138 at-bats, Smith is hitting .304 with eight home runs.
Grade: A–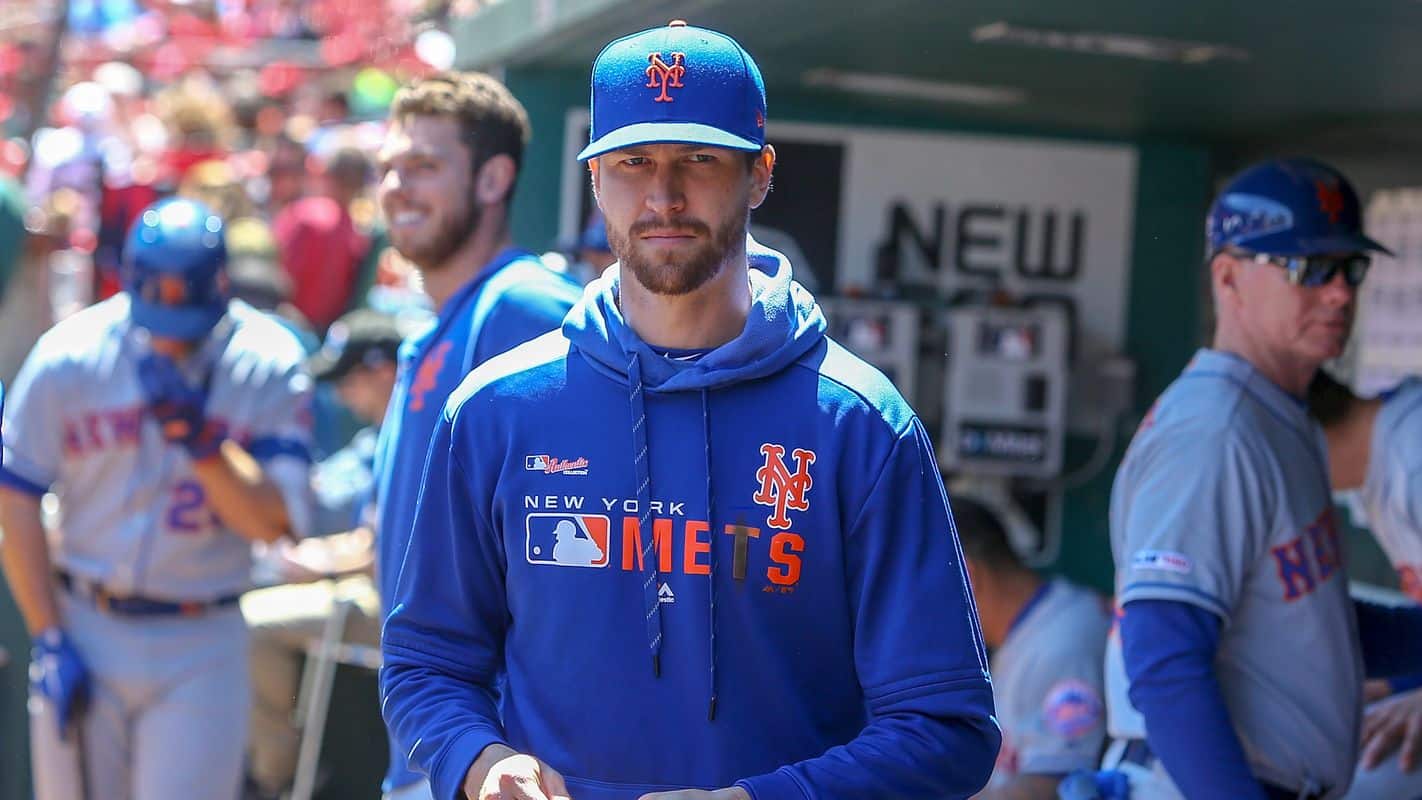 Last season's NL Cy Young award winner had a difficult start to the season. He finished April with a 1-3 record and a 6.30 ERA. Since then he has turned things around and is back to his usual dominant self. Unfortunately, deGrom is experiencing the same troubles he had last year, with his teammates not providing their ace with run support.
Grade: B+
The Houston Astros castoff, Davis has been one of the positive acquisitions under Van Wagenen. He has served as Todd Frazier's backup at third base as well as a pinch hitter and platoon player. He is currently batting .279 with nine home runs.
Grade: B+
The Mets' bullpen has been a disaster. The only bright spot has been Lugo. After a rough start to the season, the reliever has brought his ERA down to a respectable 3.35.  He's been spotty, but in a season of bullpen implosions, Lugo has been the most reliable arm out of the pen.
Grade: B
Vargas was a bust last year but has surprisingly been one of the team's best starting pitchers this season. His 3.77 ERA is second only to deGrom in the Mets' starting rotation. He was recently part of an ugly altercation with a local reporter following a brutal Mets loss. His refusal to apologize has lowered his grade.
Grade: C+
Frazier missed the beginning of the season due to injury and was inserted back into the lineup in late April. His batting average has gone up each month since his return. Notably, he hit .274 in the month of June with eight homers and 23 RBIs. The questions surrounding Frazier have to do with consistency. He's always been an up and down player and his production can drop off quickly.
Grade: C+
Conforto's season has thus far been disappointing. His statistics have gotten progressively worse each month. His average for April was a respectable .267. It dropped to .242 in May and it was down to an anemic .229 for June. The potential that Conforto has shown in the past is still there. Hopefully, it will return for the Mets sooner rather than later.
Grade: C+
Wheeler may or may not be a Mets player by the time the trade deadline passes. He has shown enough in the first half to make him a valuable trade piece. Wheeler is still an enigma. At times, he'll be pitching lights out and then out of nowhere he loses the plot. His 6-6 record and 4.69 ERA at the mid-way point are mediocre at best. Surprisingly, Wheeler's bat has been a major asset this season. His .289 average is better than most of the Mets' starting lineup.
Grade: C+
Ramos has been a solid hitter with a .272 average and nine home runs at the break. Unfortunately, his lack of speed has been a detriment and led to a few too many double plays, halting potential rallies. He's also been a question mark defensively. There have been too many passed balls and runners are stealing at will off Ramos.
Grade: C+
Nido was given the opportunity to be a part of the Mets' roster when Travis d'Arnaud was designated for assignment in May. His production has been reasonable, and he has had some clutch moments for the Mets. It's behind the plate where Nido is proving invaluable. Both Jacob deGrom and Noah Syndergaard prefer to pitch to Nido over Ramos.
Grade: C+
Syndergaard has had a troubling season thus far. He still looks intimidating at times, but his ability to dominate hitters has taken a hit. Whether it's a lack of confidence or something more serious, Thor has not been at his best in 2019. His 4.68 midway ERA is less than impressive. The Mets will need him to regain his dominant stuff if they are to improve at all this year.
Grade: C
Rosario was touted as the future for the Mets at the end of the Jose Reyes era. So far, the shortstop is not meeting expectations. His defense has been terrible, and he is tied for third-most errors in baseball with 12. He has, however, improved at the plate. His nine home runs are equal to his output for the entire 2018 season and his batting average is currently a respectable .260.
Grade: C
Matz has had a season like Wheeler's. At times he's been dominant and then suddenly it all just falls apart. He has recently been added to the bullpen to try and solve some of the Mets' relief problems. On the brighter side, Matz has been solid at the plate and is currently batting .276 with one home run.
Grade: C–
Gsellman was solid in April and May, but the wheels came off for him in June. In 9.2 innings of work, he was charged with 11 runs and finished the month with a 10.24 ERA. Part of the reliever's troubles directly relates to overuse. With the bullpen being so unreliable, Gsellman's workload in the first half increased.
Grade: D
The former Gold Glove winner has finally remained healthy. Unfortunately, he's been nothing like the player the Mets thought they had. He's hitting just .175 and even his defense has looked suspect this season.
Grade: F
Everything started off great for Cano and the Mets. In the first inning of the season opener in Washington, Cano took Max Scherzer deep and he then drove in his team's second run in a 2-0 victory. Since then, it's been a disaster. The veteran is batting just .240 with only four home runs.
What makes his lack of production even more frustrating is manager Mickey Callaway's continued use of Cano in the third spot in the lineup. He has killed many run-scoring opportunities with strikeouts, double plays and lack of hustle. The boo birds are starting to let Cano know how they feel.
Grade: F
Like Cano, Diaz got off to a great start with his new team. He picked up his first save in game one in Washington and finished the month of April with six saves and a 1.74 ERA. Now his ERA is an alarming 5.50 and his record is 1-6 with four blown saves. If he doesn't turn things around, this could go down as one of the Mets' worst acquisitions in team history.
Grade: F
Familia was brought back to the Mets by new GM Van Wagenen to be the eighth-inning set-up man for new closer Diaz. Simply put, he has been abysmal. He has a 7.50 ERA and has given up 25 runs in 30 innings of work.
Grade: F
Probably the sacrificial lamb for the Wilpons and Van Wagenen, Callaway has looked even more out of his element this year than last. His mishandling of the bullpen and continued use of Cano in the third spot has been inexplicable. It would be surprising to see him last the full season.
Grade: F
The new GM came off as brash and confident when he declared that the Mets were the team to beat before the season began. Now he just looks like a former agent who should have stayed where he was. His deal for Cano and Diaz is proving to be a fiasco and his bluster is laughable at best.
Grade: F