With the All-Star Game right around the corner, let's take a look at where all 30 teams stand with ESNY's MLB power rankings including the New York Yankees and Mets. 
A little over a month away from Major League Baseball's new, single trade deadline, some teams will make moves to shoot up this list. Others will sell off their assets and spiral downward.
Plenty of action is ahead, but this list will examine where every team currently stands.
30. Baltimore Orioles 
In the early stages of a lengthy rebuild, 2019 had low expectations for the Orioles. Those expectations have proved to be accurate.
On the bright side, Baltimore is accumulating a top-half farm system. Led by No. 1 pick Adley Rutschman, the club owns four of Bleacher Report's top-100 prospects.
It would be wise for the team to flip Mancini at the deadline and stockpile even more young talent.
29. Kansas City Royals
Unlike the Orioles, Kansas City has a solid nucleus of offensive talent. Whit Merrifield is one of the better all-around players in the American League. At age 27, Dozier appears to have figured it out. Adalberto Mondesi is only 23 and has a legitimate shot at stealing 50 bases this year.
Pitching, on the other hand, is a different story. Outside of Keller, Jakob Junis and Jorge Lopez each have an ERA above 5.30. Both of these guys are only 26-years-old, so Kansas City desperately wants it to work. Danny Duffy will be 31 in December and hasn't been an effective pitcher since 2017.
While the farm is close to the bottom-third, RHP Brady Singer is a top-100 prospect.
28. Detroit Tigers
Another team in the early stages of a rebuild. The Tigers had nearly a decade of being a competitive team before pulling the plug in 2017.
After hanging around the .500 mark for the first 30 games, this team has come back to earth. Despite their bleak outlook for the remainder of the season, Detroit will be one of the most fascinating teams to watch at the deadline.
Boyd has developed into one of the American League's best left-handers and Shane Greene has made the most of his limited save opportunities. Flipping one or both of these guys can help expedite the rebuilding process.
The club is thin on positional prospects, but loaded with potential on the pitching side. Among their top-10 prospects, five are right-handed pitchers. Fans are especially excited about Casey Mize and Matt Manning, both of whom are top-25 talents.
27. Miami Marlins
As recently as two years ago, the Marlins outfield consisted of Marcell Ozuna, Christian Yelich and Giancarlo Stanton.
My, how times have changed.
I believe there is reason for optimism with this club moving forward. Very quietly, they have accumulated some pitching talent. Richards has pitched to a 3.54 ERA over 84 innings and has lowered his WHIP by 0.13 from 2018. Acquired in the Yelich deal, Jordan Yamamoto has started his career by throwing 14 scoreless innings.
Anderson, Garrett Cooper and Harold Ramirez are all 28 years of age or younger.
This club is closer than many people believe.
26. Seattle Mariners
It seems like eons ago, but the Mariners actually started the season 11-2.
This was immediately followed by a six-game losing streak and they have been a well below .500 club ever since.
Poor pitching and defense have plagued this team since their hot start. Their .972 fielding percentage is worst in the majors, and their 81 errors are the most by a significant margin (the Orioles have the second-most errors at 59).
The trades of Jay Bruce and Edwin Encarnacion signaled this team accepting their reality. With zero players currently signed through 2022, Seattle is embracing the youth movement.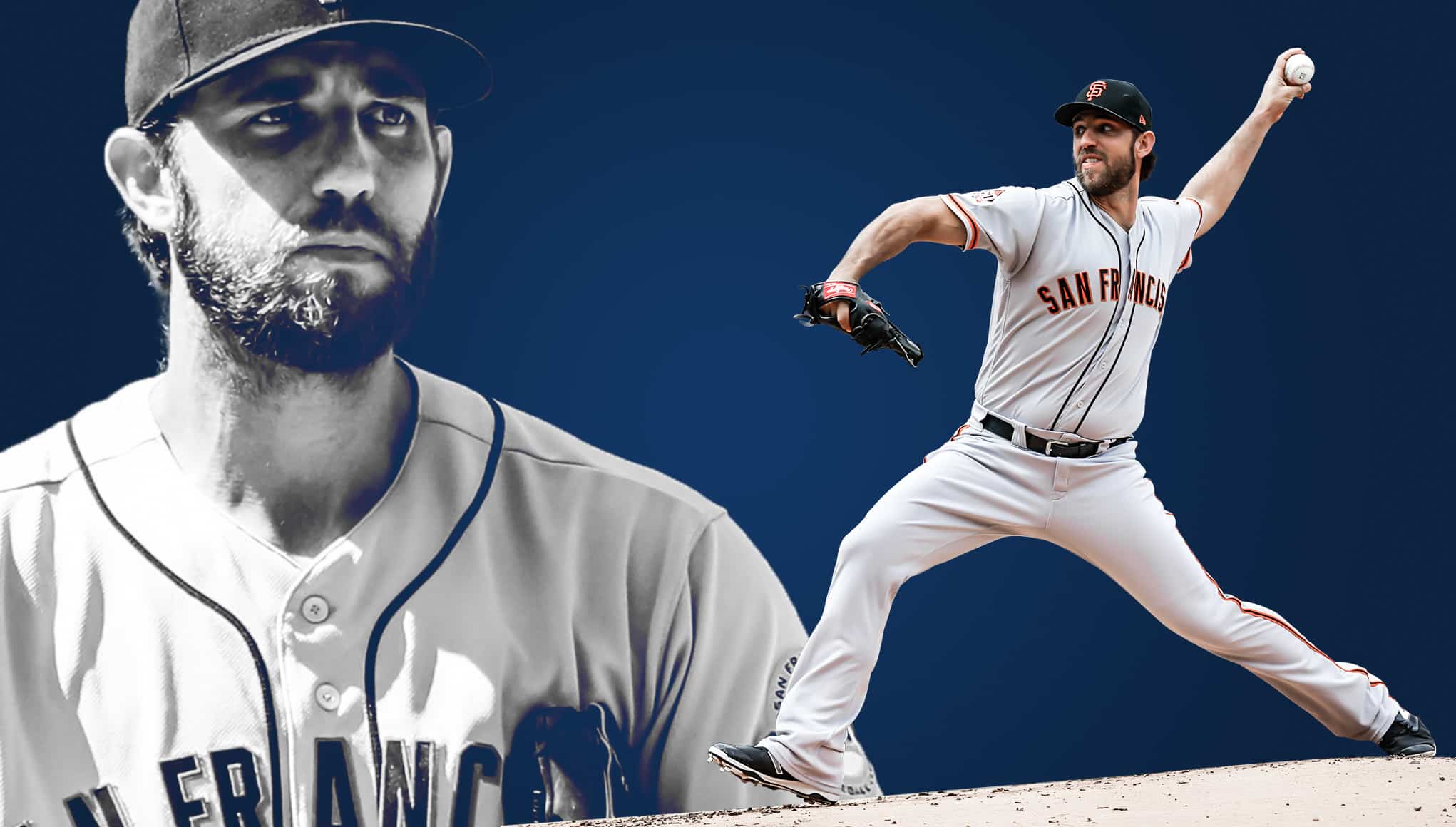 25. San Francisco Giants
In Bruce Bochy's final season, the Giants appear to be destined for a last-place finish in the NL West.
San Francisco won three World Series in a five-year span earlier this decade, but is now an aging club with an uncertain future.
The most interesting storyline remaining for this team in 2019 is the potential trade of Madison Bumgarner.
A free agent after this season for the first time in his career, Bumgarner could play a role similar to what CC Sabathia did for the Milwaukee Brewers in 2008.
From San Francisco's perspective, players like Clint Frazier of the New York Yankees and Ozzie Albies of the Atlanta Braves could pique their interest in a Bumgarner deal.
24. Toronto Blue Jays
Residing in the same division as the Yankees and Boston Red Sox, the Blue Jays are usually behind the eight-ball.
2019 is all about the development of their young bats. After a slow start, Vladimir Guerrero Jr. is now slashing .255/.322/.436. Cavan Biggio has flashed some serious pop, hitting five home runs in his first 21 games. While not the son of a Hall of Famer, Lourdes Gurriel is a nice piece at 25-years-old.
Similarly to the Giants, this team could move their ace as well. Stroman is putting up nearly identical numbers to his 2017 season when he finished in the top-10 in Cy Young voting.
23. Pittsburgh Pirates
Welcome to the game's elite, Josh Bell.
The switch-hitting first baseman put himself on the map with his third-place finish in the 2017 NL Rookie of the Year voting. While his ability to make contact remained about the same in 2018, his power all but evaporated.
A prime candidate for a bounce-back year, I don't think anybody saw this coming.
Through 72 games, the 26-year-old has hit 20 home runs and has an NL-leading 66 RBI. His 27 doubles also pace the Senior Circuit.
Pirates fans received a little taste of the future. The club called up top prospect, RHP Mitch Keller, for three starts. The results were underwhelming (0-1, 10.50 ERA, 2.250 WHIP), but he is only 23 and will be back up later this season.
22. Cincinnati Reds
Having only won more than 68 games once in the last five years, 34-38 is pretty good for the Reds.
This is an organization that has done a good job on the offensive side, but has long been short on pitching.
Hopefully, that is beginning to change.
Luis Castillo is having an All-Star caliber season. Through 15 starts, the Dominican has pitched to a 2.26 ERA and 1.106 WHIP.
A very solid pitcher during his time with the Washington Nationals, Tanner Roark has provided this rotation with some much-needed stability.
Former top prospect Robert Stephenson appears to have found his niche in the bullpen. Control issues had always hampered the power right-hander, but the limited workload is helping his cause. He is averaging an outstanding 12.3 K/9.
Dietrich's 1-year/$2M deal has been one of baseball's best bargains. His 18 home runs and .938 OPS rank just outside the top-10 in the NL.
Unfortunately, the decline of Joey Votto has continued. Despite playing in 66 games, the former MVP has just six home runs and 16 RBI. His .397 SLG% is a career-low.
Maybe this club is finally starting to break free from the curse of firing Dusty Baker after the 2013 season.
21. Los Angeles Angels
The Angels victory over the Blue Jays on Wednesday lifted them above .500 for the first time since April 13.
This club has been playing well of late, but I doubt their long-term viability.
The reason is simple: pitching.
Their best starter has been 23-year-old Griffin Canning. Opening the season as the club's second-best prospect per MLB.com, Canning has pitched to a 0.993 WHIP in 50.1 innings.
Outside of Canning, there's not a lot in this rotation. Lefty Tyler Skaggs has been OK, but not great. The Matt Harvey experiment has been a disaster. An elbow injury has limited Andrew Heaney to five starts.
Just two-and-a-half games back in the Wild Card race, it is possible that this team can remain in contention for a while. They will need to upgrade their pitching staff though.
20. Chicago White Sox
Things are trending up on the South Side.
Acquired in the Adam Eaton trade in December 2016, Lucas Giolito is tied for the American League lead with 10 wins.
Giolito's counterpart in the Eaton deal, Reynaldo Lopez, has been much more inconsistent.
Lopez's 6.31 ERA and 1.586 WHIP are unsightly, but there have been some bright spots. Take May 13 for instance. The 25-year-old limited the Cleveland Indians to one earned run over 7.2 innings. More recently, he held the Royals to one run in six innings on June 9.
If Lopez can find some consistency and Carlos Rodon returns healthy, the White Sox could have the makings of a solid rotation for years to come.
19. New York Mets
Here we go …
In typical Mets fashion, this team got off to a solid start going 9-4 in their first 13 games.
We have since slipped into fourth-place in the NL East.
Mickey Callaway's seat is growing hotter with each loss. Pitching coach Dave Eiland and bullpen coach Chuck Hernandez were picked as the fall guys on Thursday. Eiland was replaced by 82-year-old Phil Regan.
Robinson Cano and Edwin Diaz have not lived up to their billing. The main piece Seattle acquired in return, Jarred Kelenic, has excelled across two levels as a 19-year-old.
Way to go, Mets.
The biggest, and perhaps only, bright spot has been Pete Alonso's Rookie of the Year campaign. In 74 games, the Tampa, FL native has 25 home runs and 59 RBI. He looks like a lock to represent the club in July's All-Star Game and the Home Run Derby.
This team was built with the intention of contending this year. That dream has faded fast, but at least we might see our young star take home some hardware.
18. San Diego Padres
The Padres last made the postseason in 2006. They last finished with a winning record in 2010 (90-72).
Two offseasons in a row this club has made a big splash.
Eric Hosmer has failed to live up to his 8-year/$144M deal so far. The verdict is still out on Manny Machado, but he has been slightly disappointing to this point.
There are a couple of things this team has going for them. First, they are stocked with pitching talent. Currently in the minors to watch his innings, Chris Paddack has as much upside as any young starter in the NL. Each of their top-10 prospects ranks inside Bleacher Report's top-100. Among these ten, five are pitchers. Not surprisingly, the Friars possess what is widely regarded as the best farm system in the game.
Secondly, manager Andy Green. The 41-year-old is one of the smartest men in the game and someone his players love playing for.
The Padres have done an excellent job with their rebuild and look poised to be among the NL's best in the near future.
17. Washington Nationals
After a very slow start, the Nationals are rising fast.
Max Scherzer's seven-inning, 10 strikeout performance a day after breaking his nose is the type of showing that can galvanize a team.
With Thursday's victory over the Philadelphia Phillies, Washington has now won four in a row and are just two games underwater.
Seven-and-a-half games back in the NL East, this weekend's series with the Atlanta Braves is huge.
16. Arizona Diamondbacks
Arizona is one of seven teams that appears to have a legitimate shot at one of the two Wild Card spots in the National League.
They need to snap out of this current funk quickly, though. The Colorado Rockies finished off the sweep on Thursday, extending Arizona's losing streak to four games.
The return of Jake Lamb should help, and Marte is worthy of All-Star consideration.
Greg Holland blew the save on Thursday, but is still having a very nice year.
This is a sneaky good club that should remain in the race until the end.
15. Oakland Athletics
As is customary with the A's, they are flying under the radar.
The Houston Astros have a tight grip on the NL West, but Oakland and the Texas Rangers are in the thick of the Wild Card hunt.
I like what Texas is doing, but I think Oakland will end up finishing higher.
Montas has developed into an ace and Blake Treinen is a lights-out closer.
Their left side of the infield, Matt Chapman and Semien, is as strong as any in the American League.
Bob Melvin has made a living keeping unheralded clubs in the race. Expect more of the same this summer.
14. St. Louis Cardinals
A middling team, the Cardinals find themselves only three games back in the NL Central race. The Milwaukee Brewers are checking their rear-view mirror, as St. Louis is only a game-and-a-half behind them.
Far from a flashy player, DeJong is solid on both sides of the baseball. Under team control through 2025, this is the type of shrewd business move that St. Louis has become known for.
It is impressive that this club has remained in the race with the lack of performance from their starting pitching. Dakota Hudson is their only starter with an ERA under 4.00.
Gant, Jordan Hicks and Andrew Miller give this team three formidable options at the back-end of the bullpen. The 23-year-old Gant is averaging an extremely impressive 4.11 K/BB.
Per an NL source, keep an eye on this team making a move for a starter as we near July's deadline.
13. Texas Rangers
Like I said earlier, I ultimately think Oakland will finish above Texas. This, of course, is barring any roster moves.
I like a lot about this Texas team. Mike Minor's resurgence has been one of the best stories of the 2019 season, and Joey Gallo's light tower power is awesome to watch.
This lineup goes beyond Gallo, however. Hunter Pence, Elvis Andrus and Shin-Soo Choo are all needle-movers.
Closer Shawn Kelley and the versatile Jesse Chavez are two great pieces for Chris Woodward to turn to.
Add another starter and this club could be your American League dark horse.
12. Philadelphia Phillies
When you sign the game's most popular player, expectations follow.
For the most part, Philadelphia has had a solid season. They need to wake up, though.
The Atlanta Braves now have a four-and-a-half game lead in the division and the Nationals are playing their best baseball of the season.
Getting back to Bryce Harper, he has been a bit of a letdown thus far. Through 317 plate appearances, he is hitting .243 with a .457 SLG%. These numbers are close, but slightly down, from his numbers a year ago.
It's not quite time to panic in Philadelphia, but I think there is cause for concern.
11. Boston Red Sox
The Red Sox were victims of a World Series hangover.
They have since snapped out of it, but are still looking up at two teams in the AL East.
I doubt the club will end up passing both the Yankees and Tampa Bay Rays, but a Wild Card berth feels likely.
Sale has pitched much better than his 3-7 record indicates. His 13 K/9 is the second-highest mark of his career, and his 6.19 K/BB ratio is above his career average. Notorious for slumping in the second half, the Red Sox are going to need Sale to stay strong all season long.
The bats are as healthy as ever. Betts, Xander Bogaerts and Rafael Devers are all having 2-plus WAR seasons.
The battle between New York, Tampa Bay and Boston is going to be one of baseball's best battles.
10. Cleveland Indians
The Tribe's three-year run as kings of the AL Central looks like it's coming to an end.
Currently one game back in the Wild Card hunt, it is impressive that Cleveland has stayed afloat.
Corey Kluber has been out since breaking his forearm in Miami on May 1. Carlos Carrasco is out indefinitely with an unspecified blood condition. Mike Clevinger just returned on June 17 after being sidelined since April 7.
Trevor Bauer has done an excellent job of holding it down. With Clevinger back in the fold and Kluber's return expected after the All-Star break, this club should have enough to stay in the race.
9. Colorado Rockies
Colorado appears to be trending toward their third straight NL Wild Card berth.
Led by Nolan Arenado, Story and Charlie Blackmon, this team will put up enough runs. Playing half their games in Coors Field doesn't hurt, either.
As is usually the case with the Rockies, the question is their pitching. Kyle Freeland's season has been perhaps the biggest disappoint in Major League Baseball. A year after finishing fourth in Cy Young voting, the lefty was demoted to Triple-A Albuquerque on May 31.
With four teams within two games of one another, the NL Wild Card race is going to come down to the wire.
8. Milwaukee Brewers
Looking to capture their second straight NL Central title, the Brewers are locked in a tight battle with the Chicago Cubs. As mentioned earlier, the Cardinals are lurking in the shadows, too.
A year after winning the MVP, Yelich has somehow been even better. The 27-year-old leads the NL in five categories. With 27 home runs and 16 stolen bases, a 50/30 season is not out of the question.
Woodruff and Zach Davies have been a solid one-two punch atop the rotation. While still not quite on the Cubs' level, this rotation will look really good once Gio Gonzalez returns.
7. Chicago Cubs
Joe Maddon manages his lineups as well as anybody in baseball.
He has managed to seamlessly insert Carlos Gonzalez into the club's outfield rotation. With Kyle Schwarber, Jason Heyward and Albert Almora also in the picture, this is no easy task.
The lineup boasts several All-Stars (Baez, Kris Bryant, Willson Contreras, Anthony Rizzo), but the starting pitching will dictate how far this club goes.
Hamels, Kyle Hendricks and Jose Quintana are all having strong seasons. While not up to his typical standards, Jon Lester's experience will come in handy down the stretch.
6. Tampa Bay Rays
The soon-to-be Tampa Bay/Montreal Rays?
Kidding aside, the Rays continue to win despite their payroll constraints.
The 2-year/$30M deal the club gave Morton in the offseason has been worth every penny. In 15 starts, the veteran right-hander has eight wins and a 1.031 WHIP.
Offensively, Austin Meadows has established himself as one of the American League's best bats. Even with his recent cold spell, the 24-year-old is hitting .308 with a .561 SLG%.
Flipping Chris Archer to Pittsburgh continues to look better by the day.
5. Atlanta Braves
This is a franchise that is set up for success for years to come. Unfortunately, they reside in the Mets' division.
The 21-year-old Soroka has a 2.12 ERA and 0.983 WHIP in 76.1 innings. Max Fried and Julio Teheran have settled in nicely behind Soroka giving Atlanta a trio of solid starters.
The back-end of the bullpen is a bit of a concern. Guys like Shane Greene and Brad Hand could give this team some help in that department.
We knew about Ronald Acuna and Ozzie Albies already, but Austin Riley has burst onto the scene. In 33 games, the Memphis, TN native has clubbed 11 home runs and driven in 32 runs.
4. Minnesota Twins
Even though they have lost four of their last five games, the Twins still have the best record in the American League.
First-year manager Rocco Baldelli and his staff have embraced analytics and it has paid off in a major way.
Polanco is having an MVP caliber season. Batting .326, the switch-hitting shortstop has reached base in 33 straight games.
Jake Odorizzi has emerged as the club's co-ace beside Jose Berrios. Thursday's loss to the Royals was Odorizzi's first loss since April 10.
With the Indians not being the same team as the last few years, expect to continue to see the Twins atop the division.
3. New York Yankees
I only expect this Yankees team to continue getting better.
Having weathered the early-season injury storm, the club is finally starting to get healthy. James Paxton, CC Sabathia and Giancarlo Stanton have all recently returned from the IL. Aaron Judge is reportedly going to be activated on Friday.
The addition of Edwin Encarnacion makes this lineup even deeper. It will be interesting to see Stanton having to play the outfield nearly every day.
With Clint Frazier being one of the odd men out, it is very possible the team will swap him for another starter at the deadline. Even without adding another starter, I believe this team has what they need for a World Series run.
2. Los Angeles Dodgers
The class of the National League for the last two years, the Dodgers are running away with another NL West title.
Put simply, it's all about the postseason with this club. They have shown they can win in the regular season, they just need to seal the deal in the playoffs.
2017 Rookie of the Year Cody Bellinger is having one of the best seasons – ever. Hitting .359 with a .455 OBP, the lefty has belted 24 home runs and driven in 60 runs.
The Bellinger/Yelich MVP race is going to be one of the best in recent memory.
Time will tell if 2019 will be the year the Dodgers finally get it done in October/early-November.
1. Houston Astros
The most complete team in Major League Baseball.
Verlander and Gerrit Cole are each averaging 11-plus K/9.
Closer Roberto Osuna gets a lot of the publicity, but Ryan Pressly is one of the best relief arms in the game. The 30-year-old right-hander has allowed just three runs in 33.1 innings.
Much like the Yankees, the lineup does not have a weak spot.
Bregman has blossomed into one of the game's superstars, and we all know what Jose Altuve is capable of. Once George Springer and Carlos Correa return from their injuries, opposing pitchers will have even more to worry about.
Newcomer Yordan Alvarez has hit four home runs in his first eight games. The 21-year-old lefty has seized the club's designated hitter role.
My prediction is the Astros and Yankees will meet in the American League Championship Series. If this comes to fruition, we will certainly be in for some fireworks.
Follow ESNY and Teddy Rydquist on Twitter @EliteSportsNY @TeddyRydquist.