Kevin Durant's great shot at NBA immortality happens with one team alone this summer, the starving New York Knicks.

It has to be the New York Knicks.
A comfortable professional ride doesn't require New York. A superstar career loaded with endorsements and fame, especially in today's social media world, doesn't force the Knickerbockers as necessary.
To turn immortal, a magnificent challenge must be the objective of the pursuit.
For Kevin Durant to go down as an NBA immortal, it has to be the Knicks.
The first dirty topic to clean off the table is straightforward, yet necessary: KD doesn't need New York. If LeBron James can flip that Cleveland Cavaliers unforeseen great-franchise switch, the old model is done. If Stephen Curry and the boys can turn the Golden State Warriors into a powerhouse, markets are suddenly thrown out of the window.
Durant doesn't need the Knicks. But New York needs KD. It's the equation that presents an opportunity of a lifetime.
Durant, 30, turning 31 in September, comes to the free-agent summer party with one of the more interesting character points of all-time. Sometimes rumored to possess thin skin, KD's past social media antics have driven the narrative.
Can the sensitive Durant handle the New York media? For one, he reads everything.
"He's a guy as we all know who checks his mentions after games, who keeps as much a pulse of what's said about him as anyone I've ever been around," said Connor Letourneau, who covers the Warriors for the San Francisco Chronicle, according to Stefan Bondy of the New York Daily News." He's told me, 'I read and hear everything.' That's an exact quote from him that he has told me. And I believe him. There are times he's talked to me about stuff that I've said on podcasts or written that blew my mind that he would even be aware of. Just because this isn't necessarily stuff that is national. We're not talking about mainstream things here. I wasn't going on ESPN or something. So that's where his head is at, and I think he's someone that even at this stage of his career, he can't pull himself away from that. It's just kind of deeply ingrained in who he is."
It seems social media drives his world.
"My observations have been what we would consider the traditional media, I don't think he gets too worked up about that — what somebody prints or even what they say on the radio," said Berry Tramel, who covered Durant's years with the Thunder as a columnist for The Oklahoman. "He looks like to me that he's just a social media addict. And anything I've ever seen him get worked up about — whether he was here or since he's been in Oakland — has all just been somebody's nonsense, or maybe it's not even nonsense, it's always just something on social media.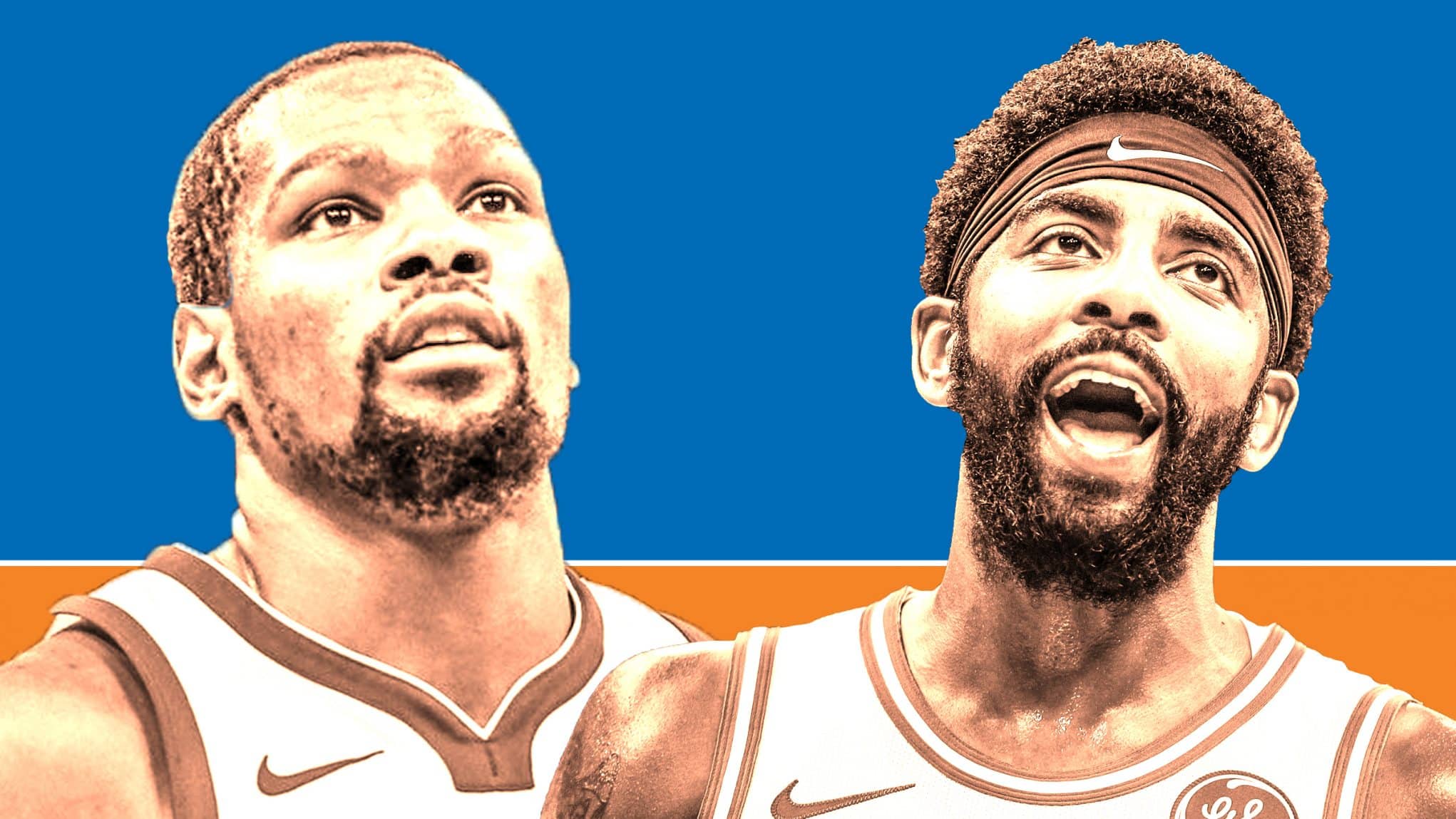 Honestly, it matters very little aside from the idea he's "aware." His self-awareness in terms of current footing on a day-by-day, year-by-year and even legacy standpoint is evident.
With the Warriors still undefeated in the playoffs without the ailing Durant, a Bay Area return won't move the legacy needle. Five or six NBA titles wouldn't provide him that great shot. The Los Angeles Clippers could provide a better chance at an immortal status, but obstacles stand in the way.
New York, on the other hand, plays in the Charmin' soft East. Ask LeBron and his eight straight finals appearances. The Knicks choice combined with another max player and RJ Barrett serves as Durant's straightest-shot.
Then there's the city itself.
Starving, a portion of Knicks fandom's rabid nature has turned frustrated. Instead of buzz, toxicity spews. Rather than positive momentum, waiting for the next shoe to drop has become the norm.
The Association is always a better place with New York in the mix. Look no further than the 1990s. Patrick Ewing's run brought out the best of Michael Jordan and, arguably, the fiercest decade in NBA history (with competition coming from the '80s).
In terms of pure legacy, LeBron's one title in Cleveland is more critical than his entire run with the Miami Heat. Forget Durant taking home a title in New York; his mere presence in the Eastern Conference Finals will provoke statue-building thoughts.
The goal, of course, remains the greatest legacy possible, and first, he has to surpass LeBron.
KD's frustration surrounding his No. 2 status behind James has been widely chronicled. Durant feels he's the top dog. Continuing a Golden State life won't change that narrative, at least not until a LeBron decline is unanimously realized.
Durant has even hinted at his frustration with words of his own.
"He has so many fanboys in the media. Even the beat writers just fawn over him," via Ric Bucher of Bleacher Report. "So I get why anyone wouldn't want to be in that environment, because it's toxic. Especially when the attention is [expletive] attention, fluff."
The Knicks solve this problem.
Getting away from the best in the west (and LeBron) will immediately help catapult KD's stock. At the very least, the pure dominance and difference between the excellent Durant-led Knicks and the east, while James continues to muck it up with the west, will have the No. 1 player discussion buzzing.
Besides, James set the mold. His leaving Cleveland for the easy chips in Miami, only to then take on his greatest challenge, did work. The one-second villain washed away all sins the moment Game 7 in Golden State finished.
The end-goal at hand is accomplishing the impossible. James did the impossible in Cleveland. Anybody doing it for New York travels beyond the Cavs title.
Durant leaving Oklahoma City for easy chips has run its natural course. We already know his greatest next challenge. The question is, "Will he chose such a challenge?"
Continuing his Warriors chapter won't get it done. A surprise Clippers choice contains potential. But a Knicks decision turns everything on its head.
If KD to the Big Apple goes down, suddenly, the thin-skinned, take-the-easy-way-out superstar just got real. He chose to attempt the impossible: turn around the team who plays in the World's Most Famous Arena. Durant choosing the Knicks represents his max-legacy potential.
For Kevin Durant's shot at NBA immortal status, there's only one clear choice.
It has to be the New York Knicks.