Now that "Game of Thrones" has come to an end, let's see how some select New York Yankees match up with some beloved characters.
And now, our watch has ended.
That's right, everyone. After eight high-octane years on the air, HBO's hit series Game of Thrones came to an end Sunday night. Hours earlier, the New York Yankees reclaimed first-place in the AL East with a 13-5 win over the Tampa Bay Rays.
This got your favorite writer thinking, dear readers. What if the Yankees were not comprised of various players, but of some of the noblest names of Westeros?
Think about it. Which hitter is most likely to wreak havoc while riding a dragon? Who captures the deathly quiet Lannister intelligence? Out of all the players, which are most likely to be sent to The Wall and take the black?
Well, folks, after looking back at Sunday's lineup and eight years of watching Game of Thrones, this should paint quite the picture!
Warning! Potential spoilers ahead!
Gary Sanchez- Theon Greyjoy
I know, I know. Labeling Gary Sanchez as one of the most polarizing characters in the series is a rough start to this piece. However, it oddly makes sense.
First off, Sanchez's nickname is "The Kraken," given to him by GM Brian Cashman in 2016 during his unbelievable rookie tear. It just so happens the sigil of House Greyjoy is the same beast, known for wreaking havoc on the high seas and sending sailors to a watery grave.
Sanchez isn't that destructive, but he often sends pitchers from the mound to the bench after one of his towering home runs. Also, much like Theon, he has dealt with some rough injuries, though never at the hand of the sadistic Ramsay Bolton.
Luke Voit- Daenerys Targaryen
Just when Yankees fans thought first base would be yet another dark void in 2018, Luke Voit arrived and burned everything down. Yes, just like Dany and her dragon did to Westeros on last week's Game of Thrones, Voit left his mark on the Yankees last season and has continued to do so.
Look at it this way. The man hit .333 with ten home runs and 22 RBI in September last year. He's streaky but much like the Mother of Dragons, Voit is indeed full of surprises. In terms of Game of Thrones parallels, this one comes pretty close.
DJ LeMahieu- Lord Varys
Baseball teams are like kingdoms in each have figures who are sneakily effective. On Game of Thrones, Varys fills this role by gathering as much new information as possible before deciding how to use it. He just creates trouble in so many ways.
Similarly, DJ LeMahieu is great for the Yankees because he is so unpredictable as a hitter. The former NL batting champ is batting .312 for the Bronx Bombers and is easily their best contact hitter.
This is because, like Varys, LeMahieu helps his team in multiple manners. If he isn't making a Gold Glove play in the field, he's slapping a single the opposite way. When he isn't lacing a double into the gap, he's surprising the opposition with an unexpected home run.
Varys' sneaky ways caught up with him and got him burned by a dragon, but LeMahieu's fate will be different. Much like the Master of Whispers, he will play an important role down the line.
Gio Urshela- Arya Stark
No, I'm serious. Gio Urshela is absolutely Arya Stark, and for the simplest reason. He came up to the main roster after a slew of injuries to start the year and has quietly become the team's most clutch hitter. He is batting .346 and seven of his 16 RBI have given the Yankees the lead.
And how does this all connect to Arya Stark? Easy. Just how no one expected her to kill the Night King, nobody expected Urshela to play so well after Miguel Andujar was injured. Just like Arya, Urshela could indeed be the real hero of Game of Thrones.
Gleyber Torres- Tyrion Lannister
Though not a dwarf, Gleyber Torres is easily the Tyrion of the Yankees. How many times throughout the series has the man had one plan, only for catastrophe to strike and he has to think on his feet?
This is Torres in a nutshell. He's only 22, but manager Aaron Boone has already praised the infielder's ability to make key adjustments mid-count. Just like the Imp, he thinks well on his feet.
He may not drink, but Gleyber Torres is much like Tyrion in when it comes to hitting, he knows things.
Kendrys Morales- Bronn
Sellswords are fickle folk. Their services go to the highest bidder. Nothing more, nothing less. The same can be said for Bronn who, despite being a sarcastic character on Game of Thrones, fits this mold to a tee.
However, even the most ruthless sellsword takes their work seriously and Kendrys Morales is the epitome of this. No matter which team he's on, no matter what his role, his focus is on one task: bashing home runs out of the park. Batting lefty or righty, he is always laser-focused at his craft.
Don't believe me? Just look at his first homer as a Yankee:
I hereby dub him, Sir Kendrys of the Third Deck!
Clint Frazier- Tormund Giantsbane
Come on. Isn't it obvious? The ginger locks, infectious personality, and wanting to help his team despite being injured? Clint Frazier truly is The Bronx Wildling, from his natural leadership qualities to his intense approach.
Frazier may be 6 for 37 since returning from his ankle injury, but don't count him out. Just as fans didn't expect Tormund to join the fight against the Army of the Dead, let alone tell his famous giant story, Frazier's next hot streak will take everyone by surprise.
Aaron Hicks- Lord Beric Dondarrion
Lord Beric's life can be described in two words: banged up. So many times he lost his life, only to be resurrected by believing in the Lord of Light. Lord Beric eventually ran out of resurrection chances, but the help he offered in battle meant a lot in the long run.
This, ladies and gentlemen, is Aaron Hicks in a nutshell. He has missed time with injuries in each of his years with the Yankees. And yet, though he only played in 225 combined games the last two years, Hicks posted a combined WAR of 8.6. We think he's down and out, and he comes back with a vengeance.
Seeing as how Hicks tied Sunday's game with his first home run of the year, he truly is the Lightning Lord himself.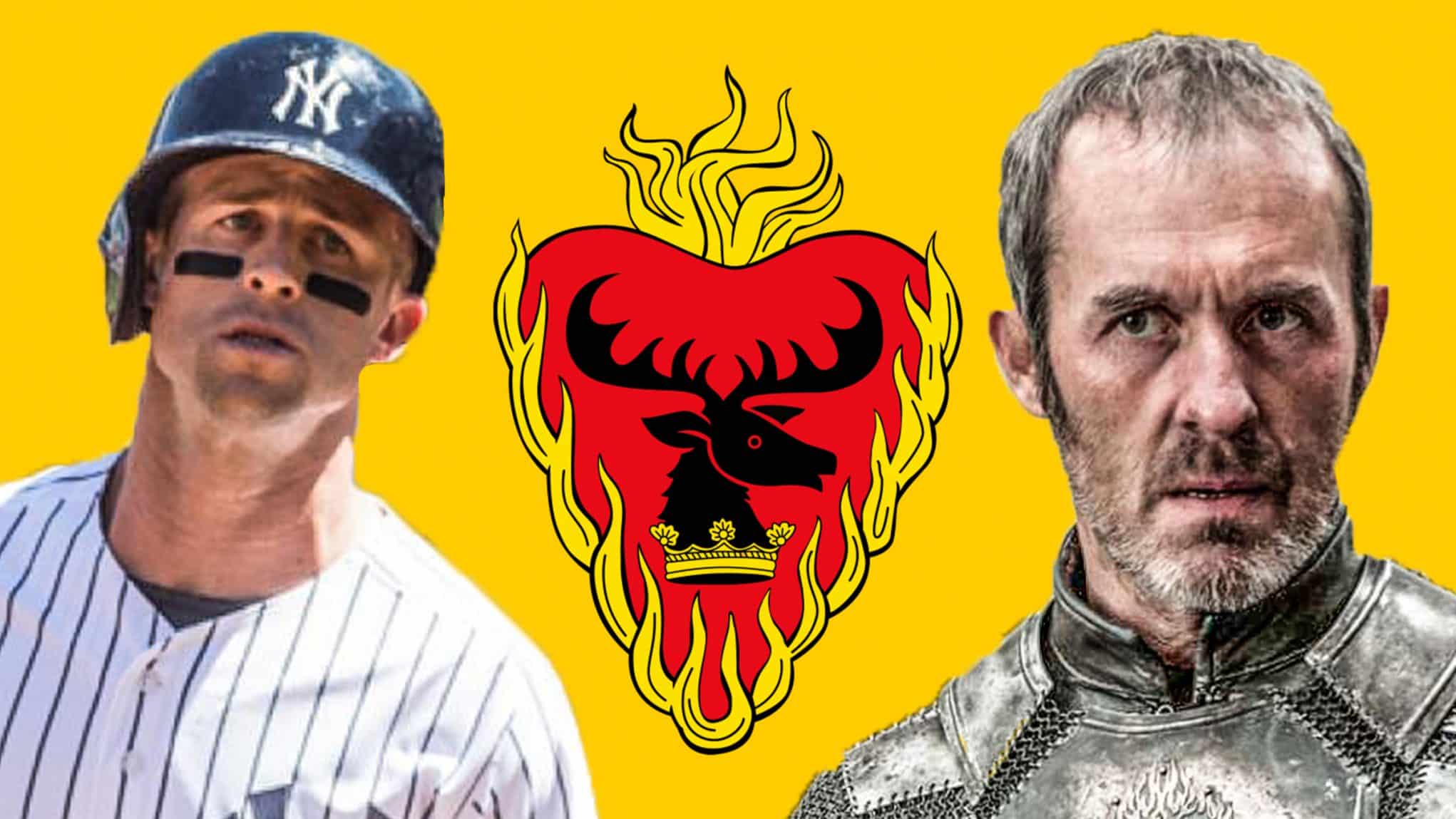 Brett Gardner- Stannis Baratheon
Stannis is an interesting character. He's very smart, and truly believes his actions are what's best for the Seven Kingdoms, but some of his decisions are, in a word, terrible.
That isn't to disparage Brett Gardner, the longest-tenured Yankee, by any means. His seven home runs and 18 RBI have proven effective despite his batting just .211.
Still, we can use the magic of analytics to show just how much of a Stannis Gardner is. His batting average fell to .236 last year from .264 in 2017. Subsequently, his line drive rate fell to 17.9% from 22.3%. That number is down to 12% in 2019.
Simply put, Stannis Baratheon was many things, but not a king. He couldn't accept that and, in the end, it cost him his life. Gardner, similarly, seems to be having a hard time realizing he can't turn on a fastball like he used to.
Hopefully, it doesn't cost him his spot in the lineup.
Luis Severino- Jaime Lannister
This may seem like an odd choice, but Luis Severino gets Jaime for one reason. Jaime Lannister, for all his flaws, is excellent at what he does. Almost no one can touch him in battle. A skilled knight, he has brought some of the best swords in Westeros to their knees.
The same can be said about Severino and his pitching. He hasn't played yet this year because of a shoulder injury, just how Jaime didn't fight for a while after losing a hand. Just how Severino will from his, Jaime came back from his own injury.
Throw in Severino's knack for shutting down some of baseball's best hitters, and he truly is a Kingslayer in his own right.
Giancarlo Stanton- Sandor The Hound Clegane
The Hound is a complicated character. He doesn't say much and tends to come off as moody. He hates his brother, yet has a constant reminder of him in his burned and disfigured face.
Giancarlo Stanton has a similar personality. He is a man of few words and clearly on the more introverted side. This can come off as moody to reporters.
Also, like Clegane, Stanton had an infamous facial injury. Unlike the Hound, however, he hasn't become scared of baseballs how his Game of Thrones counterpart was of fire. Rather, he continued to be a top power hitter despite his injury. He completed his comeback by winning the 2017 NL MVP trophy, just how Clegane redeemed himself by fighting with the Stark Family.
However, here's hoping Stanton does not fall into a pit of fire at the end of his career.
Aaron Judge- Jon Snow
Jon Snow is a reluctant leader. He doesn't want to sit on the Iron Throne, though he is its rightful heir. He hates being labeled a king, though his fellow Northmen automatically crowned him as theirs.
Aaron Judge hasn't said anything negative about being the leader of the Yankees, but his soft-spoken nature suggests he isn't totally comfortable in such a role. The man knows he's great at what he does, but looks to be humble except for when the Red Sox are involved. The fog machine and music come out at that point.
And despite all of Jon Snow's flaws, from his being in love with his aunt to not embracing being a leader, he knows when his people need him.
Consider this. Judge has not played since straining his oblique on April 20. New York has gone 18-7 since then and currently sits in first place. For context, after Judge broke his wrist last July, the Yankees went 35-26 despite his return in September. That isn't a bad record, but the team often looked like a shell of itself in his absence.
That is no longer the case. Just how the Northern Army became better once Jon Snow was resurrected from the dead, the Yankees will too once Judge gets back from his injury.