The Brooklyn Nets may be full of surprises, but not enough to deter the New York Knicks during the Summer of 2019.
The New York Knicks should have a lot of swagger heading into free agency this summer. The team has nearly $73 million in cap space, per Spotrac, so adding two max free agents is possible.
Sure enough, speculation of Kevin Durant leaving the defending champion Golden State Warriors for New York has been rampant since the start of the season. Kyrie Irving's name has also been dropped.
But don't get too excited because if the rumors are true, the Knicks may have some nearby competition. According to Anthony Puccio of SNY, the Brooklyn Nets have a shot. Durant, Kawhi Leonard, and Tobias Harris will "at least consider" Brooklyn once they hit free agency, per sources.
This would be every Knicks fans worst nightmare. To not only lose out on these big free agent names, but also watch them sign with the crosstown rival Nets? What's next, the New York Yankees switching from pinstripes to polka dots?
New York definitely has a major advantage from a money standpoint, but there's no denying the Knicks have a rep. The drama surrounding the team rivals any daytime soap opera, though the current regime is committed to shedding that label.
Still, for all the money the Nets could have to spend in July, the Knicks will still be in a far better position to make some noise.
Brooklyn underdogs
While the Knicks tanked this past season, the Nets looked to make a statement. No more would Brooklyn be the red-headed stepchild of New York basketball. No, the Nets proved to be a fun and energetic team, winning 42 games compared to only 28 the year before. This was enough to land the No. 6 seed in the Eastern Conference, and Brooklyn lost to the No. 3 Philadelphia 76ers in the first round in five games.
Still, thanks to a breakout year from point guard D'Angelo Russell, the Nets' future is indeed bright. Jarrett Allen and Caris LeVert also took big steps forward despite Levert missing extensive time with a foot injury. Head coach Kenny Atkinson has proven, thus far, to be the right man for the job at the Barclays Center.
The long and short of it is Brooklyn has a strong young core and built a winning culture quickly. Top free agents being interested in joining the Nets isn't entirely out of the realm of possibility.
The catch
However, Brooklyn GM Sean Marks has some work to do to sweeten the Nets' pitch and it means making some hard decisions.
First, Russell is a restricted free agent with a $21.1 million. Spotrac, meanwhile, lists the Nets as having about $54.6 million in practical cap space. The team could theoretically match any offer Russell receives from another team, but keeping him would only mean being able to add one max free agent.
Granted, the Nets could easily fix this problem by renouncing their rights to Russell. This automatically puts them in the same position as the New York Knicks, as in having enough cap space to pursue two max free agents instead of one. Such a move would also require dumping oft-injured guard Allen Crabbe's contract, which pays him $18.5 million next season if he opts in (which he will).
This is where things get complicated for the Nets. The team would, hypothetically, have enough money to add two max free agents, but at what cost? Without D'Angelo Russell, Brooklyn loses a key player who could be part of a pitch to top free agents. They might as well pitch Batman to drive a clown car instead of the Batmobile.
It's just too risky because if the Nets strike out in free agency, they might as well start from scratch again.
The Knicks' gameplan
That means when it comes to the New York Knicks, they need not fear the Brooklyn Nets in free agency. The team's reputation aside, money often talks when it comes to free agents. The Knicks can offer a lot of it, and the lure of being the savior of New York basketball could also loom large.
Not only that, but the Knicks already have a strong young core in place. The Nets' pitch, essentially, requires them to break theirs up, or at least let some key members of it go. D'Angelo Russell had a great year and is only going to get better, and his absence could turn free agents off of Brooklyn.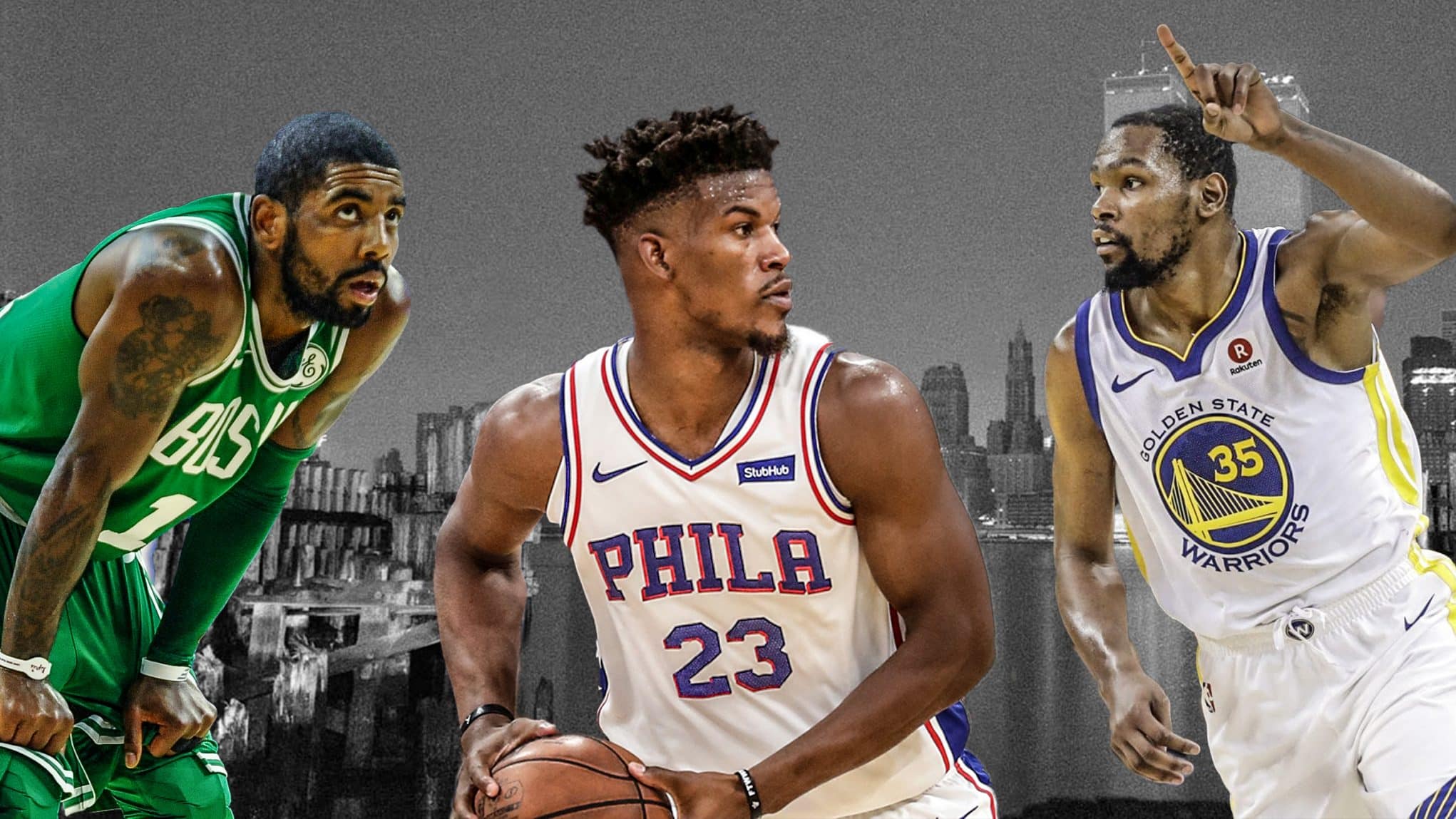 There is also the upcoming NBA Draft to consider. The Nets hold the 17th pick, but New York is guaranteed a Top 5 spot. That instantly ups their odds of landing a top name like Zion Williamson, Ja Morant, or someone else entirely.
Now, assume Sean Marks pushes the red button and the Nets renounce their rights to their free agents and also let Russell walk. Shiny new draft pick aside, the 17-win New York Knicks are still in a better position to land free agents.
Final thoughts
Look, I get it. The Brooklyn Nets were fun to watch this season whereas the New York Knicks were, well, the New York Knicks. There is hope for the future in Brooklyn, regardless of if the Nets add a marquee free agent in July.
This hope needs to be nurtured because the Nets mortgaging the future for the sake of spending big on free agents is ridiculous. Sure, Russell only just emerged as a reliable scoring point guard this past season, but Brooklyn owes it to itself to keep him around. He alone could be enough to land a top free agent, be it Kevin Durant or Khris Middleton.
The Knicks, meanwhile, can just focus on the draft and their subsequent pitch. Regardless of if Russell is retained in Brooklyn or not, the Nets need not be feared in free agency.
At least not at this point.