New York Mets starting pitcher Noah Syndergaard is off to a rough start. Is it officially time to panic in Flushing? 
After struggling to the tune of nine hits and five earned runs in just five innings pitched in his last start on April 15, Noah Syndergaard was hoping to get back on track on Sunday vs. the St. Louis Cardinals. Instead, we saw more of the same issues that have plagued the 2016 All-Star all season long.
Sunday's 6-4 loss to the Cardinals at Busch Stadium in St. Louis represented the second straight series loss for the New York Mets.
With ace Jacob deGrom currently nursing an elbow injury on the 10-day injured list, the team is counting on Syndergaard to step up and fill that void in the meantime.
Syndergaard's afternoon began with great promise. He struck out Matt Carpenter, Paul Goldschmidt and Marcell Ozuna to complete an undamaged first inning.
Things began to get tricky in the second inning, however.  With two runners on and one out, Kolten Wong singled to left to tie the game at 1. Three batters later, Goldschmidt hit a two-RBI single to extend the Cardinals' lead to 3-1.
Unfortunately, St. Louis was far from done. Yadier Molina plated a run with an RBI groundout and Dexter Fowler ripped a double to score Jose Martinez to extend the lead to 5-1 after three innings.
Syndergaard was able to pitch two more innings before being pinch-hit for in the top of the sixth. All told, the 26-year-old Mansfield, Texas native went five innings allowing six runs (four earned) on eight hits with two walks and five strikeouts.
For what it's worth, Syndergaard did help his own cause with a solo home run to center in the top of the fourth. (Interesting side note: All four of the runs the Mets scored on Sunday were via solo home runs.)
These struggles have led us to a vital question: Is there reason to be concerned with the club's prized right-hander?
True to form, Syndergaard held himself accountable for the loss. "This is unacceptable," he said in the locker room post-game. "It has to change. I have to do better, I will be better. There's just no excuse for it."
There are red flags when you look at some of his traditional numbers. Through five starts, his ERA sits at an unsightly 5.90. His WHIP is not much better at 1.28.
Sunday was Syndergaard's fourth start of the season in which he allowed at least four earned runs.  For comparison's sake, this only occurred five times in 25 starts in 2018.
Despite these rough numbers, the advanced stats suggest that Syndergaard is due for an increase in performance.  His fielding independent pitching (FIP)—a statistic that approximates a pitcher's ERA assuming average outcomes on balls in play—is nearly three runs lower than his traditional ERA at 2.92.
In addition, No. 34 is throwing 67.4% of his pitches for strikes this year. This is the second-highest total of his career, trailing only his 2016 All-Star campaign.
Ultimately, I feel the "eye test" is the best way to determine if we should be concerned about Syndergaard.
Judging by these criteria, I am not ready to say it is time to worry about the flamethrower.  Syndergaard's velocity is as strong as ever and he has kept the walks to a minimum.
As the sabermetrics suggests, I believe Syndergaard is due for a change in fortune very soon. His next scheduled start represents quite the challenge as he will pitch against the Milwaukee Brewers on Saturday at Citi Field.
If Syndergaard can contain Christian Yelich, Lorenzo Cain & Co., it could give him the confidence needed to turn his season around.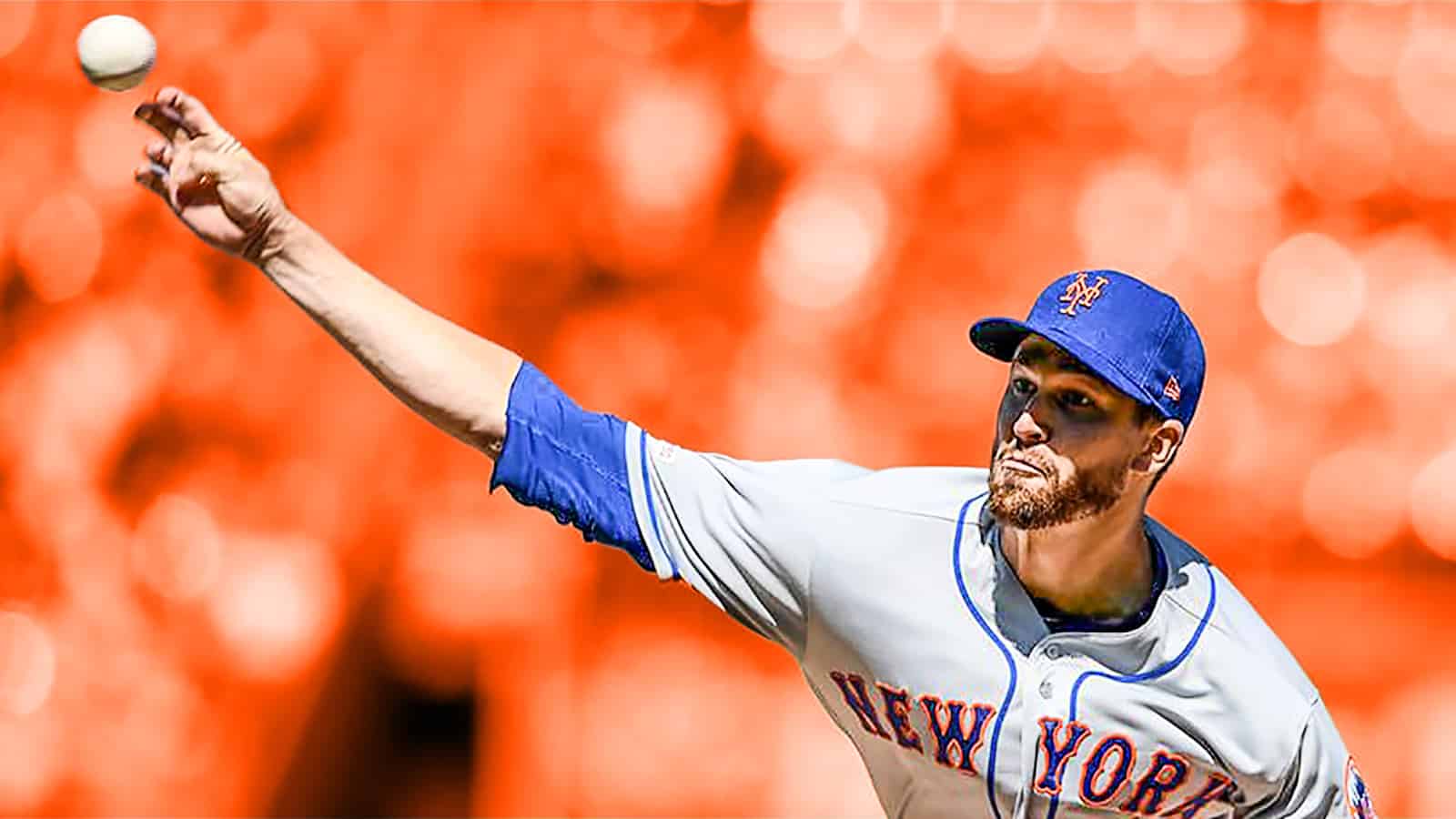 Mets' Roundup
The club has little time to dwell on Sunday's loss. Monday marks the beginning of a 10-game homestand with a three-game series with the Philadelphia Phillies. Steven Matz (1-1, 4.96 ERA) will look to get the team back on track against Jake Arrieta (3-1, 2.25 ERA). Matz faced the Phillies back on April 16 and let's just say, the results were less than favorable. The 27-year-old failed to record an out in that game and allowed six earned runs.
More good news on deGrom
Jacob deGrom's rehabbing of his elbow injury continues to go according to plan. Prior to Monday's game, he threw a bullpen session and reported zero issues. Of course, ESNY will keep you up to the minute as more information about deGrom becomes available in the coming days.
Interest in free agent Gio Gonzalez
Veteran LHP Gio Gonzalez was released from his MiLB deal with the New York Yankees on Monday.
A team source confirmed the Mets' interest in Gonzalez. However, we are not going to be alone in this pursuit. The Brewers, Phillies and White Sox all have varying degrees of interest as well.
Gonzalez split the 2018 season between the Washington Nationals and the Brewers and finished with a 10-11 record and 4.21 ERA.
For the latest on Gio Gonzalez and all things Mets, follow Teddy Rydquist on Twitter @TeddyRydquist.