It's time to detail and analyze the New York Knicks depth fillers: Henry Ellenson, Kadeem Allen, Luke Kornet and more.
Developing players is more important than ever. Whether it happens through the G-League or garbage-time NBA minutes, late first/second round picks need to become rotational contributors; in today's NBA, role players are entering free agency expecting more and more money.
Specifically, sharpshooters are coming at a premium these days. In an era of running and gunning, curling off high screens, and pick and popping, three-point specialists find themselves earning tens of millions of dollars every year. For example, JJ Redick, an elite three-point shooter, has signed back-to-back one year deals with the Philadelphia 76ers worth a combined 35.25 million dollars.
Oh yeah, JJ's also a complete liability on defense, ranking nearly last in offensive points added vs. defensive points saved. Basically, as long as a player has good enough stamina to run off screens all game and has a consistent jumper, teams will pay A lot of money for him.
Which, if you're the New York Knicks and you plan on using two max slots this offseason on all-star/superstar level players, you don't exactly have money left over for role players and floor spacers. However, luckily for the Knicks, they have multiple options for sharpshooters that can come off the end of the bench. Also, these players by no means need to be every game staples in the rotation.
They can sub in when the team's in need of an offensive spark or when injuries rear their ugly heads. One of them is Damyean Dotson. But I do see him as a more of a useful, every game rotation player and so I gave him his own feature (Dotson Feature).
So now, let's take a look at Henry Ellenson, Kadeem Allen and Luke Kornet, and which are worth keeping around for next season.
Henry Ellenson
It's been a tough start to his career for Henry Ellenson. A former first-round pick for the Detroit Pistons in 2016, Ellenson was never able to work himself into the rotation in Detroit. He was eventually waived earlier this season. Now, Ellenson is (obviously) a member of the Knicks.
Offensively, he's extremely versatile. in his 17 games with the Knicks, Ellenson shot over 44% from three, a number that would put him among the elite shooters in NBA history. Obviously, an extremely small sample size but Ellenson has always been seen as a stretch four and this provides even more evidence. He's also very dangerous as a ball-handler, possessing the ability to grab a rebound and go coast-to-coast as well as size-up a big man and work in isolation.
However, defensively, Ellenson is horrific. He's slow to move his feet and can be abused in the pick n' roll. Then, when taken in the post, his slim, 6-foot-11, 245-pound frame allows him to be easily bullied. Basically, even if Ellenson adds 15 points on offense, he's just as likely to give up 14 points on defense. He's definitely not a rotational staple but as previously mentioned, if the offense needs a spark … sure, throw him in there for a few possessions and see if he can knock down a few jumpers. He's also under contract for the next two seasons, so there's no reason not to at least try and develop him defensively.
Kadeem Allen
Hard-nosed point guard. That's Kadeem Allen's game. He's not going to dazzle you with his dribbling, but instead, move north-south with intent, not afraid to absorb contact and barrel into opposing big men. In addition, Allen knocked down treys at a clip of 47.2% in his 19 games with New York. Oh yeah, he's also a scrappy defender with a 6-foot-9 wingspan and is more than willing to get under opponents' skin.
So what's not to love? A pitbull defender and hard-nosed offensive attacker with a more than reliable jump shot. Well, Allen is 26 and the Knicks already have three young point guards. Not to mention the possibility of them adding another either in the draft or free agency. So, with Allen entering restricted free agency this summer, it might be better for the Knicks to part ways with him, rather than add another piece to their already complicated point guard decision.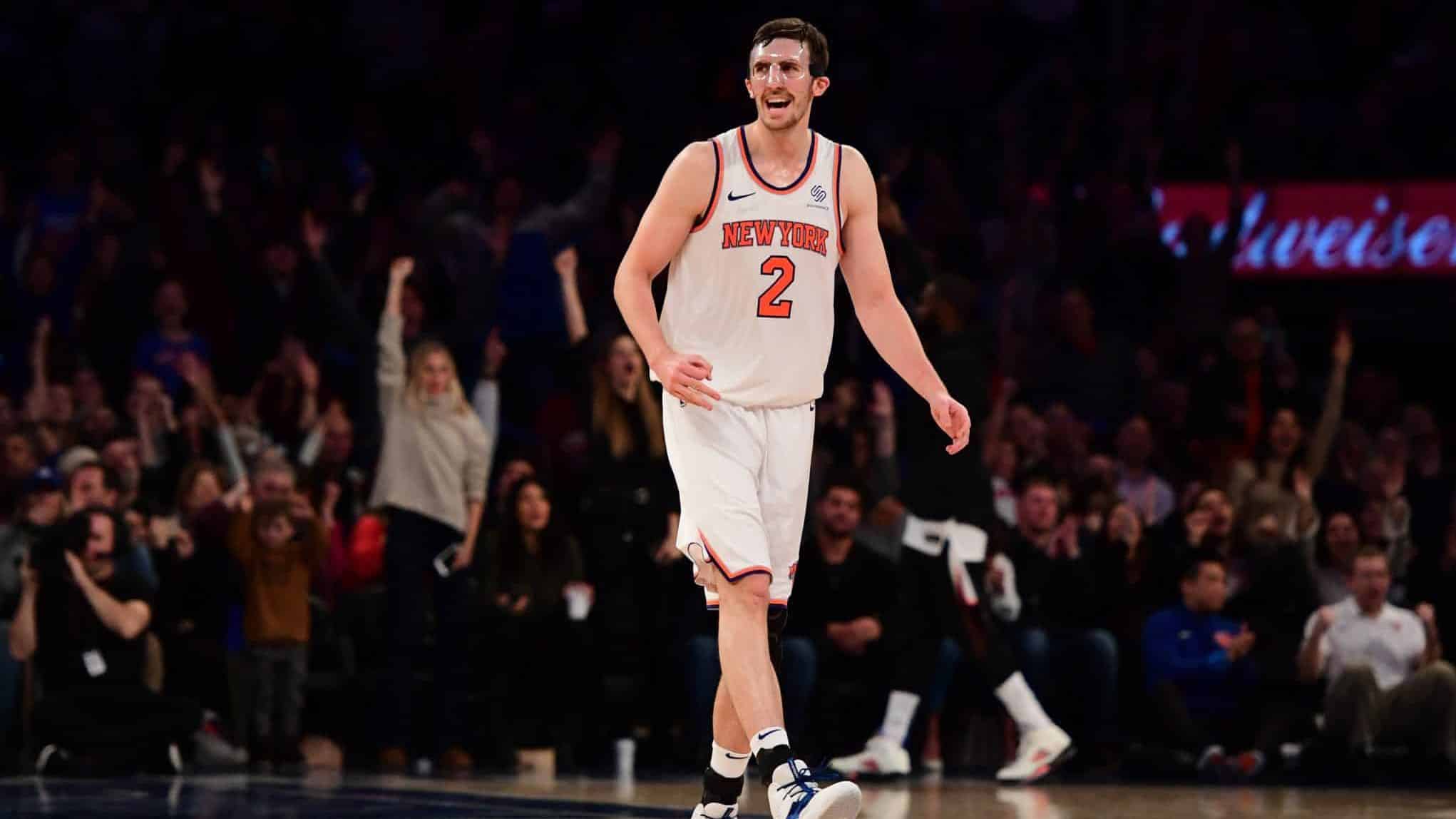 Luke Kornet
Does not like the paint. Luke Kornet is a center that shot sub-39% from the field. In the '90s/early 2000s, Kornet would be banished from the NBA. But in the era of bombing threes from thirty feet, he's seen as a solid stretch five because he shoots 36.3% from three. Other than shooting though, Kornet is quite terrible. He's slow on defense, has absolutely no vertical to disrupt shots, and can't do anything productive inside 23 feet on offense.
In my eyes, he's essentially a worse version of Henry Ellenson. But, he's a streaky player and can catch fire. So maybe when the injuries start to pile up, he'll carry the Knicks to a win or two.
Recap
Henry Ellenson: Great ball-handler/floor spacer. Mix him into the rotation for an offensive spark every once in a while. Attempt to develop him into a serviceable defender.
Kadeem Allen: Hard-nosed two-way guard but the Knicks already have too many. Likely to let him walk in free agency.
Luke Kornet: Can stretch the floor but can do little else. Let him play out next year, maybe he catches fire a few times. Then see how his free agency plays out.