Kevin Knox, Mitchell Robinson and Allonzo Trier—it's time to dish out those highly-anticipated New York Knicks report cards.
The New York Knicks have now come to the end of a depressing, forgetful season. The team ended the year with the worst record in the NBA. On the bright side, the Knicks are a very young team. In fact, they're the youngest in the league with an average age of 24.5 years.
Their play on the court showcases the youth. With a record of 17-64, there weren't too many bright spots for a team mired in losing.
While the team may not have succeeded in terms of winning, they have been able to get some promising glimpses of their rookies. These first-year players include Kevin Knox (first round), Mitchell Robinson (second round) and Allonzo Trier (undrafted). Knox, Robinson and Trier have all been a part of the New York youth movement and each experienced highs and lows.
It's time to dish out those highly-anticipated report cards.
Kevin Knox: C
Kevin Knox began by lighting up the Las Vegas Summer League to set the bar very high. The prospect averaged 21.3 points per game—35 percent from the floor—with 6.5 rebounds per game showing some of the skill that made the Knicks deadset on picking him. But for many, this was a lackluster season for the Kentucky product.
Knox ended up averaging 12.8 points per game—37 percent from the field—with 4.5 boards, seeing a major dip in production after his spectacular showing during the summer. He finished ranked seventh amongst all rookies in points per game and 37th in field goal percentage.
This downfall can be attributed to the fact that he has the tendency to disappear within the Knicks offense. Moreover, at times, he failed to look for his shot while remaining far too passive for a team starving for contributors. Knox is also a subpar defender and for now, an inefficient scorer. He has additionally shown to not be a willing passer at times. He ranked in the fifth percentile for his assist rate and he ranked as the NBA's third-worst defender according to defensive plus-minus.
If you didn't look at the stats, though, he does have the look and feel of a solid NBA player. His 6-foot-9 frame and athleticism helped him draw Giannis Antetokounmpo comparisons earlier in the year. For now, Knox has a long ways to go to get to that level.
Overall, his average play and the fact that the Knicks drafted him ninth overall earned him a C grade. There's definitely room for improvement for Knox and this summer will be a big one for him.
Mitchell Robinson: A
Mitchell Robinson was better than anyone Knicks fan could have hoped for. He came into the season with low expectations. Many saw potential but were unsure of how it would translate to the NBA given his unusual pre-draft experience. But every team is definitely kicking themselves for passing on this kid now. His motor, athleticism, wingspan and fluidity all help to define his special play.
His body structure helped him finish second in the NBA in blocks per game (2.4) while playing very limited minutes (20 minutes per game). He also finished the season shooting 69.4% from the field, leading all rookies in that category. While he did only average 7.3 points per game, he played inside his role and was extremely productive for the amount of time he played.
His role was not as a scorer but more as a rim runner and he did his job well. However, he did have some problems in terms of foul trouble. Over the year, he was able to correct those issues with help from David Fizdale and DeAndre Jordan.
Mitchell Robinson earned a grade of an A due to his high productivity and huge potential. The Knicks got good value with out of the 7-foot-1 center with the 36th pick. Next year, expanding his offensive game a little more while continuing to dominate on the defensive end and being able to get more playing time would make him a very dangerous player. For now, it seems that he is only going to get more comfortable in the NBA. This will help to make him a much more versatile player as time goes on.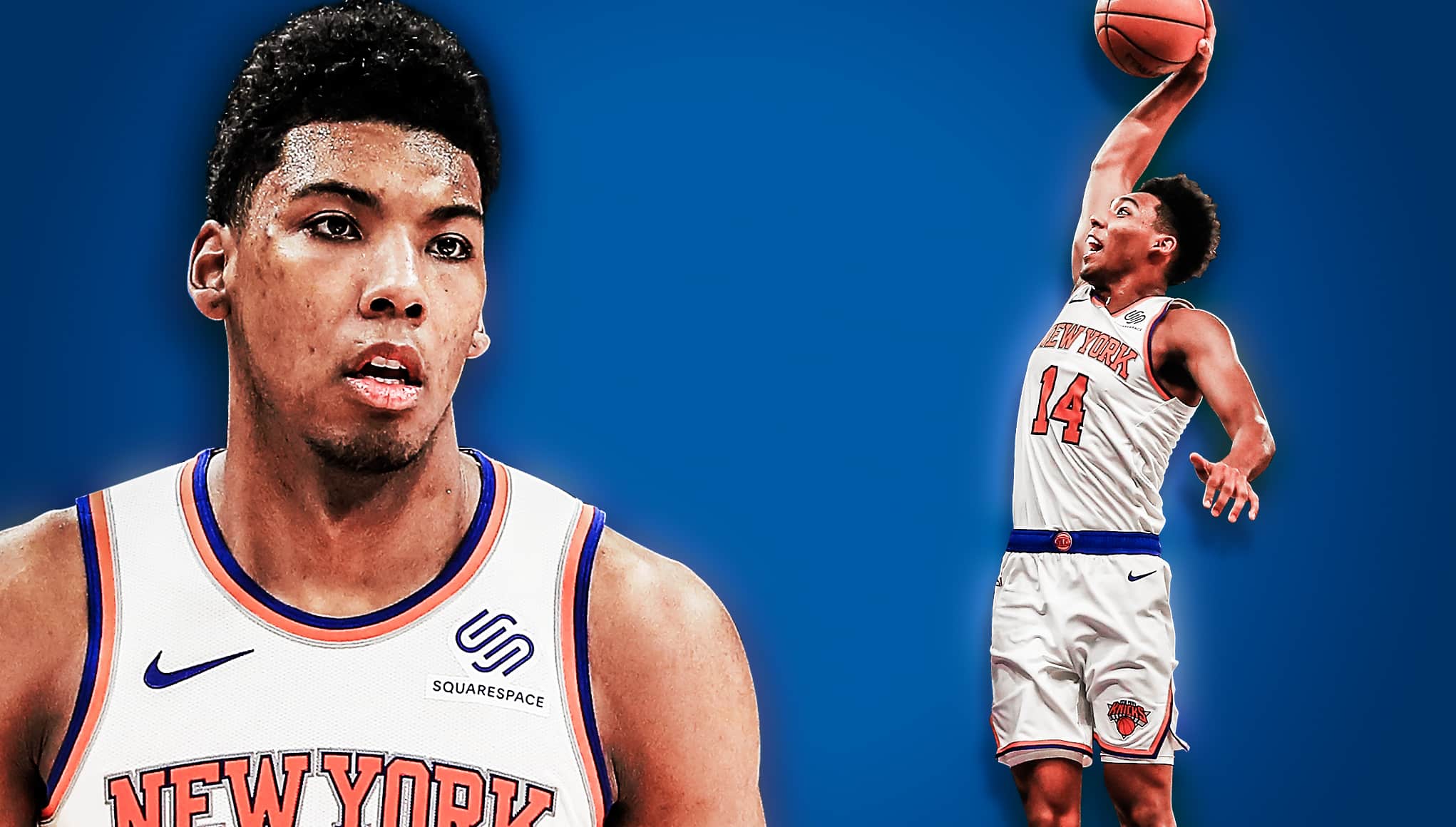 Allonzo Trier: B+
Allonzo Trier was a surprising bright spot for the Knicks. Not much was expected from him as an undrafted free agent out of Arizona. Barring this, he showed his ability to get the rim, finish, and score the ball earning the nickname Iso-Zo. Trier consistently was able to get to the basket and did so efficiently.
He averaged 10.8 points per game (ninth amongst all rookies) while shooting 44.8% from the field. He also shot 39.4% from three, showing that he also had an outside game. While Trier is known for his stupendous driving ability, he can get tunnel vision in his pursuit of a basket. This is to be expected when dealing with young players. As time goes on he will most likely get a better feel for the game.
Trier earned a grade of a B+ due to his above average play and the fact that the Knicks did not have to use a draft pick on him. His ceiling seems to be much lower than Knox's or Robinson's, but he can score the ball efficiently and play average defense. His potential seems to max out at a good sixth man, but nevertheless, Trier has definitely carved out a role with his play this season.
Overall, the New York Knicks rookies showed a ton of promise and room for improvement. They will now enter a very big summer for themselves and the organization. The rookies will have to be ready to show that they belong on a team that is sure to undergo some roster turnover.
They should hope that their growth can translate onto the standings next year and they can be a part of a playoff team.