After another disappointing season, St. John's and Chris Mullin parted ways. Could Rick Pitino be the man to bring the Johnnies back to prominence? 
This millennium has not been kind to the fans of the St. John's men's basketball team. Despite a season that saw them win 21 games and return to the NCAA Tournament for the first time since 2015, there is a definite feeling that they underachieved.
The culprit was Mullin, who was let go after taking over the reins from Steve Lavin, who, like Mullin, was supposed to be the savior that got the Johnnies back to the big time.
However, while Mullin performed a greater recruiting job, he often looked disinterested on the sidelines. He failed to consistently motivate. The Red Storm went just 59-73 overall and 20-52 in the Big East in Mullin's four seasons on the bench.
More chaos followed his resignation, when Justin Simon and Bryan Trimble Jr., announced plans to leave the team on April 9. More players and recruits could follow.
What can save this school from the hideous malaise it has been in since we partied like it was 1999? The answer provided itself this week when Rick Pitino was asked if he would be interested in the job.
In an article by Zach Braziller of the New York Post, Pitino (who currently coaches in Greece) said he would "have interest" in the job, but only if he was granted an apology and cleared publicly by the Southern District of New York.
For those of you who have followed the investigation of President Trump, the Southern District of New York is a familiar name. Although Pitino wasn't charged with any crimes related to a criminal case that involved bribes and other recruiting violations, he didn't appreciate it when he was mentioned by the judge presiding the case.
During the sentencing, U.S. District Judge Lewis A. Kaplan brought up a recorded conversation in which two of the defendants talked about giving Louisville coaches "plausible deniability." Kaplan said, "They were making sure Rick Pitino's tracks were being covered."
Pitino was fired by Louisville in September 2017 following accusations that he was involved in the scandal. This came after the NCAA announced a five-game suspension of Pitino in June following the findings of escorts being paid to perform sex acts for prospective recruits.
Pitino and those surrounding Louisville claimed he had no knowledge of the escorts scandal, while the Hall of Fame coach vehemently protested the judge's statements in the other case.
"There wasn't a shred of evidence except for a con artist mentioning my name and they never rectified it, never came out and offered me an apology," Pitino proclaimed. "Southern District of New York just says you're collateral damage and says the hell with you."
Despite the controversy that surrounds him, Pitino is exactly the coach the school from Queens needs to help restore their position in the college basketball world. Notwithstanding the accusations, Pitino has always recruited well, something the Red Storm has not been able to do consistently since Fran Fraschilla dropped his pants in the locker room.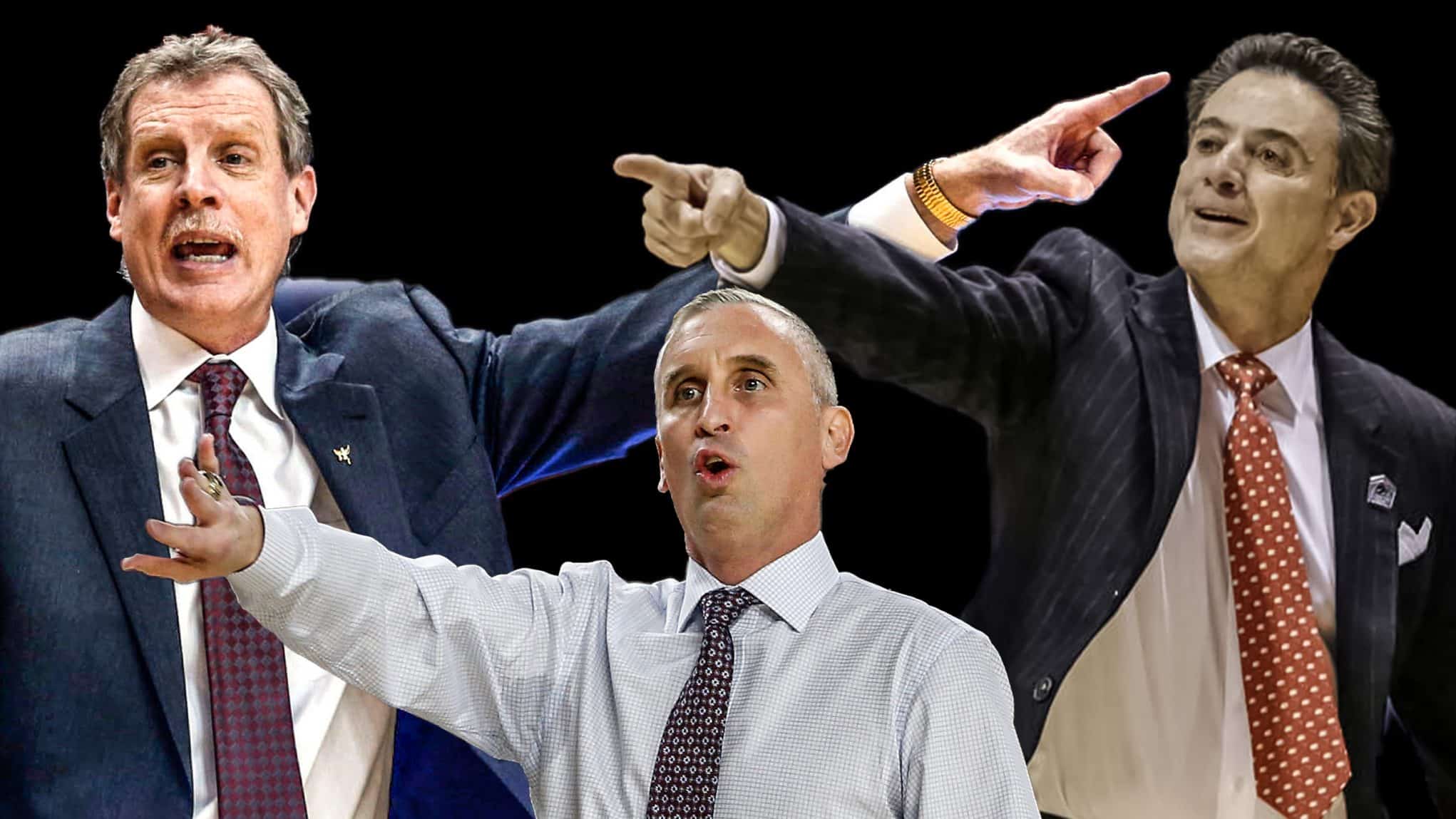 The Red Storm has not won an NCAA Tournament game since defeating #15 Northern Arizona, 61-56, in the Opening Round of 2000 NCAA Tournament (a game they trailed 56-55 with under 11 seconds left). The 1999-2000 season was the second of five seasons under Fraschilla's replacement, Mike Jarvis.
Since legendary coach Louie Carnaseca retired after the 1991-92 season, only Brian Mahoney (defeated Texas Tech in 1993 First Round) and Jarvis (also reached Elite Eight in 1999-00) has won NCAA Tournament games. Since Jarvis, only Steve Lavin (92-72 in his five seasons) has finished with a winning record.
While rumors are circulating concerning the Red Storm chasing Bobby Hurley (whom current athletic director Mike Cragg knows from their days together at Duke)  Pitino would be a "can't miss," along with bringing home the coach to his roots.
Pitino was born in New York City and grew up in Bayville. He played basketball at St. Dominic High School in Oyster Bay. There is no doubt concerning his credentials in recruiting and turning college basketball programs around.
Overall Pitino owns a .740 win percentage (770-271) and ranks fifth all-time in NCAA Tournament history with 54 wins, sixth among coaches with seven Final Four appearances and has won two National Championships (these are total numbers and do not include vacated wins). He is also the only coach in college basketball history to take three teams to the Final Four (Providence, Kentucky, Louisville) and win championships with two different Division I schools (Kentucky and Louisville).
For a school that has only one Final Four appearance since the tournament expanded to 64 teams in 1984-85, Pitino would be a huge deal. While an apology is unlikely from the Southern District Court of New York, perhaps he will reconsider his position if negotiations to bring him in taking place.
This would allow both Pitino and St. John's a chance to restore their position in college basketball. Nothing can be better for two entities that need each other.