New York Knicks president Steve Mills and Giants general manager Dave Gettleman want you to trust them, but do they deserve it?

New York Knicks President of Basketball Operations Steve Mills and New York Giants general manager Dave Gettleman are both asking their respective fanbases for trust in plans that have already been shaken in the Etch A Sketch once or twice.
The similarities between franchises and executives are not across the board, yet there is enough skepticism from the media and fans of both teams as well as dysfunction within their "plans" that the upcoming summer and season are a make or break for both front offices.
The Knicks, to their credit, have been clear about their rebuilding process. There have been hiccups along the way, but you knew they were going to struggle with a purpose. On the other hand, the Giants fed their fans a win-now fight song last season and quickly changed their tune after a disappointing 5-11 record.
Furthermore, in the case of the Knicks, Mills is certainly not alone. General manager Scott Perry was hired during the offseason and has thus far received rave reviews. Perry's handling of the Carmelo Anthony situation and subsequent trades have given him a head start in a tough media market.
Their success will be tied together and both typically appear together for press conferences, but the buck stops with the president. Mills's spotlight is particularly important as he is the lone remaining executive from various regimes that have promised fans wins and playoff success only to come away with salary cap hell and teams filled with players past their primes.
Both franchises traded away their stars. Once considered building blocks, fans are now asked to believe that their teams are better off without Kristaps Porzingis and Odell Beckham Jr. Both front offices experienced rocky relationships with their stars players as well.
Both executives have also had to hit the reset button and play damage control. The Giants have done so by embracing the rebuild (or maybe not depending on who you ask) by accumulating 13 picks in this upcoming draft. The Knicks have done so by reassuring fans that everything is going to according to plan despite an all-time franchise low in 14 wins the season.
"Now what do I do with my Kristaps and OBJ jerseys?"
Porzingis and Beckham were thought to be part of a promising young nucleus in the New York sports scene. Beckham was an absolute lightning rod for attention, both on and off the field, and Porzingis, although injured for all of the 2018-2019 season, was seen as a strong recruiting tool for top tier free agents ready to lift the Knicks from years of mediocrity. But at some point, and for different reasons, the relationships between both teams and their franchise players soured.
In football, conventional wisdom tells you that the majority of your salary cap needs to be divided between the quarterback and members of both the offensive and defensive lines. The Giants, however, caught in between the middle of a rebuild and win-now mode, signed Beckham to a massive extension and then traded him to the Browns one year later. Despite a positive locker room presence, there were rumors that Gettleman and the brass were tired of Beckham's antics, especially a controversial interview he did with ESPN.
Porzingis never received the big money that Beckham did, and his tenuous relationship the management extended across two different regimes. The fan-favorite unicorn once spurned Phil Jackson by skipping an exit interview, sent out plenty of passive-aggressive messages via Instagram, and eventually requested a trade, frustrated with the lack of team success four years into his NBA career.
Both athletes are mercurial in their own way. And today's athlete, to the dismay of some fans, more than ever has seized ownership of their brand and window of opportunity to win during the prime years of their careers. Yet in the same vein, one can't help but think how culpable the Giants and Knicks are in both situations.
The Knicks, depending on who you believe, essentially failed to create a strong relationship with their best player drafted since Patrick Ewing. And while the trade enables the Knicks to offer two max contracts to free agents this summer, fans must be confused as to how a 23-year-old phenom was traded away for cap space and draft picks that may or may not be relevant depending on the Mavericks record. Mills is on the hook for that and time will tell if the trade benefits the Knicks.
The Giants failed to create and sustain a winning squad around arguably the most talented player to grace the field for big blue since Lawrence Taylor. Gettleman doesn't deserve all the blame, as he wasn't there during Beckham's early years, yet his free agent signings that were supposed to solidify the offensive line and his overall faith in an aging Eli Manning created a recipe for disaster which has the Giants looking at their second top-10 pick in two seasons.
I'm not arguing that neither Porzingis nor Beckham are devoid of responsibility for their situations. Both could have and in some cases should have handled their disappointment differently. But there are franchises that have created environments where players, even those players with some diva-like qualities, feel like the franchise is headed in the right direction. Both the Knicks and Giants are not there yet.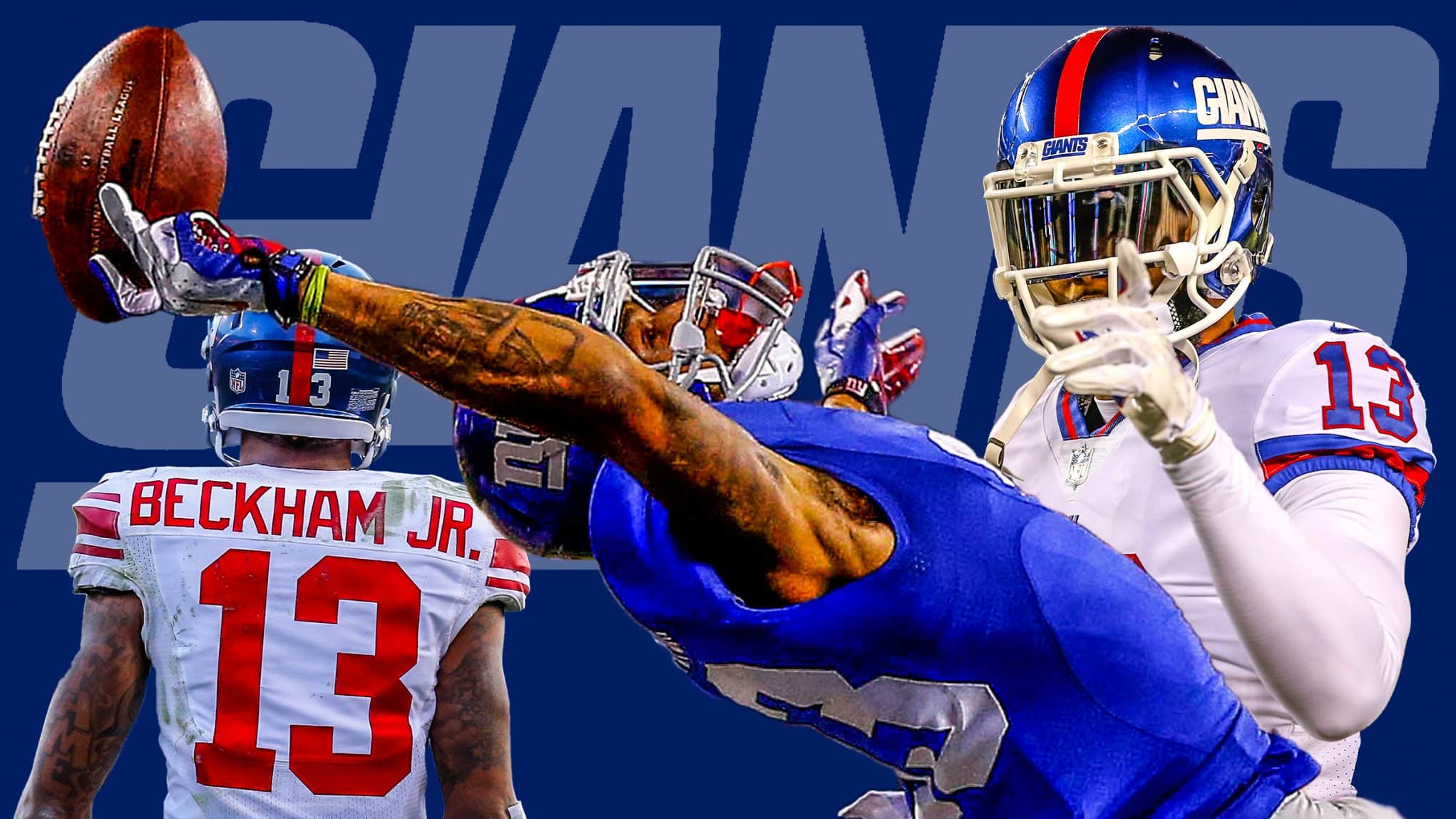 A major reset and a minor rest
Mills and Gettleman have also done their fair share of damage control this year. Gettleman's philosophy did a complete 180-degree turn as he embraced the rebuild, trading away players like Damon Harrison, Olivier Vernon, and, of course, Beckham. Mills's reset was minor, in comparison, yet his explanation and spin of the KP trade certainly had Knicks fans doing a double take.
Gettleman has asked fans to take a major leap of faith and trust that the Giants can still win while building the team for the future. Via Gary Phillips of Forbes Sports, Gettleman asks for trust.
"Trust me, we've got a plan. You've got to be patient. Everyone wants the answers now. We're in an instant-gratification world. Over time, you'll see it. You've got to trust it."
His plan requires you to drink the Kool-Aid and pray that a 38-year old Eli Manning is still capable of winning football games in a division where both the Dallas Cowboys and Philadelphia Eagles made the playoffs last season.
Manning aside, Gettleman is also asking for trust despite losing All-Pro safety Landon Collins for nothing. Reports that a third-round pick was offered from the Kansas City Chiefs did not help his cause. Names like Patrick Omameh also don't do much in inspiring trust from the fans.
The Knicks, despite maintaining their philosophy in rebuilding through the draft and cap flexibility did not see a Porzingis trade or their current record as part of the plan. The orange and blue spent most of their off-season talking culture change. They told the fans base that they would struggle but could not have envisioned an all-time franchise low 14 wins going into the last three weeks of the season.
The Knicks reset is also significant because it marks another example of Mills trying to spin decisions in the Knicks favor for public consumption. Public relations are important, yet when it comes to Mills, there is plenty of evidence to believe that Mills may not be the most reliable source when it comes to the truth.
Earlier this season Mills publicly outed Joakim Noah and Phil Jackson when asked about Noah's contract and time with the Knicks. Reports had come out that Noah partied his way through most of his four-year $72-million contract. Via Marc Berman of the New York Post, Mills expressed disappointment.
"Obviously I'm disappointed it worked out the way it worked out," Mills said. "I don't know that, had it been just my decision, I don't know that I would have signed him."
Noah, when he read the reports, and rightly so, took the high road but made comments about Mills wanting to advance himself. Similar connections can be made to the KP trade. As soon as the Knicks jettisoned Porzingis, reports surfaced that he wanted out of New York.
The race was on to create a narrative that Porzingis didn't want to be a Knick and that he was not willing to be patient and endure the full rebuilding process. Mills and the Knicks discussed KP's recent behavior and detachment from the team and practices, Porzingis told fans to "stay woke" implying that there's more to the story.
Ultimately, both sides have portions of the truth stepped within their arguments, yet Mills' tendency to spin a narrative that protects the Knicks, whether it's true or not, only underscores the point that things did not go as planned, and the Knicks had to play cover up.
In the end, is it all doom and gloom? Not necessarily. The Giants have made some solid free agent pickups, Saquon Barkley is an absolute stud, and two first-round picks may yield a quarterback for the future and/or an edge rusher in a draft that is loaded with top tier defensive talent. But it's hard to be optimistic with Gettleman at the helm. He told fans that "We didn't sign Odell to trade him. That's all I need to say about that," but that didn't last long.
The Knicks have boatloads of money to offer Kevin Durant and Kyrie Irving, as well as their own set of orange and blue keys to the city. Additionally, if the ping pong balls drop right, the Knicks might also be looking at adding Zion Williamson to an impressive crop of young players. But again, will these rookies make it to their first big contract/extension with the Knicks? How long before we hear the rumblings of another fractured relationship between management and player?
The optimist in me wants to give both executives the benefit of the doubt, but the idea of trust is still a long way away.