Noah Syndergaard's bitterness towards Syracuse spilled over onto his Instagram when he "accidentally" confused the city with Scranton.
Noah Syndergaard was no fan of Syracuse when he heard the team was traveling there for a workout. The New York Mets' righty fireballer took his ire further in an Instagram post where he thanked the city of Scranton rather than Syracuse.
Either Syndergaard is a huge fan of "The Office" or he just really, really hates Syracuse. The Mets were in town to have a workout for the fans of the Salt City. The Mets moved their Triple-A team from Las Vegas to Syracuse this year for obvious logistical reasons. It was difficult to move players back and forth on short notice.
Syndergaard really doesn't hate the people of Syracuse, but who could pass up the opportunity of a good post? But he wasn't the only one who saw an opportunity. The New York Yankees' Triple-A affiliate, the Scranton/Wilkes-Barre Railriders commented on the post to poke a little fun at the National League squad.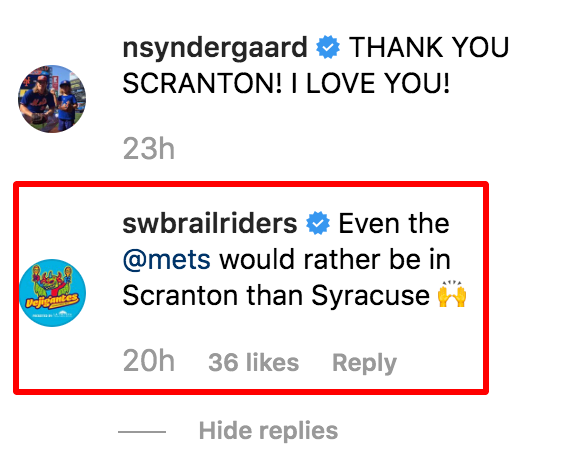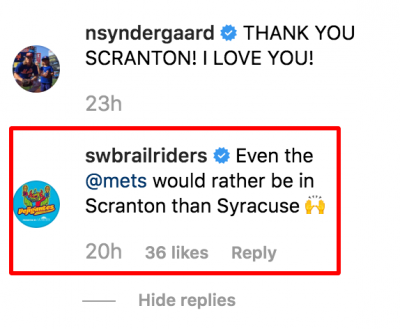 The RailRiders social media team really knocked that one out of the park. (I'm actually more upset about writing that sentence than you are about reading it, trust me.)
The crosstown rivalry between the Mets and the Yankees hasn't been as lively in recent years. The Mets have had two rough seasons since making it all the way to the World Series. But they look poised to contend for the NL East this season and the Yankees hope to go further than the ALDS in 2019.
Both sides are chock full of talent and there should be some juice in the Subway Series this year. The innocent ribbing via social media won't spark up a rivalry. That's nonsense. Two contending teams in New York will spark the rivalry.
The two sides play four times in 2019, twice in early June and twice in early July. Perhaps if both teams are in the thick of the playoff hunt, those games will have some meaning. If New Yorkers were lucky we would see a Subway Series in October.