Dennis Smith Jr., Emmanuel Mudiay and Frank Ntilikina: Which New York Knicks point guard is the right showrunner moving forward?
I know, I know; how can you possibly choose between three "superstar" players in Frank Ntilikina, Dennis Smith Jr, and Emmanuel Mudiay?
Well, luckily for you, you don't have to. I, the New York Knicks (acting) GM (of this article) shall make the tough decision of cutting all three of these players and signing Jimmer Fred … well, nevermind. I guess we'll keep the decision in-house.
So, in order to make the most accurate decision so that I can live with no regrets, I will use the next 800 or so words to analyze all three's weaknesses, strengths, and potential.
Frank Ntilikina
Weaknesses: Literally anything that involves offense. It's hard to describe the frustration of watching Frank Ntilikina attempt to shoot, make plays, or do anything productive while on offense. This year, Frank is averaging 5.9 points on 34 percent shooting from the field, 29 percent shooting from three, and has a 40 percent effective field goal percentage.
To compare that to his rookie campaign, Ntilikina is averaging the same amount of points per game, is shooting two percent worse from the field, two percent worse from three, and has a one percent worse effective field goal percentage. Obviously, the dip in numbers is extremely minor, but from rookie to sophomore season, players are expected to make a huge jump in every facet of their game.
Strengths: As much as I hate Frank offensively, he is a great perimeter defender. He's a lengthy guard with great instincts and the ability to guard 1 through 3. In the right system, Frank could be a great player to slot into your lineup whenever you're going up against a Harden, Lillard, Oladipo, etc.
Any high-volume scorer walking into your building, just tell Frank, "Glue yourself to that man," and he'll likely be able to neutralize him fairly well. But once again, you are going to have to do everything possible to hide him offensively.
Final Verdict: Trade him. I know Frank has struggled mightily with injuries and I'm likely overreacting, but New York is the last place you want to have a slow start in. Because, for a franchise that has been so bad for so long, the fans are surprisingly impatient. Plus, the media will absolutely crucify you until you become the Steph Curry they never had (basically what I'm doing right now).
The franchise can still get some value back for him and Frank is young enough to have fresh beginnings in a new environment. It's the best for both sides.
Emmanuel Mudiay
Weaknesses: In terms of Emmanuel Mudiay's game, there is really no glaring hole. He's had problems maintaining a consistent jump shot but this year he's shooting a career high from the floor (45.3 percent) and from behind the arc (33.5 percent). He hasn't been the best "true point guard" this season, averaging only 3.7 assists and 2.3 turnovers.
Though, you could make the argument that the lack of assists is because of the Knicks no-so-secretive tanking strategies, forcing Mudiay to pass to superstars such as your favorite household name, Lance Thomas.
Strengths: You know what you're getting. I feel it's fairly clear at this point that Mudiay won't develop into a "franchise cornerstone" type of player, but he can give you solid and consistent play off the bench.
About a 14.5 points per game scorer, obviously that would reduce depending on the talent level of the team, but regardless, the kid is still only 22 and every playoff team could/would utilize his talents in their rotation.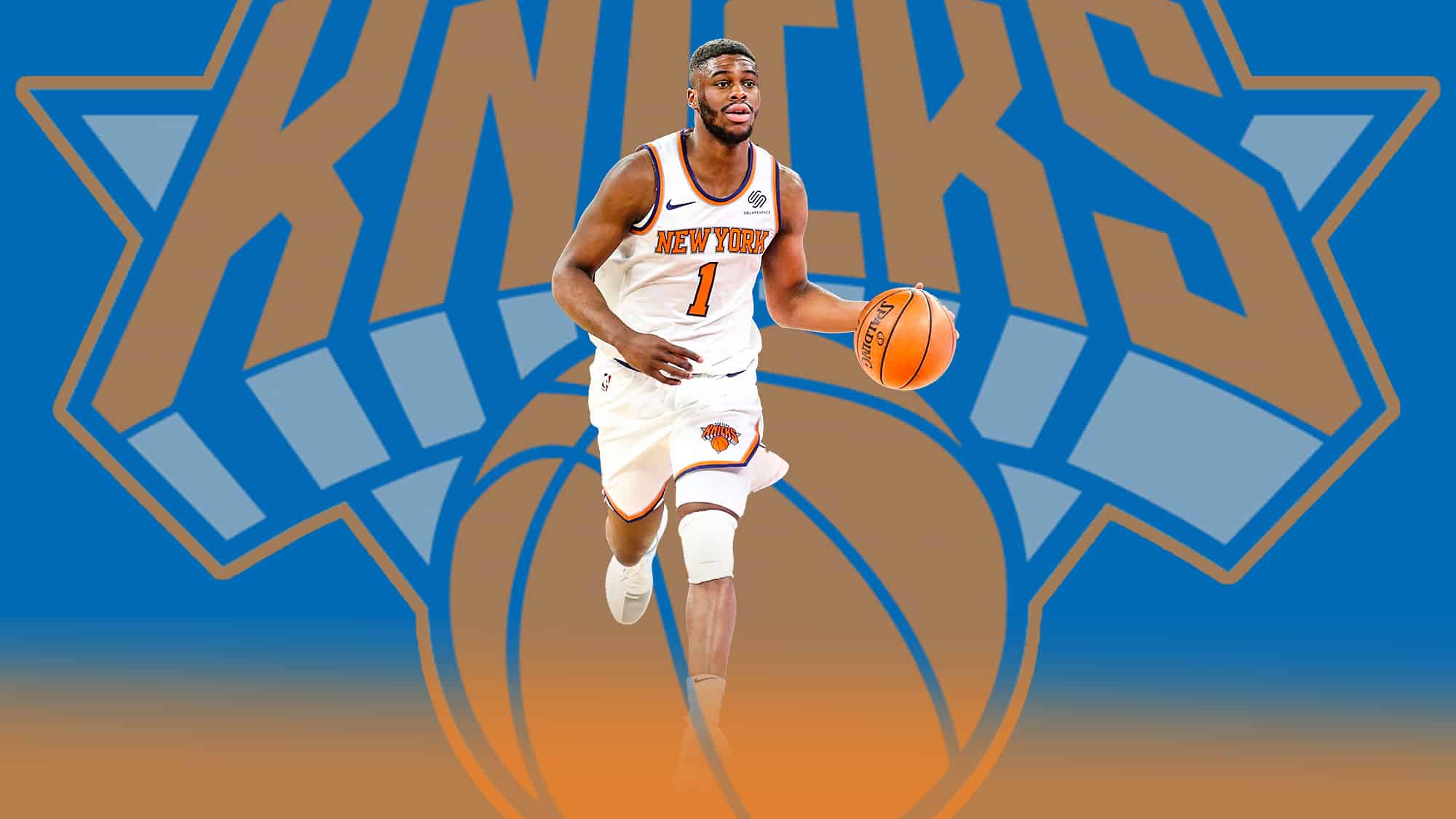 Final Verdict: Keep him … for now. To me, Emmanuel Mudiay's future with the Knicks is completely dependent on how free agency plays out. If the Knicks somehow swing Kevin Durant, Kyrie Irving and Zion Williamson, then Mudiay would be a great bench piece for a team that would likely lack a lot of depth.
Or even if New York uses their two max spots on DeMarcus Cousins and Kemba Walker, then Mudiay would still be valuable in a bench role.
Dennis Smith Jr.
Weaknesses: Is completely reliant on athleticism. If there's one thing we have learned from guards who put all their faith into athleticism (Derrick Rose), it's not a sustainable playstyle. In order for a franchise to trust Dennis Smith Jr. as a franchise point guard, he's going to need to develop a consistent jump shot.
Strengths: He's athletic. I know I essentially just listed athleticism as a weakness, but it's definitely a bonus for your point guard to have some pep in his step. It's just not great if that's what they solely rely on. Also, Dennis is 21 years old and averaging 13.5 points and 4.9 assists per game, so there should be little doubt that he can add a consistent shot to his game.
Final Verdict: Keep him. It's a tad bit frustrating that the Knicks could have simply drafted Smith instead of Ntilikina but nevertheless, he's a potential-ridden 21-year-old point guard who at the very least, has provided Knicks fans with some great highlights this season.
Recap
Frank Ntilikina: Trade him.
Emmanuel Mudiay: Keep for now, ultimately depends on free agency.
Dennis Smith Jr.: Keep him.